This is our Bakscape Shaver review.
You probably stumbled across an ad on Facebook for Bakscape and thinking about whether to buy it or not. 
Here is what Backscape back stick promises in their ad:
Shave your ENTIRE back in less than FIVE minutes.
Double the shaving area compared to other conventional shavers.
No nicks or cuts.
Suitable for your back and your HEAD.
Gives you the smoothest shave when wet shaving is applied.
Smooth and easy experience.
We review products independently, but we may earn affiliate commissions from buying through links on this page as an Amazon Associate.
I tested the Bakscape shaver to see if this electric back shaver lives up to its promises or if it's just another average back shaver and here are the results:
Bakscape Back Shaver Review: An Overview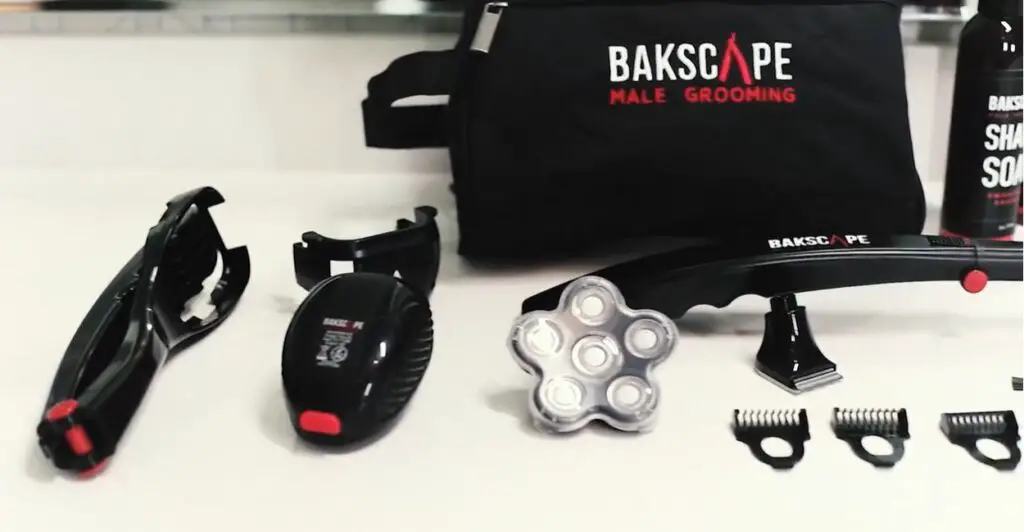 The Bakscape Back Shaver is a relatively new back shaver that was recently launched in the back shaver market.  
Bakscape claims that it's a revolutionary grooming tool that boasts a unique design, setting it apart from other back shavers in the market. It's the first back shaver that features a rotating shaving head design.
The shaver's six cutting heads can easily adjust and contour to various angles, ensuring a precise and smooth shave. The Bakscape shaver comes with a Lithium-Ion battery that can run for up to 90 minutes.
In addition to being a back shaver, the Bakscape also functions as a hair trimmer, thanks to its two head attachments, a trimmer head, and a shaving head. Its handle is foldable, making it easy to use and store.
The Bakscape Back Shaver comes in three different kits: the Starter Kit, Deluxe Kit, and Advanced Kit.
What's In The Box?
Unfortunately, you can't buy the Bakscape electric back shaver alone. You should buy it as a part of one of these three bundles which is somehow a bit frustrating.

Here are what is included in each Backscape bundle.
Bakscape Shaver Specs
Summary of Bakscape Shaver Review
Pros
Extended reach and coverage of almost all back areas with the ability to move it in any direction.
Smooth shaving without any skin sensitivity, irritation, nicks, or cuts.
Comes with guards for both the shaving head and trimming head for maximum protection.
Good build quality.
Travel-friendly with a conveniently foldable handle.
Suitable battery runtime and charging time.
The battery has a LED charging indicator.
Exquisite packaging.
Accepted noise levels.
30-Day money-back guarantee.
Cons
Only suitable for dry shaving. You can not use it in the shower.
The shaver does not provide a close enough shave, leaving patches of hair on the back.
A time-consuming 2-step back-shaving process as the shaving head doesn't cut long hair effectively.
The trimmer head is too narrow to cover the vast back area.
The user manual doesn't provide clear instructions about how to attach the head to the handle.
The handle of this back shaver can be tiring to use, especially for extended periods. 
The shaving head is unbalanced.
No wall mount.
Pricey.
The shaving head needs to be replaced every 6-12 months.
Hard to clean.
Alright, it's time to get down to the nitty-gritty part of our Backscape reviews article. We put the Bakscape back shaver to the test! We wanted to see how it measured up to our criteria for the best back shaver for men out there. So, we rolled up our sleeves and got to work evaluating this thing. Let's see how it stacks up!
Reach & Coverage in Bakscape Electric Shaver
Handle: One thing we appreciated about the Bakscape back shaver is its long handle, which measures a whopping 17 inches! This means that it's great for taller guys who need a little extra reach to get all those tricky and hard-to-reach spots on their backs.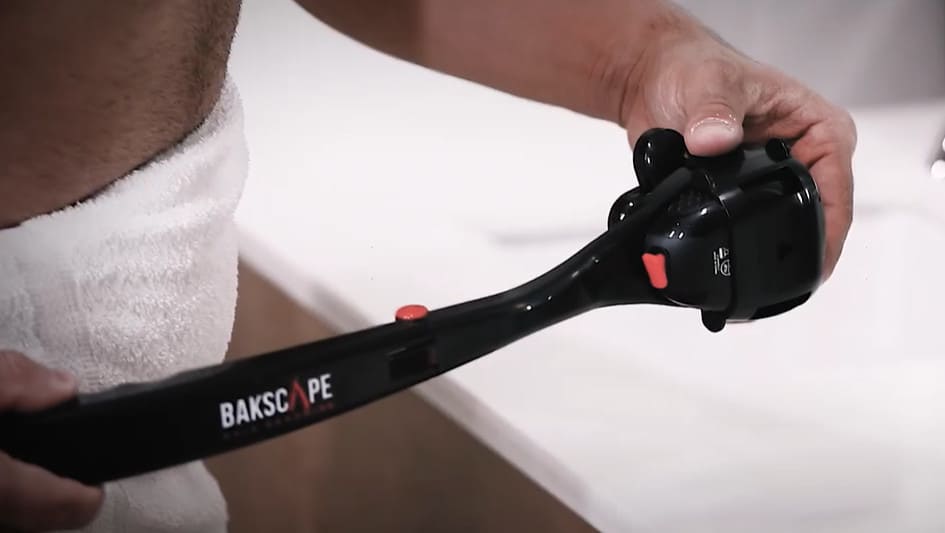 Plus, the handle is flexible enough to use over the upper back, the shoulder blades, the lower back near the waistline, the crease of the spine, and around the neck. As a result, you can find the most comfortable and effective position for you.
Blade width: The Bakscape shaver features a shaving head that measures 2 13/16 inches, which is wide enough to get good coverage over your back hair. This is especially great news for overweight men who need a shaver that can travel through all their back contours. 
However, it's worth noting that while Bakscape claims that their shaver offers double the coverage of manual back shavers, this isn't entirely accurate. Other back shavers on the market, like the Sigma Grooming shaver with its 4.5-inch blade, can offer even more hair coverage.
One issue we did have with the Bakscape is the narrow width of its trimmer head, which measures just 1 3/16 inches. This is a pretty big weakness, as you'll need to use the trimmer head to tackle longer hair that the shaving head can't handle effectively. We'll talk more about this in the speed of operation section.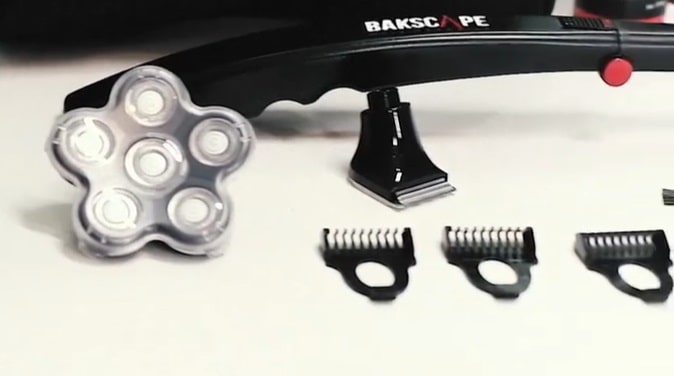 Design: The Bakscape is a cinch to use and maneuver. The handle has a nice curve that makes it easy to reach all areas of your back, so you don't have to struggle or strain to get to those hard-to-reach spots. The six rotating razors in the shaving head are a big plus, too. They give you the freedom to hit the stubble on your back from any angle and in all directions.

This versatility makes it a good choice for men with limited mobility and flexibility.
Score: 4.5/5
The closeness of back shaving
The Bakscape Back Shaver is a rotary electric shaver. One of the disadvantages of rotary electric razors compared to foil shavers and safety razors is that they don't provide a very close shave.
Foil razors are generally considered to be better than rotary razors in the closeness of shaves. This is because foil razors use a straight blade that moves back and forth rapidly, allowing it to cut hair very close to the skin. In contrast, rotary razors use a set of rotating blades that spin in a circular motion, which can make it more difficult to achieve a very close shave.
Bakscape is not an exception. When I tested Bakscape over my back hair, it was frustrating that I have to repeatedly go over a particular area to ensure that every single hair is removed. Despite my best efforts, a few stubborn hairs just won't come off leaving patches of hair on my back.
So, if you have thick back hair, the Bakscape shaver won't offer you the smoothest result.
Score: 2/5
Safety and Comfort
Although rotary electric shavers are known to cause skin irritation, the Bakscape glides over your back angles smoothly without causing any skin irritation, cuts, or nicks. This is super handy for men with sensitive skin and guys with many scars, moles, blemishes, or skin tags on their backs.

One detail I liked about the Bakscape shaver is that it comes with 2 guards for both the shaving head and trimming head.
However, the handle is a bit uncomfortable to hold. The ridges on the underbelly of the handle may not be everyone's cup of tea, so to speak. While this may not be a dealbreaker for most people, it's worth mentioning that the design of the handle could be improved for a more comfortable and ergonomic grip.
It's worth noting that the design of the shaving head is somewhat lacking in balance, with a noticeable weight distribution towards the upper region.
Score: 3/5
The Speed of the Operation
Another drawback is that the Bakscape manufacturer doesn't recommend using the shaving head to cut hair that's longer than 2mm. Using the shaving head over long hair would cause irritation, clog the shaving head and eventually shorten the lifespan of the device.

Then, what should you do if you have long back hair?
The company recommends using the trimmer head first to reach their optimal hair length (less than 2mm). After that, you should stick to a 2-time weekly shaving schedule to keep your hair short.
To add salt to injury, the trimmer head is just too narrow (1 3/6″ inches wide) to cover such a large area.
This is a lot of hassle and also time-consuming as you should shave in 2 steps instead of one with manual back razors. So, if you have rapid hair growth, this shaver is not for you.
Score: 1/5
Bakscape Shaver Convenience
Wet/Dry: The Bakscape company suggests that you can use this electric back shaver in the shower for wet shaving or on the go for a dry shave.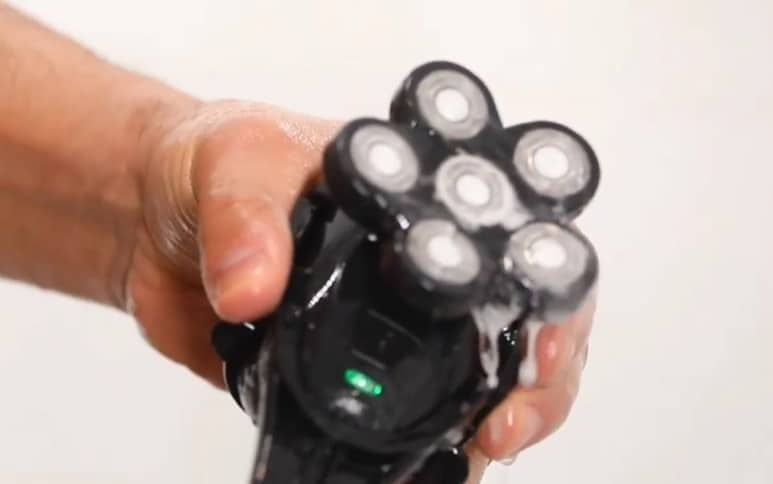 Yet, the Bakscape boasts IPX4 water-resistant rating. IPX4 is a waterproof rating that indicates the level of protection against water ingress for electronic devices. It means that the device has been tested and found to be resistant to water splashes from any direction, making it suitable for use in damp or wet environments. However, it is not designed to withstand full immersion in water.
So, it is not recommended to use the Bakscape shaver in the shower. This is because the shower involves direct exposure to a significant amount of water, which may still be able to penetrate the device despite its IPX4 rating. Additionally, prolonged exposure to steam and moisture in the shower environment may also affect the device's functionality and lifespan over time.
Travel: The foldable handle of the shaver allows for convenient storage, making it an excellent option for those who frequently travel. The folding mechanism ensures that the shaver takes up minimal space and is easy to pack in a bag or suitcase. Additionally, the ability to fold the handle makes it more discreet for storage, as it can be tucked away in a drawer or cabinet without taking up too much room.
Multiuse: While the advertisement of Bakscape mentioned that you can use the rotary shaver for your back and head, it's not practical for head shaving as it's not close enough.
Ease of use: The instructions for attaching the shaving head to the handle are not very clear and may lead to confusion. It is frustrating to spend a significant amount of time trying to figure out how to assemble the product properly. It would be helpful if there were a visual aid, such as a diagram, to demonstrate how the parts fit together. A quick start guide with clear and concise instructions would make the assembly process much more straightforward, even for those who may not be as mechanically inclined.
Battery: The battery life of 90 minutes is more than sufficient to last through approximately six sessions of back grooming, which is average. This allows for extended periods of use without the need for frequent recharging, making it a convenient and reliable option for users who value uninterrupted grooming sessions.
On the other hand, there are other electric back shavers in the market that offer longer battery life, such as the MANGROOMER Ultimate Pro Back Shaver, which provides an impressive 6 to 8 hours of runtime.
One nice feature of the Bakscape is that its battery has a charging indicator. The LED indicator lights up red when the device requires charging and green when it's fully charged.
Noise: Overall, the Bakscape Back Shaver operates quietly, with minimal noise disturbance during use. However, it's worth noting that the shaver head does emit a somewhat high-pitched whine, which may be noticeable to some users. 
Cleaning & Maintenance: Maintenance of electric rotary razors like Bakscape can be a bit of a chore. Cleaning the blades and other components of the razor can be time-consuming and require some effort. The small size and intricate design of the razor can make it difficult to clean thoroughly, especially in areas that are hard to reach.
So, why cleaning routine is crucial?

Over time, the blades of the razor can become dull or clogged with hair, dead skin cells, and other debris. This can lead to a less efficient shave, limited longevity, and may even cause irritation or damage to the skin.
Score: 2.5/5
Cost of the Bakscape Shaver
The Bakscape electric shaver is considered a relatively pricey option compared to other back shavers on the market. Its starter kit, which is the most affordable way to purchase the product, is approximately twice as expensive as the Bakblade 2.0 and four times more expensive than the Sigma Back Shaver.
Another drawback of the Bakscape shaver is that it cannot be purchased separately and must be bought as part of a bundle, which may not be ideal for everyone. This could limit the flexibility of customers who may already own some of the bundle items or may only be interested in the shaver itself. It would be beneficial if the company offered a standalone option for the shaver, giving customers more choices and control over their purchase decisions.
Moreover, the Bakscape company suggests replacing the Precision Shave Head every 6 to 12 weeks, which could be a costly expense, considering that the replacement head costs around $30. This may not be the most economical option for some users, especially those on a tight budget.
However, it's worth noting that the company does provide a 30-day money-back guarantee, which could give customers peace of mind and the option to return the product if they are not satisfied with its performance.
Score: 1/5
Alternatives
As you have seen through our Bakscape shaver review, the shaver provides an average experience with an expensive price tag. If you're searching for a good back shaver for your manscaping needs, here are our better options to consider.
Personally, I'm a big fan of manual back shavers. They are hugely cheaper than the Bakscape shaver, much easier to use, and incredibly quicker. The absence of small moving parts or batteries in manual back shavers contributes to their reliability and simplicity, making them a preferred option over electric shavers.
The Sigma Grooming Back Shaver is my favorite back shaver. It is an excellent choice for men who are looking for a comfortable, efficient, and affordable back shaver. 
It offers great reach without any assistance, making it easy to use and quick to shave with. The shaver is especially suitable for men with coarse hair and those who have a lot of hair to shave.
The use of a standard double-edge razor means that there are no expensive refills required, which is a great advantage. Additionally, the shaver is travel-friendly and can be taken anywhere with ease. 
Overall, the Sigma Grooming Back Shaver is the epitome of well-rounded excellence, providing superior performance, quality, and convenience, all at an unbeatable price point.
The Mangroomer Ultimate Pro is our best electric back shaver for men on the market, offering consistent performance.
It's great for men of all sizes, especially those with a lot of nooks and crannies on their backs, sensitive skin, or moles. 
The extendable handle, efficient handling of thick hair, multi-functional use, ergonomic handle, and easy cleaning make it an excellent choice. Also, it's far cheaper than the Bakscape shaver.
However, it has a long initial charging time, expensive replacement heads, and cannot be used in the shower.
When comparing Bakscape vs Bakblade, the Bakblade 2.0 Elite Plus is one of the highest-rated manual back shavers on the market. The shaver has an exceptional build quality and a quick one-step manscaping process. 
It's a safe option and suitable for men with sensitive skin and frequent travelers. 
The ergonomic handle and exfoliation brush that doubles as a shaving cream applicator are additional benefits. 
Yet, it has a limited reach for muscular contours, expensive refills, and the shower mount needs some improvement.
In short, the Bakblade Back Shaver is far more convenient, much cheaper, and more efficient when compared to the Bakscape Shaver.
Bakscape FAQs
Is Bakscape available on Amazon?
No, the Bakscape back shaver hasn't any listings on Amazon at the time of writing this article.
What is the lifespan of the precision shave head?
The Bakscape company suggests changing the shaving head every 6-12 months to have a close and pulling-free shaving experience.
Verdict
Now as we have come to the end of our Bakscape reviews, I have found that while the shaver has potential, there are several issues that need to be addressed. 
Firstly, the price of the product is quite high compared to other back shavers on the market. Additionally, the shaving process took significantly longer time compared to other regular back shavers, and the resulting shave was not as close as I had hoped.
Based on my experience, I would not recommend purchasing the Bakscape shaver at this time. However, I would be willing to recommend future versions of the product if these issues are resolved.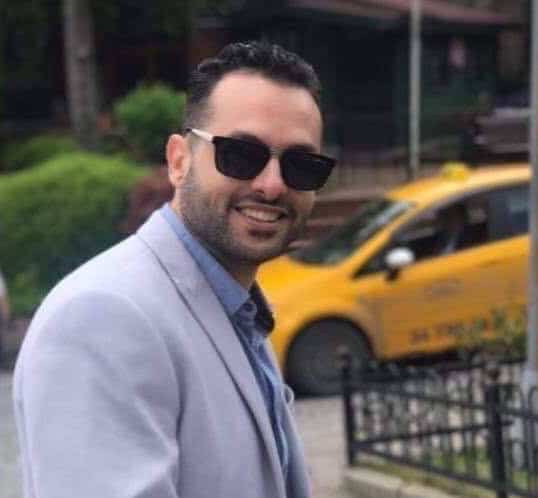 I'm really passionate about shaving and grooming. I shave my friends' hair as a hobby and totally enjoying my time writing about shavers and razors. My main job? Ok, I'm a pharmacist!