In a hurry? Our best back shaver is Sigma Grooming back shaver.
Of all manscaping tasks, getting a smooth back as a man is the hardest.
You might have tried a lot of stuff with no success. From expensive, embarrassing waxing sessions, passing through the awkward moments of asking your wife or a family member for help, and painful hair removal creams, to the strain of using mechanical hair clippers. 
Finally, you decided you need a good DIY back blade, yet every company claims to have the best one.
I feel your pain. I was there.
Worry not. 
It took me about 36 hours of research trying most back shavers on the market, moving between subreddits, forums, Amazon customers reviews, and body grooming experts' opinions to find the perfect back shaver that fits you.
No more "gorilla jokes". No more embarrassment when taking your shirt off at the beach. No more asking for help.
Let's get started!
We review products independently, but we may earn affiliate commissions from buying through links on this page as an Amazon Associate.
Back shavers comparison
Reviews of the best back shavers in 2023
Now, we come to the practical part of this article. Here are my favorite picks and I took into consideration the diversity of choices. We are different. So, choose the one that suits you.
Who is it recommended for?
Sigma Grooming Back Shaver is our best back shaver. It ticks all our criteria boxes including easiness of use, comfort, efficiency, quality, and convenience. Also, its price point is untouchable.
I discovered this underdog after a ton of research and it deserves the top spot well. 
It's an upgraded version of the Bro shaver with more comfort level and safety margin. It combines the practicality of the Bro shaver and the relatively high safety margin of the Bakshaver.
Key Features
Reach & Coverage
Handle: It features a long handle (17.25 inches) that allows you to tackle each spot on your back whether using it from over the shoulder or under the arm making it perfect for tall men.
Unlike the Bro shaver 2.2, the Sigma Grooming handle is collapsible. So, you can use the shortened handle to get more accuracy in tough spots.
Blade width: The sigma Grooming shaver has the widest blade among our picks. It has a generous blade width (4.5 inches) as it uses 3 standard double-edge blades. So, every stroke covers a vast area of your back. 
However, the extra-wide head limits the shaver's ability to access the back contours. So, It's not the greatest choice for overweight men, yet it will get the job done with effort.
Design: The shaver boasts a simple, yet efficient design. The handle has a perfect curvature that ensures the shaver head hits any spot with the right shaving angle.
The closeness of back shaving
As I mentioned before, this self-back shaver uses 3 DE razor blades inserted side by side. So, you can surprise your partner with a smooth back.
It also cuts through the thick and long hair like butter.
You can control the level of sharpness needed by choosing the right cartridges and brands. Go for Feather (Japan) blade for ultimate closeness or use Astra blades if you prefer comfort.
Safety and Comfort
This is where the Sigma Grooming shaver shines. It has a well-designed comb that ensures the shaver head glides smoothly on your skin.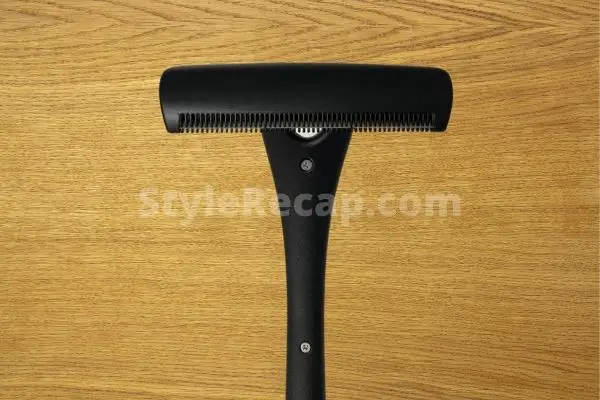 This comb also works as a guard to protect your skin from the fresh, sharp blades. So, worry not about nicks and cuts if you're cautious and use the right technique (short direct strokes ).
In addition, the distance between the comb and the blades is wide enough to apply your shaving cream to it. Then, you can save some money instead of buying a shaving cream applicator.
Besides, the 2 pieces of the handle are firmly attached with compression for your security.
Speed of the operation
The extra-wide head speeds up the shaving process noticeably. It takes about 5 minutes per session to get a hair-free back.
Convenience
Wet/Dry: You can use the razor in the shower for wet shaving or on the go for a dry shave.
Travel: The handle breaks down into 2 pieces by pulling on both ends for easy storage. As a result, the shaver is great for traveling.
Besides, the shaver comes with a nice storage bag to collect the shaver pieces.
Handle: The handle is so handy and comfortable to give you full control during shaving. The shaver also is lightweight and easy to maneuver.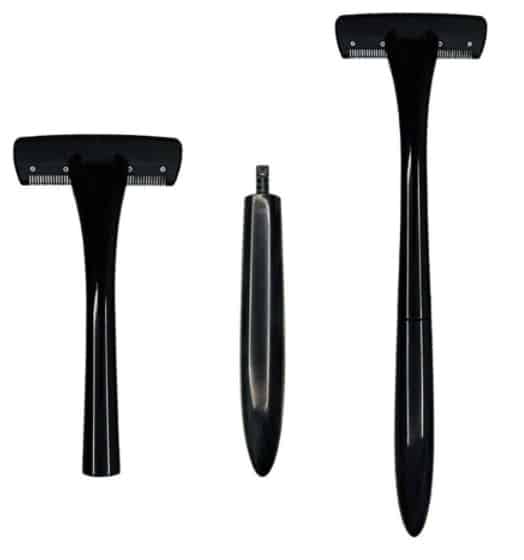 Multiuse: You can separate the handle and use it to groom your legs, chest, abs, or arms.
Setup and reloading: Out of the box, the shaver comes with the safety razor installed. So, you can use it immediately. 
However, you would need a screwdriver to remove the 4 Phillips screws that hold the blades for reloading. It would be more convenient to use thumbscrews instead, yet this is not a deal-breaker.
Cost
This is the biggest selling point for this product. The Sigma Grooming back shaver is sold for an extremely decent price. It offers great value for money and is worth every penny.
Unlike the Bakblade, the shaver uses a standard double-edge razor. So, you don't have to buy expensive replacement blades.
As it utilizes double-edged razors, you can flip those blades over to use the other side for more shaves.
Who is it recommended for?
The Mangroomer Ultimate Pro Do-It-yourself back shaver is our best electric back shaver for men on the market. The self back shaver is perfect for:
Guys who need a consistent performance over time without worrying about the blades going blunt.
Men of all sizes, especially large and muscular guys. The Mangroomer Ultimate Pro is also great for men with a lot of nooks and crannies in their back 
Men with sensitive skin or with a few moles on their backs to watch who seek a pain-free shave without nicks or blood spilled.
Men who are fine with leaving little stubble to avoid the itching caused by extremely close shaving.
Key Features
In 2006, Brett Marut invented the MANGROOMER device because he couldn't tolerate the embarrassment of getting his back professionally waxed at a salon full of female customers.
The Mangroomer Ultimate Pro is a revolutionary upgrade to the classic Mangroomer Professional. This model introduced plenty of features that became standard for the later Mangroomer models. The Body Groomer Foil Head, the power burst, the lock button, and the flex neck are examples of these features.
Although the Ultimate Pro is not the latest version of Mangroomer back shaver, it's unbeatable in terms of quality and efficiency. Unfortunately, the later models (i.e PLATINUM PRO & Lithium Max Plus+) showed a clear decline in the build quality.
Reach & Coverage
The Ultimate Pro checks all the boxes for being a back hair shaver with a great reach. That's why I recommend this handled clipper to men with limited flexibility. This includes people with stiff back or shoulder injuries.
Handle: This back groomer features a 14.2 inches long handle. So you can easily access all the areas of your back yourself without having to ask your partner for assistance.
Blade width: The trimmer head has an extra-wide 1.8 inches back blade. That means you can quickly sweep out your backyard as the shaver removes a large area of longer hair in every stroke.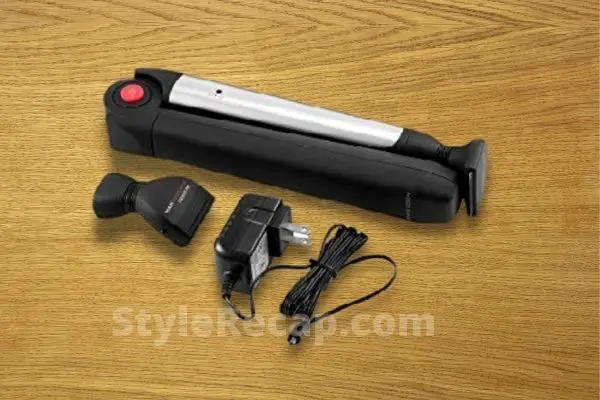 Design: The Mangroomer Ultimate Pro boasts a fully extendable and adjustable handle with Pro XL Extension Lock Button. Then, you can adjust the length of the handle and lock it in at your desired angle (135-degree angle opening).  
This provides a fully customized back shaving experience to access the hard-to-reach areas including the middle back, the lower back, shoulder blades, and the crease of the spine.
Head: It's no longer a bummer to have nooks and crannies in your back thanks to shock absorber flex necks of the shaver's heads. This pivoting head navigates the contours of your hairy back to ensure you get a uniform trim without multiple passes.
The closeness of back shaving
The Ultimate Pro comes with 2 attachment heads: a trimmer head and a foil head. The trimmer head does the heavy lifting of grooming the long hair to a manageable length. While the foil head is used for finishing and smoothing your back for better muscle definition. 
You can easily switch between the 2 attachment heads.
This personal electric back shaver provides an adequately close shave. Yet, the manual razors give closer and smoother results as the Mangroomer leaves some invisible stubble.
My only problem with this stubble is that it would fuzz with t-shirts and satin sheets. But, it's not a big deal.
For all men with coarse hair, rest assured. Use the power-burst mode against this sasquatch back and no more worrying about taking your shirt off at the beach or the gym.
Safety and Comfort
This Mangroomer Ultimate Pro offers a smooth, painless shaving experience. There are no pulls, tugs, or nicks. 
It's great for men with sensitive skin, as it doesn't cause itching, redness, or razor burn. It also features hypoallergenic stainless steel blades to minimize allergic reactions.
Speed of the operation
It takes about 10-14 minutes for an average guy to manscape his entire back. It's a bit slower than the safety razors as it's a two-step process.
Convenience
Wet/Dry: You can use the shaver in a dry environment or wet conditions with shaving cream or soap. Yet, you can't shave under the shower as the Ultimate Pro is not fully waterproof.
Travel: This grooming tool is suitable for travel as it is folded in half for easy storage. But, it is not the best option as it needs a special suitcase and the power button would get pushed frequently. 
You also will need a converter if you're traveling outside the US as it doesn't support 240 volts charging system.
Handle: The Ultimate Pro comes with an ergonomic rubberized handle to give you a good grip without being slippery when wet.
Battery: My only gripe is that the initial charging time requires from 8 to 12 hours. However, the battery gives you 6 to 8 hours of run time in normal conditions. The battery takes 2-3 hours from empty to full.
Multi-use: The Mangroomer clipper is great for manscaping your chest and abdominal hair which would reduce the clutter and save you some bucks.
Cleaning & Maintenance: It is easy to clean. Just rinse the shaver under the faucet water, wipe it properly and air dry it.
Cost 
The Personal back shaver is a good value for money. Yet, the replacement heads cost half as much as the total unit.
It was a tough competition for the 3rd spot of our best back shavers list between the Bro shaver and the Bakblade 2.0 back and body shaver.
I chose the Bro shaver finally because it is a more economical and practical option compared to the Bakblade 2.0.  Yet, the Bakblade shaver is superior in build quality and safety margin.
Who is it recommended for?
This product is the cheapest per our list (considering the 10 extra blades included). So, it's perfect for men on a budget who want to smoothly manscape their back.
This long-handled back shaver is the best choice for competitive bodybuilders and large builds (saucy mode). This is because the Bro shaver provides the closest shave among our list with extreme reach.
Note: It's not the right choice for men with sensitive skin or moles. It might cut skin tags and other blemishes.
Key Features
Reach & Coverage
The Bro shaver 2.2 is a manual back shaver that features a long (16.5″) with good head width (3″).  So, you have no problem accessing the hard-to-reach angles in your back thanks to the properly sized head.
It has impressive coverage whether you use it from over the shoulder or under the arm. So, this ensures you get a clean back yourself and feel more confident.
It's worth mentioning that the Bro shaver has more shoulder clearance compared to the Bakblade. This is because the Bro shaver's handle has a flatter curve.
Bro shaver demo
The closeness of back shaving
Unlike the Bro shaver Original (one shaving mode), the new Bro shaver 2.2 allows you to choose between 2 shaving modes.
Use the saucy mode to get an extremely close shave for an ultra clean-shaven back. For quick shaving and more comfort, use the mild setting.
I recommend starting with the mild mode until you get used to it, then move to the saucy mode.
If you have thick back hair, this shaver will eat through your dense hair and give you a clean-shaven back quickly.
Safety and Comfort
The Bro shaver 2.2 Travel has greatly improved from a safety perspective by adding the mild mode and Comfy Cloud Shaving Technology. But, there are higher chances to cut yourself if you don't use it correctly.
Unlike the Bakblade cartridge that has guards on both sides of the safety blade, the Bro shaver has guards on only one side. This increases the risk of nicks especially with the lack of full control in the back shaving task.
It's also better to use it in a wet environment with leathering your body with soap or shaving cream to reduce skin irritation.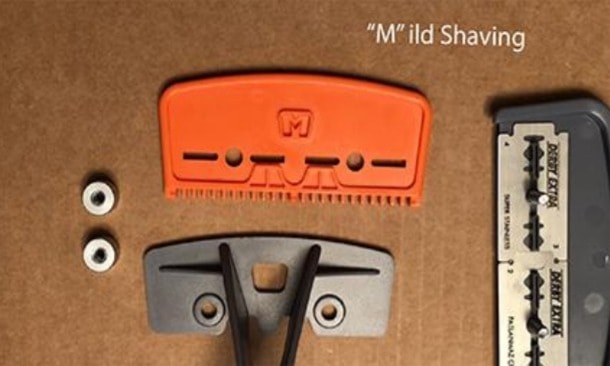 Speed of the operation
It takes about 5 minutes for the average man with sparse hair to get a smooth shave with much less work thanks to the sharper blades.
Convenience
Wet/Dry: The back groomer is IPx9 Water Resistant. So, you can use it for wet shaves in the bathroom or even on the beach as its ad suggests. Also, you have no problem getting a dry shave with the Bro Shaver.
Travel: This model is called the travel version of the original Bro shaver. It travels well as all parts come apart. Yet, the handle is not collapsible and would take up much space in a backpack.
Handle: This is my biggest pet peeve as it's hollowed out in the backside and feels a bit flimsy. The grip is accepted but not as great as the Bakblade's handle.
Setup and reloading: The device assembles easily. If you use the razor for the first time here's the Bro shaver instructions: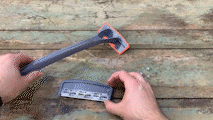 Just place your stainless steel DE blades around the tabs.
Choose your preferred side of the comb (saucy or mild). 
Tighten the Aluminum knurled knobs and you're good to go
Bro shaver instructions
Multi-use: The head is detachable for general body grooming. You can use it to manscape your chest, stomach hair, or even on your legs. Don't use it for your pubic hair as it's a little aggressive and could bloody nick your private parts.
Cost 
Unlike the Bakblade that uses its proprietary blades, the bro shaver uses ANY standard double edge razors which is a wallet-friendly feature.
So, you can use your preferred DE razor brand for a fraction of the Bakblade replacement blade price. My advice is to stick to Astra, Feather (Japan), or Doroco cartridge blades.
Every blade gives you from 1 to 4 shaves. Since the Bro Shaver comes with 10 fresh blades, so you won't buy any refills before you get 10-40 shaves.
Who is it recommended for?
Bakblade 2.0 Elite Plus is the highest-rated manual back shaver on the market. If you are an average guy who searches for the best build quality and has the cash to drop on its refills, that one fits the bill. 
It's also my favorite choice for frequent travelers.
Key Features
Reach & Coverage
The Bakblade 2.0 has a pretty long handle (18 inches) compared to the original Bakblade 1.0 (17 inches). 
The head is a bit shorter in Bakblade 2.0 (3.375 inches) than the original version (5 inches) for better maneuverability across your body contours.
However, many men, especially bigger fellows prefer the Bakblade 1.0 as it has better reach.
So why?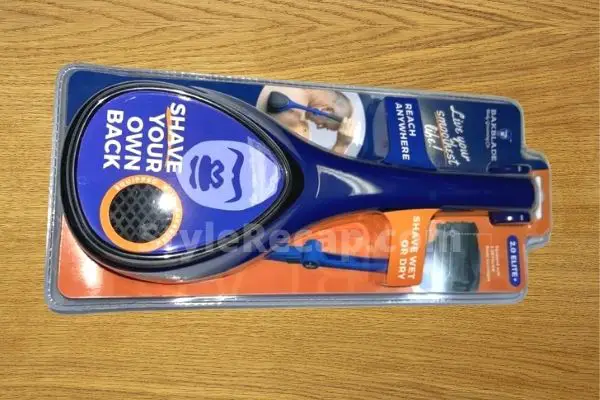 The design is the answer. The Bakblade 2.0's handle has an S-shaped curvature. This gives it less mileage in terms of coverage.
In addition, there are some situations where the handle touches your body, hindering the 3 blades from applying the proper pressure on your skin. So, you sometimes end up using only one blade from the three.
Furthermore, the handle is retractable for easy storage, but you can not lock it at multiple angles. 
In conclusion, if you're a bodybuilder or overweight, you might have difficulty reaching your spine area without bending. But, if you're a thin or an average guy, you won't face any problem.
The closeness of back shaving
The blades of the Bakblade 2.0 Elite Plus are super sharp and there is no need for a pre-trimming step. Even if you're Chewbacca's cousin with a super hairy back, you will get a back-hair-free shave.
Safety and Comfort
The Bakblade 2.0 features patented Dryglide safety blade technology. This technology revolves around a blade covered by 2 guards to manage the amount of skin delivered to the blade in every stroke.
Bakblade Elite Plus 2.0 demo and instructions
The technology depends on that the body hair (as opposed to facial hair) requires a less rigid cutting angle to shave. So, you can get a fast shave with very little effort and a high safety margin.
The Bakblade 2.0 is gentler and has fewer chances to cause nicks or irritation compared with the Bro Shaver.
Also, the 2.0 Elite Plus comes with a sponge pad to guard blades and apply soap. So, it's deemed safer than the original Bakblade 2.0.
Speed of the operation
The shaving session takes about 7 minutes on average to get smooth back. It feels like a back scratcher during use.
Convenience
Wet/Dry: It works very well whether wet or dry. Use a shave cream or a shaving gel to alleviate the irritation if you have sensitive skin.
Travel: It's perfect for people who travel a lot because of the foldable handle and the size. It comes with a travel cover to protect the Dryglide blade during your journey.
Handle: The Elite Plus 2.0 manual shaver features a rubberized, non-slippery handle with a super comfortable grip. It's much better than Bro shaver's handle in quality and control & comfort level.
Multi-use: You can detach the head and use it as a hand-held body shaver for your chest, abs, and arms. Again, don't use it over your pubic hair.
One feature I like is the inclusion of an exfoliating brush with the shaver. Exfoliating your body before shaving helps to remove the dead skin cells and mitigate skin irritation.
In addition, you don't have to buy a loofah or an applicator to distribute the shaving cream as this pad will do the job.
The Elite Plus version also comes with a suction cup to hang it in. But, it fails to hold it and keeps falling.
Setup and reloading: You can slide out the old cartridges and replace them with new ones. It's as simple as that.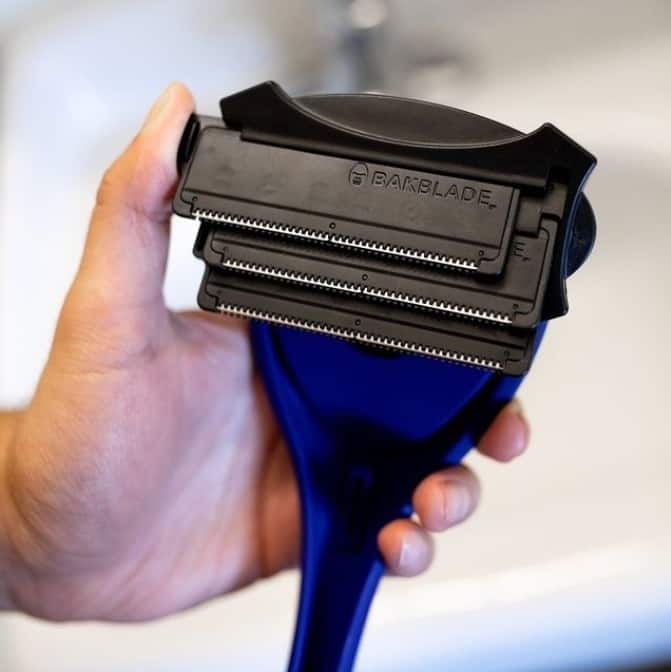 Cost
This is the main downside of Bakblade 2.0. The personal back shaver uses its proprietary blades. That means you can not use generic DE razors as the case with Bro shaver replacement blades.
So, it does not only have a high cost of ownership but also expensive replacement blades. Many users also complained that the new blades dull quickly after 1 or 2 shaves.
It's worth mentioning that the original blades of Bakblade 2.0 last for 5 to 7 shaves.
Remington BHT6455FF Shortcut Pro Body Groomer was a strong competitor on the multifunctional body groomer spot. 
Although the Remington offers more back reach with its longer extendable handle (17 inches), the Bodygroom 3500 is more efficient on other body parts including the chest, armpits, legs, and even the nether regions.
Who is it recommended for?
It is the best back hair trimmer across our reviews. Philips Norelco 3500 is great for men searching for a good back and body shaver to get the best bang for the buck or to save some storage on their bathrooms.
Key Features
Reach & Coverage
The design is well thought with a streamlined and perfectly curved handle. The shaver head is wide enough to travel through your body contours.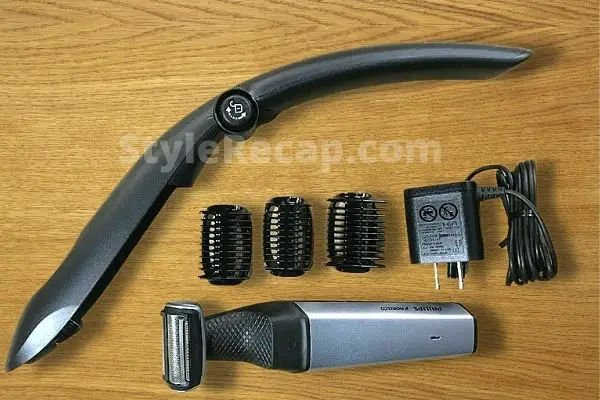 Yet, it has the shortest handle among our best back shavers. As a result, you won't reach your entire back with this back trimmer. Your lower back area is the toughest to hit with almost no problem with the shoulders, upper back, and mid-back areas. 
So, you can obliquely hold your right side to finish your back hair removal mission.
The closeness of back shaving
Unlike other back shavers, the Philips Norelco Bodygroom 3500 gives you a ton of length options to choose between. 
It comes with three attachment combs (3, 5, and 7mm). So, you can choose between going completely bare to 7mm of hair length according to your personal grooming style.
But there's a catch. It has difficulty cutting thick and dense hair. You would make multiple passes to get a shiny back.
Also, it leaves your back prickly which makes shirtless hugs a little awkward if your girlfriend likes the smooth back feel.
Safety and Comfort
The blades of the Norelco 3500 have rounded tips to give you smooth contact with your skin without poking. Also, the foil head moves faster than other Philips Norelco models like the 7100 model to prevent snagging and nicks.
Note: It's advised to use the trimming guard when shaving your sensitive areas.
Speed and ease of the operation
The bi-directional trimming guards help to speed up the operation with fewer strokes. This body hair trimmer takes about 15 minutes for an average guy to shave his back.
The Bodygroom 3500 is very easy to use, yet you might need some assistance from your wife or your roommate to finish the task properly.
Convenience
Wet/Dry: The unit is showerproof for more versatility. You can hold it under the sink and rinse it off after using it for a simple cleaning process.
Travel: The body trimmer is a little big to fit in a toiletries bag. But, It's compact enough to put it in your backpack or your luggage bag. (note: No travel case included).
Handle Ergonomic and non-slippery with a rubber grip for wet conditions.
Battery: The 3500 features a Li-Ion battery that takes 60 minutes for a full charge and gives you one hour of runtime. This time is enough to get many shaving sessions without worrying about getting out of the bathroom with a half-shaved patchy back.
Multi-use: Absolutely. It's an all-purpose hair trimmer for full-body grooming.
Cost
The 3500 is reasonably priced for a high-end product that covers all your manscaping needs.
I chose this model over UltraFlexx Razor Extension Handle because UltraFlexx fails to hold tight the cartridge razor handle of the most well-known brands making it useless in most cases.
This is the last edition of the Razorba back shavers. It offers more versatility over the previous editions and is sturdier. It's compatible with all the razor handles that the Razorba Silencer and the original Razorba Classic plus supporting the Gillette Fusion and Phantom, Dollar Shave Club razor, and most Atras.
Who is it recommended for?
Razorba razor extension handle is the best choice for:
Men who want to use their favorite and tested razor exclusively to shave their backs.
Men with light stubble/hair growth or just pesky patches of hair across their back.
People (men or women) who have a problem with bending due to any orthopedic condition, surgery or even pregnancy.
Key Features
Reach & Coverage
Design: Before back hair shavers, men used duct tape to attach their clippers or facial razors to a back scrubber or a ruler to shave their backs. This razor extension handle took the same idea one step further to the practicality space.
The handle is slightly curved to give you the optimal shaving angle to access your shoulders and back of the neck. 
No strain. You can reach the hard-to-reach areas easily without having to contort your body or ask your partner for help.
Handle length: The Razorba War Hammer features a handle with sufficient length (14 inches). Remember that the length of your facial razor of choice will add extra length to the back shaver handle enhancing the overall reachability.
Blade width: It all depends on the head width of the used razor. 
Razorba has its disposable razors which are called GOAT (Greatest-of-all-time). Razorba GOAT is 4.5 inches wide ( 3 times wider than the traditional razors) to cover more surface area. The package contains 6 packs and each blade gives you about 6 to 8 shaves.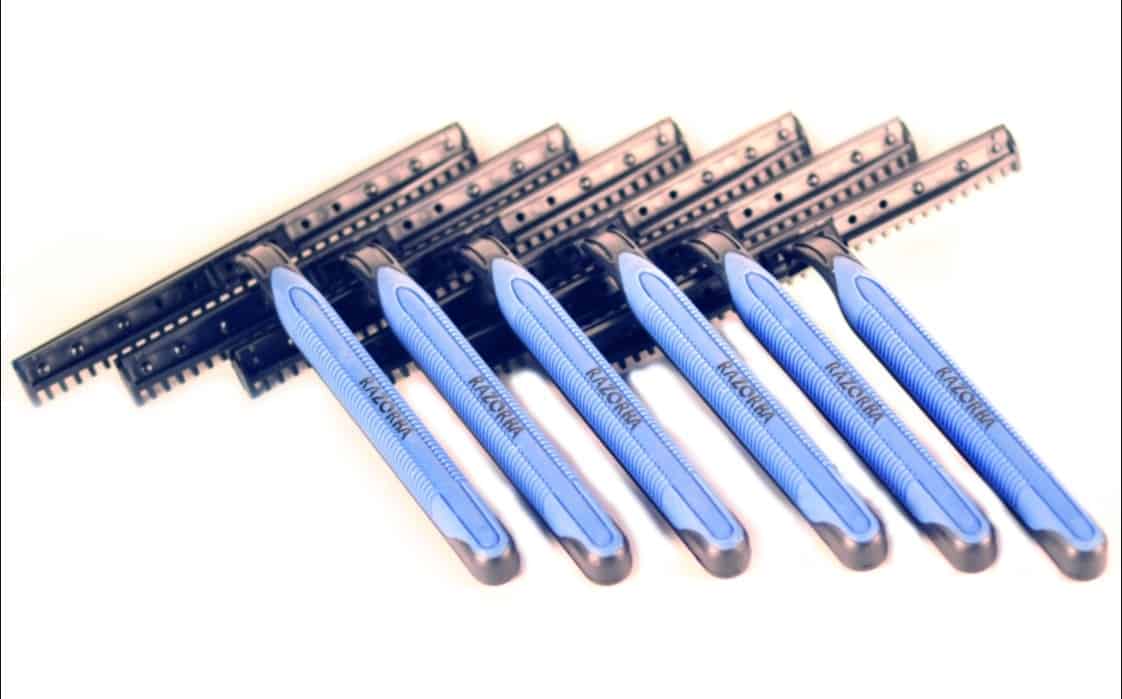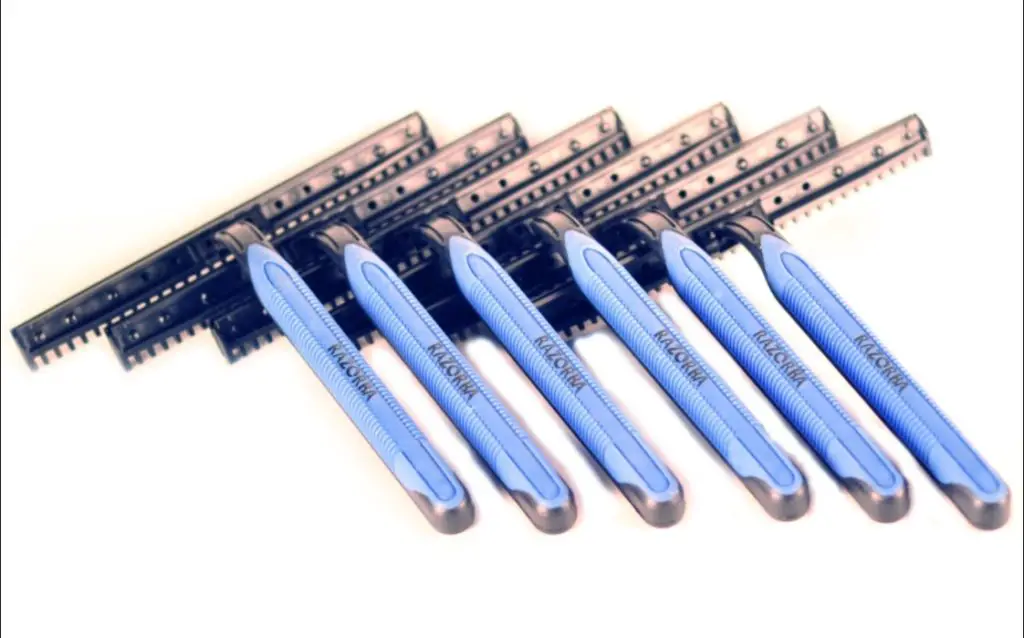 The closeness of back shaving
GOAT blades will give you super-close shaves with zero stubble. Traditional razors are capable of navigating the contours efficiently due to their narrow head width.
Safety and Comfort
You are still dealing with a manual razor. So you should be careful and use gentle and slow strokes.
If you use your facial razor, then you know exactly the proper technique to use it thanks to your muscle memory. Also, you know what fits your skin type for a painless and irritation-free experience.
If you use GOAT blades, watch out for nicks as it's nothing but an oversized safety razor. Use a shaving gel to enhance the comfort and closeness of your shaves.
Speed and ease of the operation
This is the biggest drawback for the Razorba back handle. It takes a much longer time to finish your back compared with other back shavers.
Imagine using your Mach 3 razor to tackle this vast area all over your back. 
Even with the Razorba extra-wide blades clogs too easily. So, you might need to wash off the blades after each pass which is tedious and time-consuming. That's why I recommend it for men with light hair.
It takes about half an hour to shave with a traditional razor and about 17 minutes for the GOAT blades. 
Convenience
Wet/Dry: Yes, it's totally waterproof for simple cleaning and maintenance.
Travel: Razorba requires a medium-size suitcase to fit in. Yet, it's not the perfect choice for traveling as the handle is not collapsible making it a bit bulky.
Handle: It has a solid core making it much more durable than the Razorba Classic's hollow handle.  Although it has twice the weight of the original Razorba, it's still easy to wield and grip.
Multiuse: It's so beneficial for people with limited flexibility to reach their entire body without bending.
Setup and reloading:  The Razorba War Hammer securely holds your inserted razor thanks to the new Hamr Grip grabbing technology. 
The setup is too simple. It takes a try or a couple of tries to lock your primary razor into place. Once you insert the razor, it's super stable without rolling even with Gillette M3Power.
Cost
The Razorba War Hammer is almost twice the price of the Razorba Classic. While the War Hammer offered many improvements, in my opinion, the price is not justified for what it offers.
However, it's still an economical option as you don't need to buy any specialized blades as long as you use your primary razor. Even the Razorba blades provide a great value for money.
Specs summary
Handle length
Blade width
Session duration
Blade Replacement
Sigma Grooming Back Shaver
18 inches
4.5 inches
5 minutes
Any standard double edge razors
MANGROOMER Ultimate Pro
14.2 inches
1.8 inches
10-14 minutes
Head replacement
Bro Shaver 
16.5 inches
3 inches
5 minutes
Any standard double edge razors
BAKblade 2.0 Elite Plus
18 inches
3.375 inches
7 minutes
Proprietary blades
Philips Norelco Bodygroom 3500
12 inches
2.76 inches
15 minutes
Head replacement
Razorba Back Hair Shaver
14 inches
VariesGOAT width:4.5 inches
17-30 minutes
Any face cartridge razor
or
Proprietary blades
Back shavers' comparison
The Competition
Here, I share with you other popular back shavers and why I didn't include them in our top picks.
BaKblade 1.0: I gave it an honorable dismissal as it's a good back shaver. Its handle is longer than the Bakblade 2.0 and the shaving head is wider. Yet, it only offers good results on the flat surface areas. On the areas with contours, it leaves some missed spots with patches of hair.

It's harsher than the 2.0 model and you can easily nick yourself. Besides, the Bakblade 1.0's handle isn't foldable so it needs more space for storage and is not travel-friendly.
Like the Bakblade 2.0, it uses its proprietary replacement blades which is a major downside.

Manual back shavers vs electric back shavers
There are 2 types of back shavers; manual back shavers and electric back shavers.
Manual back shavers use traditional razor blades to cut the hair down to the skin level. You will need to change the dull blades frequently with fresh sharp razor blades.
Some brands use their proprietary blades like Bakblade. Other brands like Bro Shaver work as a razor extension to shave your back. They give men the freedom to use their preferred razor blades (Schick, Dorco, Gillette, Dollar Shave Club, Harry's, etc.).
Electric back shavers resemble the standard electric razors that you use for your face. These shaving machines come with 2 heads to do the job; a trimmer head to cut the long hair and a foil head to tackle the shorter hair and give you a smooth shave. 
A foil razor gives you a closer shave compared to a rotary electric razor. Yet, standard foil heads struggle to reach the tight body areas. That's why most back electric shavers come with smaller foil razor heads.
Here's a comparison between both types showing the key differences to help you choose which grooming tool is better for your back.
| | | |
| --- | --- | --- |
| | Manual back shavers | Electric back shavers |
| Speed of operation | Quicker/ 1-step process  | Slower/ 2-step process |
| Closeness of shaves | Extremely close | Adequately close |
| Learning curve | Need some skill and time to get the hang of it. | Easier to learn. |
| Replacement blades age  | You need to change the blades when they get dull every 5 or 6 shaves. | You need to change the shaving head every 2-3 years. |
| Skin sensitivity | Higher risk of nicks and skin irritation. | Gentler on sensitive skin |
| Cleaning | Simpler | A tad harder |
Manual back shavers vs electric
I wrote an article about  "Bakblade vs Mangroomer" and it's a real demonstration of the difference between manual and electric back shavers.
How to choose the best back shaver for Men?
Before buying a back shaver, you should know the key features that you need to search for to make an informed decision and choose the right one that fits your preferences and your budget.
Here are these criteria.
Still on the fence? Check my guide on using Nair on the back.
Reach to all back sections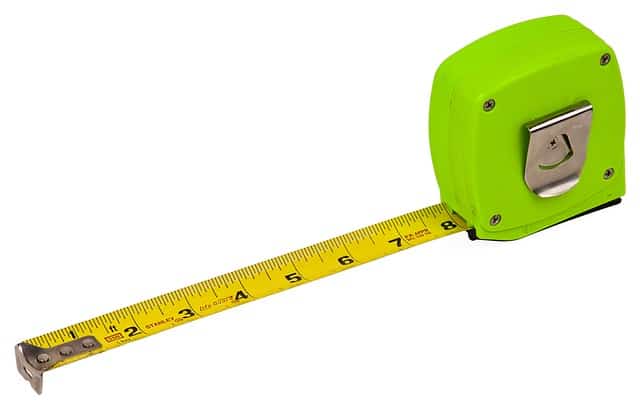 This is a super important feature for bigger guys, muscular men, and men with a shoulder injury. 
We can simply divide the back area into 4 sections; the shoulders, the upper back, the middle back, and the lower back.
All DIY back shavers have good coverage to the upper back and shoulders zones. The middle back, the lower back, shoulder blades, and the crease of the spine are the trickiest areas and the hardest to reach.
A good back hair shaver must have all-over reach to your back angles including the hardest spots.
The length of the handle, razor design, and shaver head flexibility are the features that matter here.
Handle length
A long handle razor for back shaving is essential for getting a full back shave without any missed spots. A sufficient length of the handle allows for a better shaving experience without having to stretch or ask your wife or your roommate for help.
Opt for a self-back shaver with a handle that is 8 inches long or more. Because every man has a different height and size, it's advisable to measure your back length and choose the back groomer that fits you well.
Design
A long-handled back shaver is not a guarantee for ultimate reach. A flawed design could limit the range of motion for the back clipper.
A perfect back hair shaver must have good contact between the shaving head and the skin at all positions. So, you can do the job effortlessly without using multiple passes or going for awkward angles to overcome this downside.
I recommend choosing a men's back shaver that features an extendable handle with a lock button. So, you can adjust the length of your shaving machine's handle and lock it in at the best shaving angle. As a result, you can reach the middle and lower parts of your back easily and with optimal skin contact.
Head size 
The wider the shaving head, the shorter the shaving session is.  A wide head means you need fewer passes as it covers a larger area of your skin.
Yet, the large shaving head might have a problem navigating the tight contours of your back like the spine indent of the lower back and the shoulder blades. That would be a problem for large guys and bodybuilders.
So, the best men's back shaver head must be a happy medium to get the best of both worlds. In general, opt for back shavers with a head larger than 3 inches.
Flexible shaving head
If your back has a lot of nooks and crannies, a pivoting head will help you navigate your body contours and hard-to-reach areas effortlessly. This ensures you get a smooth finish without any left patches of unwanted hair.
So, I recommend going for a back hair removal tool with a pivoting head for a clean shave, especially if you're overweight.
The closeness of back shaving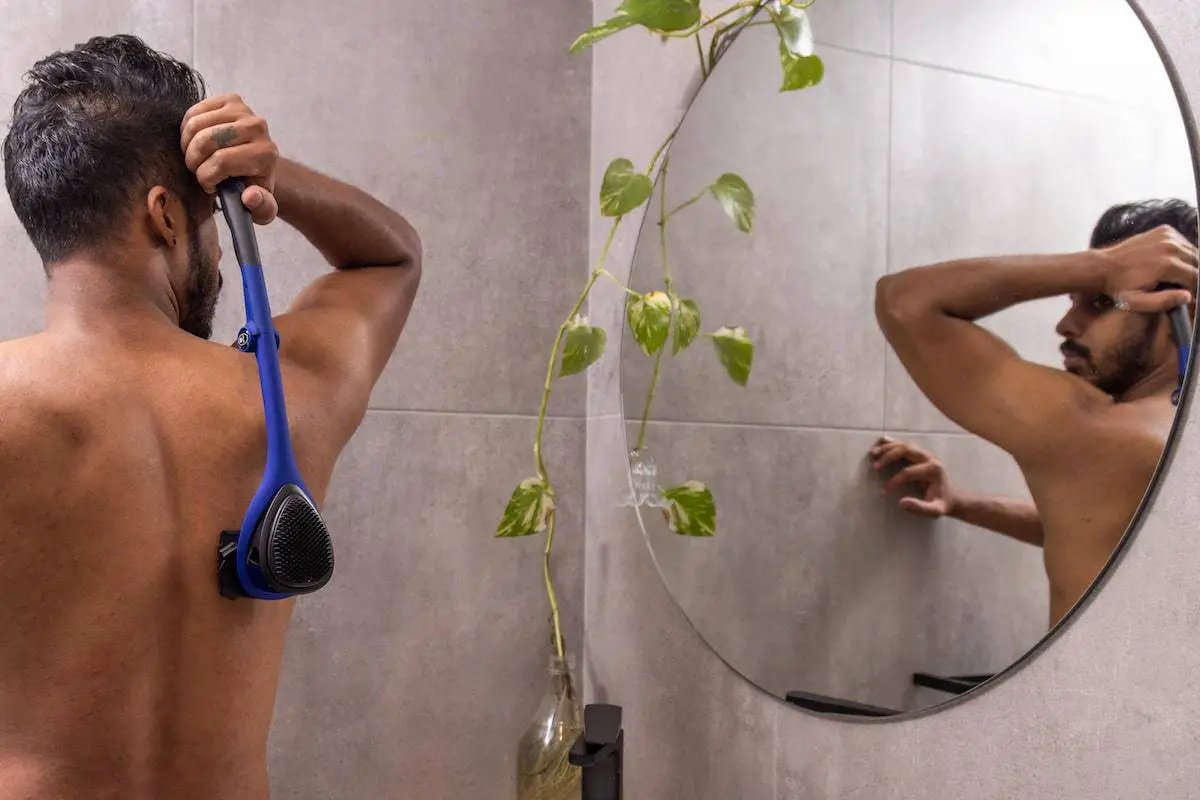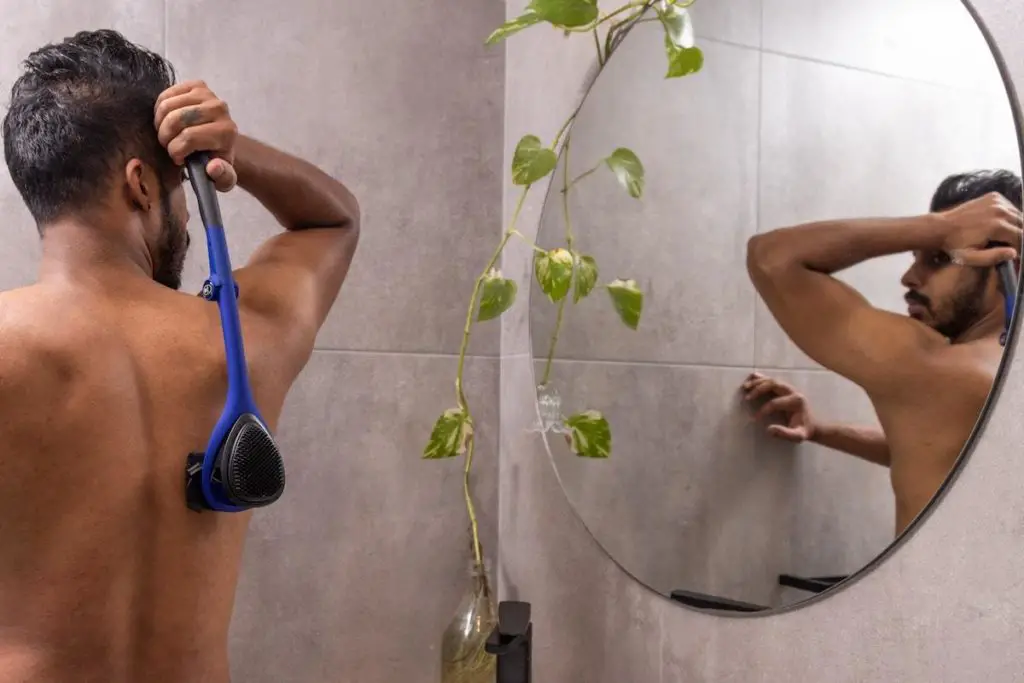 A clean-shaven back shows your muscle definition in much clearer detail. Your back will be ready to be shown off when doing anything swimming related whether you're at the beach or a pool party,
A close shave also means you need to shave your back less often.
Manual razors give you closer back shaves without any remaining stubble. But, this comes at the expense of safety (and comfort sometimes). 
You have a higher chance of getting nicks, skin irritation, and razor bumps with safety razors. So, it's advised to lather your back with soap or shaving cream with manual shavers.
On the other hand, battery-powered razors shave close enough, but they leave your back with tiny invisible hair. However, they are gentler on your skin especially if you have sensitive skin or a few moles on your back to watch.
So, Which one to choose?
It all comes down to your personal preferences.
I prefer manual back shavers as they give me a cleaner shave which extends the length of time between my back shaving sessions. 
When using an electric back shaver, my back turns prickly by the end of the day which makes tank top or shirtless hugs a little awkward. I also need to shave my back more often.
Some men find super-close shaves uncomfortable as they have skin irritation, itchiness, and ingrown hair. If that is you, electric back shavers are your best choice.
For all furry guys, both types of back shavers work well on coarse and thick hair. As you will see in our back shavers reviews, some models of electric back shavers feature a power burst button (i.e Mangroomer) to cut dense hair effortlessly.
Safety and comfort of shaving
Generally, back hair is thin, sparse, and less coarse than your facial hair. So, a quality back shaver must be gentler and have less friction between the blades and the skin surface compared with facial razors.
Most back shavers are designed to protect you from nicks and bleeding by adapting several technologies. The DryGlide technology in the Bakblade brand is a good example.
Men have more chances to cut themselves if they're using manual back razors for the first time due to poor technique. 
Don't move the manual razor in a sideways manner. Instead, keep it moving up and down only.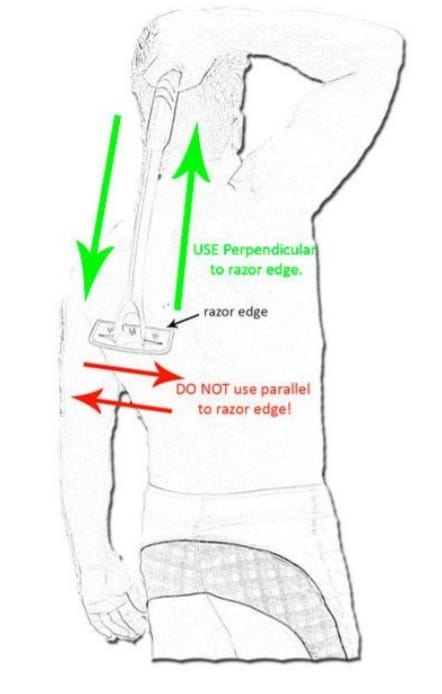 If you have a small pimple, blemish or mole, opt for electric back shavers as safety razors might slice off the raised moles and cause bleeding.
Speed of the operation
Men love to keep things simple and quick. Eliminating the unsightly back hair might take a longer time compared with shaving your face or other personal grooming tasks.
To avoid long shaving sessions, you need a quick back shaver with proper head size, a second long mirror, and some skill.
In the context of speed, manual back shavers trump back electric shavers. Shaving your hairy back with a manual razor is a straightforward one-step process. Also, there's no waiting time for the battery to complete charging 
On the other hand, shaving with an electric back shaver takes a longer time as it's a two-steps process. You need to use the trimmer head to cut the hair to a shorter length. Then you move to the foil head to get a clean back shave.
As I mentioned before, the proper size of the shaving head will greatly speed up the process.
Convenience
Ease of blades reloading
Opt for a shaver that has a straightforward reloading mechanism. Fortunately, most self-back shavers are easy to reload. However, there are some knock-offs brands that you would suffer from their blade replacement process.
Wet/Dry Shaving
Most men's back shavers support both shaving techniques; wet and dry shaving. You might sacrifice the shaving comfort and safety with dry shaving although it is much quicker.
So, if you're a guy with sensitive skin or want to avoid nicks and cuts, give wet shaving a shot.
Wet shaving provides hydration to the hair follicles and shafts. A fully hydrated back hair decreases the cutting force by about 40%. 
In addition, shaving cream or gel reduces the friction between your skin and the shaver so it can glide easier. That means more comfortable shaves without pulls, tugs, cuts, or razor bumps.
Also, wet shaves will give you the closest results to maintain a smooth back for a longer time.
In conclusion, it's advised to shave in the shower by applying shaving cream on your skin for a safer and easier process as the FDA recommends.
Travel
Back shaving is strongly related to vacations, summer, trips to the beach, and pool parties. No one loves to take off his shirts at the beach and feels self-conscious because of his unruly back hair.
So, your back shaver should be ready for traveling at times of unexpected trips. 
Opt for a back shaver with a collapsible handle or compact size that can fit into your backpack. A travel lock is a good bonus for electric back shavers.
Sigma Grooming and Bakblade 2.0 Elite Plus are excellent choices for heavy travelers.
Ergonomic handle
This is a crucial feature to look after if you prefer shaving with soap or shaving cream. A good back hair shaver must feature a non-slippery handle with a power grip that can easily fit on your hands. This gives you full control to use the back groomer at any shaving angle and boosts comfortability.
An ergonomic handle will prevent dropping shaving device accidents. So, you would not need to buy a new back shaver.
Versatility
A multi-functional back shaver is a grooming tool that can be used as a body hair trimmer.
If you want to save some money or storage space in your bathroom cabinet, you will appreciate this option.
Also, a multi-functional back shaver is super handy for men with frozen shoulder syndrome, hip replacement, back pain, or any other injury. They can use the razor extension to groom their leg hair, chest, stomach, and other body hair to minimize painful bending during shaving.
If you want a DIY back shaver that can double as a body groomer, search for some of the following features according to your needs.
A detachable head that you can remove and use to mow your chest and abs.
A long handle with adjustable length to reach any far area at the right angle without bending.
A set of attachment heads is beneficial to manage the length of your body hair depending on your favorite manscaping style. So, you can have a well-trimmed look or go completely bare. Electric back shavers are a good example as they come with a back hair trimmer head and a foil body groomer comb.
Cost and Warranty
There are two types of costs you should be considering when you buy a personal back shaver; the initial cost of ownership and the recurring cost of head replacements.
The cost of head replacement is essential to consider as the same as the upfront payment.
For manual back shavers: The replacement blades of back shaving give you 1-4 shaves depending on your use and the brand. For facial use, the blades could give you between 5-30 shaves.
Note: The American Academy of Dermatology recommends changing disposable razors after 5-7 shaves to minimize irritation.

For electric back shavers: Mangroomer advises to change your shaving head every 6 months.
For manual back shavers, my recommendation is to choose shavers that use standard DE safety razors as they're cost-effective and provide a more customized experience. 
You don't need to keep buying expensive refills for a lifetime. Do you?
How to DIY shave your back FAQs
How Long Does Bakblade Last?
There is no absolute answer because how long the blades will last is a matter of individual variations. It depends on your hair growth pattern and your shaving habits. Yet, on average, the Bakblade razor will last from 5 to 7 shaves. 
How often Should You Change Razor Blades For Back Shaving?
You need to change your safety razor blades after 1 to 4 shaves in case of back shaving. Unlike your face, the back has a larger surface area and this makes the blades dull faster.
What Can I Use To Shave My Back?
To shave your back, you can use a manual back shaver like the Bro Shaver or an electric back shaver like the Mangroomer Ultimate Pro. You also need a second mirror for precision and shaving cream and a shaving cream applicator if you prefer wet shaving.
How Often Should I Shave My Back?
There is no right answer for the frequency of back shaving. It's all up to your personal preferences. Yet, most men shave their back once or t
I wrote a whole article about "How often should you shave?", check it for more information.
More personal Grooming coverage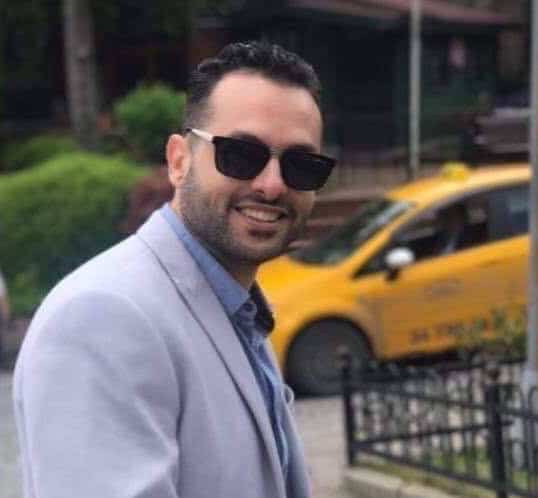 I'm really passionate about shaving and grooming. I shave my friends' hair as a hobby and totally enjoying my time writing about shavers and razors. My main job? Ok, I'm a pharmacist!