TL;DR: Can I use Nair on my back? Yes, you can safely use Nair hair remover on your back in just minutes, as long as you don't have broken or sunburned, or sensitive skin. You need to strictly follow the directions to avoid chemical burns and irritation.
Manscaping your back as a man is a tough mission. From hair removal creams, shaving, waxing to laser hair removal, you have multiple options to choose between.
Now, as you're considering Nair or other depilatory creams to get rid of your back hair, you have many questions that need urgent answers to make up your mind.
Does Nair work on men's back hair? Is Nair better than shaving your back? Is Nair the best way to get rid of back hair?

I've spent +30 hours researching Subreddits, YouTube videos, experts' opinions, and Amazon customer reviews to give you the best answer to your questions.
Let's get started!
Still on the fence? Check my article about the back shaver reviews.
Note: Nair is one of the most popular at-home hair removal creams. So every rule in this article applies to Nair and other depilatories like Veet hair removal cream.
We review products independently, but we may earn affiliate commissions from buying through links on this page as an Amazon Associate.
How Does Nair Work on Back Hair?
Nair™ and other men depilatories are chemical hair removers that break down the chemical bonds (disulfide bonds) between the protein fibers of your hair (keratin). As a result, they turn out your hair follicles into a jelly-like material, so the back hair can be wiped away easily in 3- 10 minutes.[1]
Nair works only on the visible part of the hair (hair shaft) at or slightly below the skin level. Unlike sugaring, threading, and waxing, Nair doesn't remove the invisible part of the hair (hair root)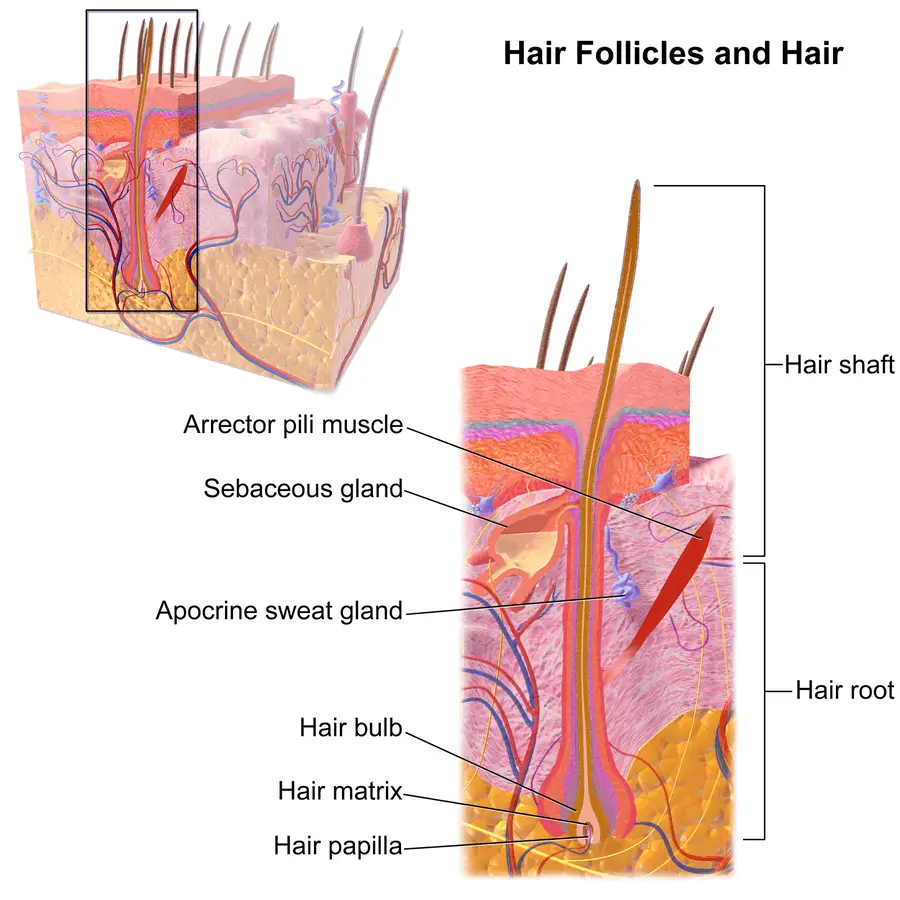 Also, a depilatory cream or gel doubles as a skin exfoliator that removes the rough, dead skin cells. So it helps you to get a smooth back.
To get a clear understanding of how Nair works on your back, we need to discuss Nair's ingredients.
Nair Ingredients
Nair hair removal cream has a wide range of products for different people. Yet, all Nair products share some core ingredients:
A base of sodium, calcium, or potassium hydroxide.
Salts of thioglycolic acid like potassium thioglycolate or calcium thioglycolate.
Moisturizing agents such as mineral oil, Almond oil, Aloe Vera, Coconut oil, and Baby oil. 
The alkaline base activates the thioglycolate and boosts the salt penetration power by opening the hair shaft.
The salts of thioglycolic acid damage the sulfur bonds between hair's protein fibers. As a result, the back hair can be wiped off with no effort.
The moisturizing agents give your skin the needed hydration. So they decrease the irritation, redness, and chemical burn side effects that may be caused by the chemical depilatory. 
Every Nair formula has unique additives that suit the specific function of this formula. Here are some of these additives.
Vitamin E
Aloe Vera
Argan oil
Urea
Water
Calcium carbonate
Fragrance

Can I use Nair on my back?
Yes, you can use Nair hair removal cream on your back hair safely. But, make sure that you don't have any skin sensitivity to Nair ingredients and don't apply Nair to irritated, broken or sunburned, or inflamed skin on your back. Depilatories alone are not a DIY back removal method, so you need a partner to help you.
This is the short answer.
In general, you can use Nair on your whole body with some exceptions. So the question is "Where not to use Nair?"
As Nair states on every Nair bottle:
Do not use on head, face, around eyes, in the nose, in ears, on nipples, perianal or genital areas.
Apart from these exceptions, you can use Nair safely on your back, stomach, chest, back of the neck, arms, and legs.
Will Nair permanently remove hair?
No, Nair and other cosmetic hair removers are temporary hair removal method that gives longer-lasting results. Use laser hair removal treatment or electrolysis instead if you seek a permanent hair removal method
Does Nair work on thick hair?
Yes, Nair works well on thick and coarse hair. Yet, if you have an unruly hairy back you need to put Nair for a longer time up to 10 minutes. Also, you may need to apply a larger portion of the cream.
In addition, it's advisable to use Nair on short hair to get the maximum penetration and best results. 
If you have long back hair, you may need to trim it before you put Nair on back hair. Hair must be ¼ inch long for optimal results. 
You can use a body groomer that comes with an extendable handle like the Philips Norelco Bodygroom 3500 to cut your hair to a shorter length.
But why is Nair effective on thick back hair?
The core formula of all Nair products consists of sodium hydroxide (lye) and calcium hydroxide (lime). These chemical compounds increase the pH to 11-12.5. This greatly boosts the penetration power of the thioglycolate to dissolve the hair efficiently to get a clean back.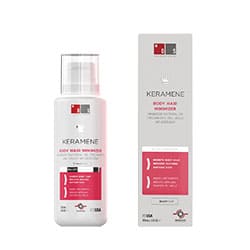 How long does Nair last on the back?
You need to leave Nair on your back for about 5 to 10 minutes before showering. Nair lasts a longer time than shaving. On average, it lasts for about 5 to 15 days. Yet, this number can vary widely depending on your hair growth rate. A 72-hour interval is a must between applications.
Does Nair get rid of ingrown hair?
Although it makes sense to use Nair to remove ingrown hair, depilatories can worsen the problem.
Nair itself recommends not using the hair remover on irritated or inflamed skin as the causative ingredients might cause more skin irritation and chemical burn.
The good news is if you get ingrown hairs due to shaving, shifting to depilatories cream might lessen the risk of ingrown hair occurrence.
Opt for a sensitive skin formula as these formulas are rich in anti-inflammatory agents and moisturizing components that soothe your skin.
Can Nair burn your back skin?
[image: what does a Nair burn look like]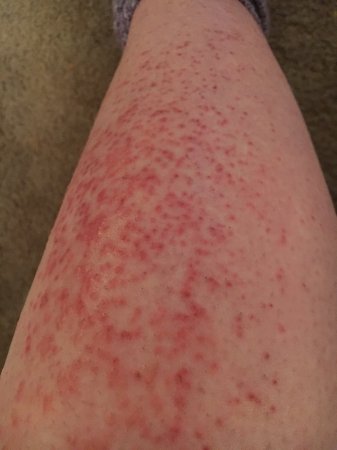 Nair and other chemical hair removers might cause a chemical burn, blisters, rash, flaking/peeling, and redness even if you follow the product instructions rigorously. These symptoms are called Nair rash.
It might take a few days for a minor burn to heal. Yet, a serious burn might need weeks to heel.
This is why you should avoid using Nair on your pubic hair or if you have sensitive skin.
Check my "can you use Nair on your private area?"  article to find more detailed information on using Nair on pubic hair.
Use cool water, Neosporin, petroleum jelly, Hydrocortisone cream, and OTC pain relievers to get rid of Nair burn on the back. You need to wear loose, non-abrasive clothing. For more detailed instructions, read this guide.
Men's back hair removal is strongly linked to summer, beach, pool parties, and swimming-related activities. 
So, let's discuss your associated concerns about Nair in this matter.
Can you swim after using hair removal cream?
Unfortunately, you shouldn't swim immediately after applying hair removal cream. You should wait 24 hours after use. 
This means that depilatory creams are not the best option for unarranged summer trips in the scope of men's back hair removal.
Does Nair mess up self-tanner?
You should apply Nair hair removal cream before 24 hours of using the spray tan or any self-tanning product. Yet, as Nair exfoliates the skin, it will assist you to even out the tan.
The same rule applies to using other grooming products and toiletries. This includes perfumes, antiperspirants, and tanning lotions.
How do you use hair removal cream on your back by yourself?
In this section, we will discuss how to apply Nair on your back safely. Please strictly follow these steps to avoid unpleasant burning sensations and accidental bald spots.
1. Read the instructions well
Every hair remover product has a unique formula. Some have a strong formula that is geared towards thick hair like Nair Hair Remover for Men. Others have a more forgiving formula that is designed for sensitive skin like Nair Hair Remover Glides Away.
Different formulas have a different set of instructions. Read the warnings, how-to-use sections thoroughly. Identify the suggested depilation time and whether to use the depilatory before or after the shower.
Most traditional hair removal creams' formula must be applied on dry skin before the shower. However, there are some waterproof formulas that allow you to use the topical cream on wet skin in or after the shower.
2. Patch test
This step is super crucial.
Simply put, it is an allergy test to check if your body has a skin sensitivity to the formula or an individual ingredient in it.
You should make this test 24 hours before you use Nair on your back. Unfortunately, you should repeat this step every time you use Nair, Veet, or any other hair remover.
Here's how you do the patch test in detail:
Choose a visible part of your body that you can see in the mirror like your elbow.
Scoop up a small, even amount of Nair and spread it over your elbow with your finger or the applicator. Don't rub.
Wait for the advised application time (usually between 5-10 minutes).
Wipe away the cream with a damp cloth.
Rinse your elbow and wash your hands with cold water.
Wait for 24 hours.
Check your elbow with your eyes and feel it with your fingers. Verify that you don't have any blisters, redness, sores, skin rash, or any other allergic reaction.
If you don't have any adverse events, you can move to the next step.
3. Make sure your back hair is short enough
Use your favorite body groomer if you have a friend that can give you a hand. If you want to do it yourself, use Philips Norelco Bodygroom 3500  or Mangroomer Ultimate Pro (use the trimmer head). Your back hair should be ¼ inch long for smooth skin results.
4. Buy a lotion applicator
Unfortunately, Nair doesn't come with a Nair back applicator. If you have no problem with asking someone else for helping you remove your back hair, you won't have to buy this product. Yet, the lotion applicator brush is a must if you're willing to remove your own back hair yourself.
SP Ableware Roll Easy Lotion Applicator is my favorite choice for this step as it has the best reachability to your lower back and hard-to-reach areas.
5. Use hydrating lotion
Use the lotion applicator to apply any acidic moisturizing lotion 3-4 minutes before using the hair remover. This will help you avoid the chemical burn and mitigate the adverse events of the depilatory cream like skin dryness.
Aloe and Lanolin lotion is a solid choice from my personal experience.
6. Apply Nair on dry skin
Dispense a thick, even layer of Nair over the lotion applicator. Use the lotion applicator to spread the cream across your dry back skin. Don't rub, just spread. Leave the cream for 5 to 10 minutes.
Your shoulders are the most sensitive areas in your back. So, this is the last place to hit up.
Don't let the hair removal touch your arms to avoid getting bald spots on them.
7. Wipe away the hair remover and rinse
Use a damp washcloth or the lotion brush to wipe away Nair from a small spot and check if the hair has come off or not.
If there's remaining stubble on this small spot, let the depilatory cream set for a longer time. Yet, remember to stick to the recommended application time.
Now, wipe away the cream from your entire back with a warm towel. Wash your hands and your tools and hop into the bathroom and take a cold shower to remove the lingering cream and close the pores.
Pat dry your back and enjoy a baby-smooth back for 5 to 15 days.
8. Reapply the hydrating lotion
Use the Aloe and Lanolin lotion again to rehydrate your skin and reduce skin irritation.
How to choose a good men's back hair removal cream?
Unlike your facial hair that is thick and coarse, your back hair in most cases is much finer. So, the best back hair removal cream must be:
Light formula: Opt for formulas that have natural ingredients and low pHs. Commonly these formulas carry the word "sensitive" on their names.
Hydrating agents: Search for the formulas that are rich in hydrating components like Aloe vera, shea butter, and chamomile. These agents would calm down the burning sensation on your skin.
Application time: Longer depilation time might mean that the product is more forgiving to your skin. Yet, it's not always the case. Short application time means less contact with skin and less irritation as a result. So, you should take the big picture into consideration.
Best back hair removal cream for men in 2023
Now, let's review the top back hair removal creams that will help you get rid of the unwanted hair on your back and go shirtless with full confidence on beach vacations.
Although it's not a depilatory cream, I thought it's a must to add Keramene to this list as it completely sorts the back hair problem out.
If you wonder how to slow down your back hair growth, Keramene hair minimizer is your go-to solution. It's the best option for people with coarse back hair that need to remove their back hair much less frequently.
This innovative product is an electrolysis alternative. It decreases your back hair density by 38% in 28 days of continuous use, according to a clinical study. As a result, you would need to shave, depilate, or wax your back hair far less often.

So, how does Keramene work?
The hair minimizer stops the keratin (hair protein) formation by suppressing the hair construction stage and enhancing the deconstruction step.
As a result, a lot of the new hair will never grow and the hair that will survive will be much thinner and slower to grow.
Unlike traditional hair minimizers, Keramene features all-natural ingredients, smells great, and it's super comfortable once applied (not sticky).
In addition, Keramene boasts the Nansome Delivery System technology. This technology enhances the penetration power of the product making it much more efficient
Consistency, here, is the key to great results. Use Keramene twice daily. You would start to see noticeable results after 3 weeks of continuous use.
One package suffices for 1-3 months depending on your usage and your hair density. Shave, depilate or wax before the first use for maximum efficacy.
Pros
A great time-saver by reducing the frequency of shaving, waxing, and depilation.
Natural components for maximum safety
Smells good
Great penetration and quick results
Vitamin E provides hydration to your skin
Echo-friendly product (Oxo-biodegradable package).
Cons
Needs consistency to see results
This is our best hair removal cream for back hair.  
Nair men's hair removal cream works well on coarse and stubborn back hair. Also, you can use it for the chest, arms, legs, and stomach.
The pump form provides quick and easy application for extra convenience. Nair™ for Men Hair Removal Spray is also a great, no-touch solution as it can cover large areas like your back.
The advised application time is between 5 and 10 minutes. From my experience, it takes only 3 minutes to get a hairless back. So, you can check a small spot on your back after 1 minute to discover if the hair comes off or not.
The Nair Men body hair removal cream features masculine scents. But, it still has an unpleasant smell.
Bear in mind that this product is not suitable for sensitive skin or acne as it may cause redness, rash, and breakouts.
Pros
Longer results without cuts or razor burn.
Easy and quick to use.
Great for men with a hairy back
Can be used in different body areas.
Cons
Not the best choice for sensitive skin
Strong, unpleasant smell
No back hair cream applicator
This is our best back hair removal cream for men with sensitive skin.
My recommendation for men with sensitive skin is to use electric back shavers as the safest option. Hair removal creams could be a riskier option. Yet, if you want to give them a shot. Veet Sensitive hair removal cream is your best bet.
This depilatory cream features a unique, gentle formula. Aloe Vera and Vitamin E provide moisturizing effects to your skin to alleviate irritation, sting, and burning sensation.
It's much more forgiving than the Nair men's hair remover and, unexpectedly, cheaper. Yet, it's a bit slower as a trade-off.
The maximum depilation time is 10 minutes. Check a small spot after 5 minutes to determine whether to let it set longer time or wipe it away.
Veet Sensitive Hair Remover comes with vanilla and passion fruit fragrances. It also smells bad once applied but it's a tad better than Nair.
Pros
Gentle formula with many hydrating agents
Pump-style for easy dispensing
Can be used for upper torso and bikini areas.
This is our budget choice for back hair removal creams.
Nad's hair removal cream is strongly similar to Nair Men's hair remover formula but at a much lower cost.
It's effective on thick and coarse hair with an aggressive formula. 
You would see the results quickly after 3-4 minutes of  Nad's cream application. One tube is enough for your back.
Many users experienced a painful sensation, chemical burn, and blisters after 10 minutes of application. So, it's better to check a small area on your back after 1 minute of use. Also, don't forget to perform the patch test 24 hours before the ritual.
Pros
Great for stubborn back hair
Budget-friendly
Cons
Harsh on the skin if left for a slightly longer time.
Bad smell
Back hair removal creams alternatives
Now as we knew that Nair works on men's back hair, let's discuss if it's your best back hair removal option or there's a method the works better than Nair. 
Here are the depilatory cream alternatives.
#1. Shaving
You can get a clean-shaven back by using the right back shavers and the right technique. 
Shaving with electric trimmers is the optimal option for men with sensitive skin to get a hair-free back.
It also has minimal preparation time compared to hair removers with no chemical burn.
Yet, shaving has its downsides. These downsides include nicks and ingrown hair. It also needs a high frequency of maintenance as shaving only cuts the hair above the skin surface.
#2. Epilation
Epilation is the removal of hair by pulling it from the roots. This method includes tweezing, sugaring, threading, waxing, electrolysis, and laser back hair removal.
All these methods give you a smooth back for a longer time compared to depilatories.
Waxing:  It gives more sustainable results, yet waxing is much more painful than Nair.
Laser hair removal and electrolysis:  Both methods give you permanent results. Yet, they are more expensive and you need repeated sessions to get rid of back hair forever.
Verdict: Is Nair the best way to get rid of back hair?
Nair and other depilatory creams have their benefits and drawbacks.
Benefits
Depilatory creams are inexpensive products compared to other costly options like laser hair removal, electrolysis, and professional waxing sessions. They are available everywhere. You can get them from Amazon or your local drugstore in the $5 to $20 range. One tube will give you 2-4 uses.
In terms of hair removal frequency, Nair Strikes a happy medium between shaving and waxing. So, you can get smooth back results that last way longer than shaving.
Unlike waxing, plucking, and sugaring, nairing your back is a relatively pain-free option as long as you followed the instructions and precautions.
No cuts, razor bumps, or ingrown hair compared to waxing.
Nair and Veet residues won't damage cotton, polyester, and rayon. So, it won't cause harm to your shirts and tank tops.
Nair provides an exfoliation effect by removing the dead cells on your skin giving you a cleaner back.
Drawbacks
Topical hair removal creams require a long time for preparation. You need to do the patch test 24 hours before every time you need to clean up your back hair. You also have to apply lotion before and after manscaping.
Nair and other hair removers can cause serious side effects like a chemical burn, itchiness, redness, and skin irritation. So, it's not a recommended method for men with sensitive skin or ingrown hair.
Nair is not the best option for unarranged summer trips as you have to wait 24 hours to apply self-tanning products and other toiletries.
Depilatories have a nasty, rotten egg smell.
More Back grooming coverage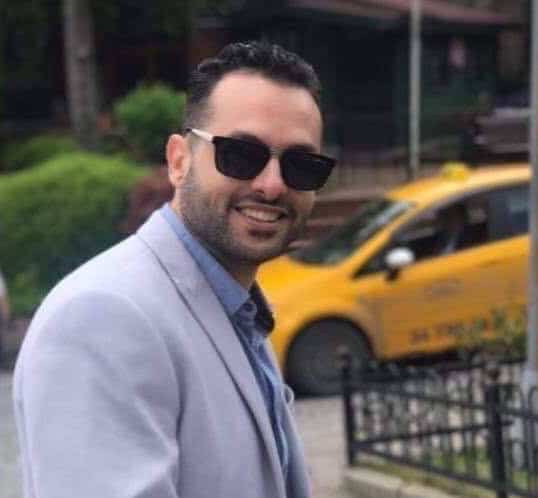 I'm really passionate about shaving and grooming. I shave my friends' hair as a hobby and totally enjoying my time writing about shavers and razors. My main job? Ok, I'm a pharmacist!