In hurry? Our best electric razor for first time shavers is Panasonic Arc 3 ES8103S
The best way to know if an electric shaver is worth the money is to give it a try yourself, but you should also ask for users' reviews. 
To put theory into action, we checked 4587 customers' reviews and reviewed 21 products to get you the best options in the market.
After reading over 24 experts' reviews, we are glad to offer you a list of the best electric razor for first time shavers .
Let's delve into it!
Panasonic Arc 3 ES8103S
Braun Series 7 790CC
Remington F5-5800
We review products independently, but we may earn affiliate commissions from buying through links on this page as an Amazon Associate.
Best electric shavers  for beginners (At A Glance)
Panasonic Arc 3 ES8103S
Braun Series 3 ProSkin 3040S
Remington F5-5800
Philips Norelco 4500 Shaver (Model AT830/46)
Panasonic ES-LA63-S Arc 4
Panasonic ES-LV65-S Arc 5
Panasonic Cordless Shaver ES2207P
Braun Series 7 790CC 
Best Electric Razor for First-Time Shavers In 2023 (In Details)
Looking for a beginner-friendly, high-end electric shaver for an affordable price? 
The Panasonic ES8103S Arc3 can provide its holder with a neat, clean shave, like a high-end electric shaver. That is because of the 3 sharp, nano blades behind the thin layered metal foil. 
Moreover, it has a dashing motor power of 13000 CPM. The motor's power rises to 17000 cpm when applying the Sonic Cleaning Mode to clean up dead skin and stuck hair between the nano blades. 
Let's not forget the awesome charging display that most high-end electric razors didn't manage to pull off. The panel shows a 10-leveled battery and gives a clear notification when the shaver needs cleaning.
Of course, the Panasonic ES8103S Arc3 doesn't come with a fancy cleaning station. But the Sonic cleaning mode is enough to ensure the shaver's long lifetime and ease of cleaning.
Most foil shavers have a limited pivoting percentage. Yet, the Panasonic Arc 3 has a multi-fit arc foil that can shave some of the hard-to-reach places, because of the flexible heads that come with the shaver.
Besides, you can't forget that the medium-priced Arc 3 isn't the best option to shave coarse facial hair that grows in different directions. 
So, to have a decent shave, you could try applying pre-shaving cream to settle down the angry hairs. Only then, the electric shaver might spot them.
One more advantage to the Panasonic Arc 3 Es9103S is that it comes with a primitive trimmer that could help trim long hair if you haven't shaved in a while.
You can also use the dry shaving mode if you are in a rush, but it won't give you the closest shave. But make sure that you have your shaver charged every night because you can't use the Arc 3 while plugged into electricity.
A fully charged Arc 3 three could last about 45 minutes, which is more than enough to have one close shave. 
Some people think that the cordless-only option is a significant drawback. Yet, that 's a safety precaution for beginners.
Pros
Beginner-friendly features
Well-assembled
Affordable
Sonic cleaning mode
Fully charged in 60 minutes
Medium-quality, pop up trimmer for long hair
Allows for wet /dry shaving
Easily adapted
Advanced charging panel
3 sharp, nano blades
Cons
Cordless shaving only
Harsh on sensitive skin
Absence of a travel lock!
Another cost-effective, excellent foil electric razor is coming your way!
The Braun Series 3 ProSkin 3040S is a skin-loving shaver that comes with 3 sharp blades behind 2 metal foil to give you a quick, close shave. Not only that, but it also comes with a trimmer at the back of the razor, which works quite nicely when you want to do some beard trimming.
But, you can't depend on the Braun shaver to cut down a full beard because the trimmer heats up, leading to some acne and pimples. 
What comes in handy sometimes is that you can go over the same area again, and it won't cause any irritation. It's also a bit gentler on the skin than its rival, the Panasonic Arc 3.
Furthermore, you can enjoy a quick dry shave after only charging it for 5 minutes if the NiMh battery was dead on lousy mornings. 
One good thing is that when you dry shave, you'll only need to use the brush to clean the blades and metal foil gently. Nonetheless, you need to know that dry-shaving won't give you the best shave, and you may want to go over it again with a manual razor(safety razor). Not very encouraging, right!
If you are more of a wet-shaving kind of person, you should be ready to do some manual cleaning as the Braun Series 3 doesn't come with a cleaning station. Have your warm water, soap, and high-end lubricant ready!
3050s is quite suitable for beginners because of the following features. Firstly, you can easily find inexpensive replacement cassettes when yours wear out. 
Secondly, you will enjoy a rubbery, firm grip while wet shaving. Thirdly, the shaver has a micro-comb feature that collects all the hair in one direction to make the process even shorter. 
Finally, it doesn't come with a travel lock. Yet, the turn on/off button needs some force, so it's impossible to turn it on by mistake.
Pros
Budget-friendly
Excellent ergonomics
Hefty, NiMh Battery
Quick 5-Minute Charge
3 Leveled charging panel
Microcomb technology
Inexpensive replacement cassette
Wet and dry shaving
Cons
No travel lock
The trimmer heats up
Very noisy
The Remington F5-5800 is one of the old-fashioned electric shavers yet still loved by many daily users. It allows for corded and cordless shaving, which isn't provided by its Braun or Philips counterparts. 
This electric shaver is a basic foil razor that often gives a smooth, dry shave. Yet, it isn't used for wet shaving. So, people who are acne-prone should keep away!
The F5 electric razors are perfect for people who have light hair on lip, chin "peach fuzz," and need to shave every 2 or 3 days. But it doesn't score as well with the flat-lying hair around the neck and beard.
Many high-end brands don't provide the battery panel option, an essential addition to all electric shavers. Luckily, the Remington F5-5800 people managed to add a 5-leveled LED indicator that turns red when the shaver needs charging.
It takes the Remington battery 2 hours to be fully charged, and it usually lasts about 60 minutes to discharge. 
An important tip for people who are always on the move is that this electric shaver doesn't have a travel lock, and the button is easily accessed. So make sure to check it now and then.
Since nothing is ever perfect, and this product is no exception!
The Remington's grip is quite a disappointment. It's enormous compared to other electric razors and made of a low-quality material that can get very slippery during shaving. It makes perfect sense that it only allows dry use.
That being said, beginners should keep away as they are still learning how to use a shaver. There is no need to put an immense burden of poor ergonomics on them.
Pros
Cordless/Corded Shaving
Great value for money
Long battery life
Ease of cleaning
5-level battery indicator
Intercept shaving technology
Cons
Super noisy
Rough on sensitive skin
Disappointing grip and construction
Doesn't allow wet use
Frequent blade-replacement
The Philips Norelco 4500 Shaver is a fancy, smart-looking rotary shaver, considering its features and price range. It's hard to find a better deal for a Philips shaver!
Since it's a Philips Norelco rotary shaver, it has a reasonable pivoting percentage. But not the best as you may face some difficulty with tangled, long beards.
The rotary shavers are much quieter than most foil shavers (Check my article about the quietest hair clippers for kids). Well, the Philips Norelco Shaver 4500 is too noisy for a rotary shaver, probably because of its high-performance motor.
The dual precision shaving system is a fantastic quality. It could shave the hardest-to-reach places, like the jawline and neck . People with coarse, flat-lying hair admire.
Besides, a pop-up trimmer that could trim long beards, before achieving your go-to close shave. I wouldn't recommend depending entirely on the philips Norelco trimmer, as it's a bit blunt. So it doesn't allow for perfectly trimmed sideburns and moustaches.
Moreover, you can use the Philips Norelco shaver for cordless wet/dry shaving depending on your skin sensitivity. Providing that you are a beginner, you should consider applying shaving lotions and after-shaving cream at all times. You don't want to get acne-insecure on a long day at work.
The battery of the Philips can last for 60 minutes of shaving. Also, if you have a busy morning, you could always use the 3-minute quick charge option. 
But what gets in the way of the Philips Norelco 4500 success is that it takes the battery around 8 hours to fully charge. That isn't very practical without fast-paced life nowadays!
Pros
Philips Norelco Aquatec Technology for ease of cleaning
3-minute quick shave
Long shaving time
Fancy, sturdy design
Detects flat-lying hair
Cons
Very noisy
Not reliable for longer beards
Hard to put back together after cleaning
Lone charging time
Poor trimmer
Primitive battery LED display 
Best Electric Shaver for Teenagers
If you are a teenager looking for a high-quality shaving experience, the Panasonic Arc 4 and 5 have got your back. They are the best electric shavers for teens.
Now let's get more into the Panasonic Arc 4.  A teenager has sensitive, acne-prone skin that needs an electric shaver with gentle shaving elements. 
The Panasonic Arc 4 uses the hypoallergenic, nano shaver blades to make the shaving experience worthwhile.
One of the most significant features is that the shaver has a 14000 CPM motor powerful enough to give a quick, clean shave. 
Adding to its efficiency is the second vibrating motor placed in the shaving head. It allows the shaver to get closer to the skin to capture flat-lying hair and cut facial hair to the shortest length.
Moreover, it has a flexible shaving head that could get handy around the jawline and neck areas. But you could also lock the shaver head to give you a closer shave around sideburns. But, a teenager might find the shaver hard to control because of the large shaver head.
Like any foil shaver, Arc 4 can get a bit noisy, because of the doubly motorized system.
We all know how clumsy teen boys are, so Panasonic found it only right to place a travel lock that won't allow any accidental battery discharge.
Otherwise, you will find that the Lithium ion battery can stand for 45 minutes of shaving. You will also be able to keep up with battery percentage through the 10-leveled LCD display.
Pros
Hypoallergenic shaver blades for teenage sensitive skin.
Easy to use
Suitable for teen boys
Wet/dry use
10-leveled LCD display
Supersonic cleaning mode
Cut through flat-lying hair
2 Powerful motors
Fine ergonomics
Cons
Noisy
No cleaning station
Large shaving head
Another good electric shaver for a teen is the Panasonic Es-LV65-S that could work on a face with a tough beard. 
But, Arc 5 isn't as gentle as its Arc 4 counterpart. Yet you can optimize your experience by applying some lotion to reduce direct contact and maintain a closer shave.
Arc 5 is the best electric shaver for thick beard, owing to its automated shaving system. It measures the hair length to give a good cut. 
So you only need to apply the appropriate amount of pressure while shaving and let the Panasonic Arc 5 do the challenging work.
Panasonic Arc 5 comes with a perfectly positioned trimmer that could trim the hair before shaving your face. That makes it even more compatible with long, coarse hair.  So, you could go for a close shave every 2 or 3 days with Arc 5.
One of the most helpful features is that the shaver's motor can do 14000 cycles per minute. That rises to 17000 cycles per minute when the supersonic cleaning mode is active. So, the cleaning process is  a blast!
With such an impressive motor, the Panasonic shaver has a Lithium-ion battery that allows 45 minutes of shaving. 
The battery percentage appears on an LED display that also shows the time taken to shave. This quality is excellent for a beginner to be able to track his learning progress.
But, the shaver is a bit pricey, considering that it doesn't come with a cleaning station. For instance, the Braun Series 7 790CC is around the same price but comes with a cleaning station and offers a top-notch shaving experience.
No one can deny that the Arc 5 is a fantastic shaver for beginners. Especially that shaving head comes with 5 stainless steel blades that could last a lifetime if you took good care of it. Otherwise, you may need to buy some expensive blade replacements.
Pros
Great for a teen with coarse facial hair 
Easy to use
Supersonic cleaning  mode
Metallic, sturdy design
Perfectly positioned pop up trimmer
LED display
Wet/dry use
Cons
No cleaning station
Not the best option for sensitive skin
Pricey 
Expensive replacement cassettes
Best Electric Razor for a Teenage Girl
The shaving process requires commitment and patience to get the top outcomes. So, getting into the shaving world is an overwhelming step for teenage girls. 
To make it easier for all girls out there, we have got for you the best electric shaver for first-time girl shavers. That is the Panasonic Cordless Shaver ES2207P, and here is why:
The not-so-noisy ES2207P has hypoallergenic blades. These blades are sharp yet soft on the skin to give you a smooth, painless shave. Plus, it comes with 3 floating blades that enable the shaver to go over body curves without cuts or razor burns.
If your skin is more sensitive than average, the wet shaving option will lessen any acne's probability. You will need to apply high-end shaving gel.
The electric razor has a slim, girly look so that your small teenage hands could hold it tight for a long time, not causing any arm soreness.
The built-in trimmer is perfect for cutting down the hair before starting the shaving process so that you can go for a full-body shave, no problem!
I must say that the Panasonic Cordless Shaver ES2207P is a good starter electric shaver for girls, but not perfect!
When you buy the shaver, you'll find that a fully charged battery lasts for 30 minutes only. It is okay if the razor has a fast charging option. But the fact that the ES2270P takes 12 hours to charge fully is very disappointing.
Pros
Super affordable
Easy to use
Impressive ergonomics
Close shaves
Hypoallergenic blades
Skin-friendly
Long lifespan
Travel pouch included
Cons
12-hours charging time
30-minutes battery life
Best Electric Razor for Special Needs
If you are looking for effortless shaving, then Braun Series 7 790CC is one for you. 
The Braun 790CC has many advanced technological features that make it even possible for special needs people. They will enjoy a close shave without any cuts or painful burns.
You don't need to apply any force to get closer contact with the skin. All you need to do is move the foil shaver in left/right or up/down directions to get a cleaner shave.
The Braun Pulsonic Technology enables the motor to vibrate vigorously with a 10000 RPM power, not leaving a single hair behind. 
Providing such a powerful motor, people may think that the battery won't be as efficient. But the Braun Series 7 doesn't go wrong in that area. It still offers 50 minutes of shaving time.
You will also enjoy the luxury of an LCD display to show the battery's level and the razor's cleaning status.
Another exciting feature is Braun Active-Lift Technology. It works well with flat-lying hair that most Panasonic electric shavers struggled to get out of the way. 
All these features are compatible with first-time shavers. They only need to click on some buttons and leave everything to the razor. 
Of course, the Braun foil shaver comes with a 40 degrees, pivoting head to follow the neck and jawline's facial curves. A beginner might not like the flexibility of a pivoting head. So, they could lock them.
To prove that it's for first time shavers, Braun invented 3 personalization modes. That allows the user to change the motor power depending on the skin type. The 3 modes are extra sensitive, normal, and intense shaving. 
You can adjust it according to your skin type. But, you should keep in mind that the motor power drops when you opt-in for the extra-sensitive mode, thus you might need to use the intense mode.
Even the cleaning process is much easier because of the provided cleaning station. That station cleans, lubricates and dries the razor after using.
Pros
Suitable features for first-timers and special needs people
3 Personalization modes
Braun Pulsonic Technology
Sturdy design and motor
Corded/cordless shaving
Gentle Ergonomics with rubbery sides
Light weight
Long lasting replacement cassettes
5-minute quick charge
Cons
Over Priced
The motor's power drops when using the extra sensitive skin mode
How to Choose the Best Electric Shaver for Beginners?
You may need to do in-depth research to find the top electric shaver for beginners, but do not worry at all. Check out the buying guide prepared especially for you.
Is It Better to buy a Shaver or a Trimmer?
Let's say that you are a handsome businessman who likes to close his deals with a clean, close shave. Your best option would be an electric shaver that saves your time and energy and gives you the sharp, neat look you desire. 
But, if you like to keep it cool with a bit of a well-styled beard or mustache, then you should go for an electric trimmer with knobs. That type allows you to choose the perfect length and style for your facial hair. Moreover, you can also use it to trim nose and ear hair.
Foil vs Rotary: Which One should be your first electric shaver?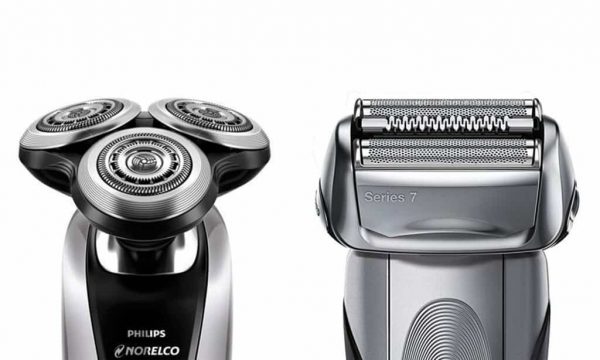 Naming your go-to shaving machine is a tough call, especially if you are a novice. How would you know if foil or rotary shavers are better for you?
And we are here to make that call for you!
Skin Type
If you are new to electric shavers, the foil is a better suit because it is soft on a sensitive face and more liable for beginners. As the metal foil layer is delicate and easily damaged if cleaned vigorously. So manufacturers turn to stainless steel or gold foil.
Yet, if you know that your skin type can withstand the roughness of a rotary shaver, then there is nothing stopping you. 
Closeness of Shave
I have tried both, and I have seen how both razors work. I have sensitive skin with fine, short hair, and a foil razor was the perfect pick. Yet, I needed to use it daily to have the optimal outcome.
As for the rotary shavers, if you are a person who likes to have semi-clean shaves now and then, but you are too lazy to get up and do it every morning. Then you should go for the rotary one. 
Rotary razors are way more suitable for coarse and curly hair. Nonetheless, they wouldn't work very well with fine hair.
Mechanism of Use
The way you use each shaver depends on how it was put together in the first place.
For instance, the foil shaver has scissors-like, oscillating blades covered with a rectangular, thin metal foil to be soft on the human skin. In that case, the pivoting percentage of the foil shaver is very narrow. It'd be better if you used it in either left-right or up-down directions.
This restricted movement won't allow you as a user to clean shave hard-to-reach areas like under your nose, neck, and chins. Yet, it gives you a perfectly trimmed mustache and sideburns.
You will find that the rotary shaver has 3 circular heads with spinning cutters. That allows you to apply in clockwise, circulatory motion while shaving, giving you an awesome pivoting percentage.
A rotary shaver's circular motion takes up the shape of the to-be-shaved area, making it easier for a beginner to shave areas like chin and neck. Even though it's very effective with non-uniform facial hair, it doesn't give a perfect trim.
Ease of Cleaning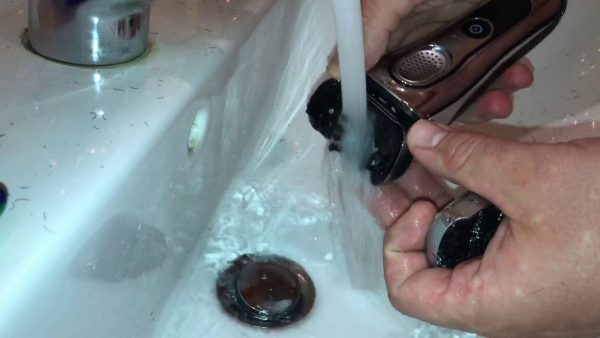 Let's face it! Most of us turn to electric razors to cut on the time we waste using manual razors or going to beauty salons. So, we definitely aren't looking to waste this time on cleaning our electric shaver.
The good thing about foil shavers is that most of them come with cleaning stations, which you need to put in it some extra cash to get. But it works like a self-cleaning gadget to clean and dry the razor in no time.
Yet, this feature doesn't usually come with rotary blades making it a tough pick for users, especially that its cleaning technique isn't simple. 
You need to break everything apart, give a quick cleanse, and put it back the same way it was. If you ignore the regular cleaning, you end up with dull blades.
Should You Go for Wet- or Dry-Shaving?
When I heard the concept of "wet shaving," I imagined an electric razor working under running water. I believe that would be the first thing that comes to your mind, too.
Yet, wet shaving suggests 2 ways of shaving. The first one uses the shaver under running water or during a shower, which is a massive time-saver for many swamped employees.
Although this method isn't very skin-friendly for people with dermal sensitivity, that brings us to the second way. It is using the electric shaver after applying shaving lotion. The latter is more time-consuming yet safer to people with irritated skin and more appealing to people seeking a clean shave. 
The last shaving technique is dry shaving. It is to use your electric razor without water or shaving lotion. You can do a quick, dry shave in your car or office if you are rushing to a business meeting. It wouldn't give you the neat, close shave you need, but it will get you through the day.
How to Get Through the Cleaning Process?
Is Investing in an Automatic Cleaning Station Worth the Money?
If you have an extra $30-40 lying around and enough space on the toilet's countertop, it'd be an excellent investment to buy an automatic cleaning station.
The self-cleaning shavers can make your life effortless. As machines will clean, dry, and lubricate your shaver without needing you to move a muscle or waste a minute of your precious mornings before work.
You may spend some cash every 2 or 3 months to buy the cleaning solution and lubricant, but it's all for your good.
In the long run, I have noticed that self-cleaning gadgets are cost-effective. Daily cleaning your shaver will boost its lifespan and keep your blades as good as new for a long while. So you won't need replacement blades.
Warm Tap Water, High-End Soap, and a Lubricant are All You Need.
If you don't have enough toilet space or think that the cleaning station isn't worth the money, you could do the handy work yourself. But you should be ready to waste a few minutes of your morning.
Start by turning the shaver off, rinse it with warm water, and apply some soap. Then, turn on the razor to let the soap get through every corner and get out all the skin extracts and cut hair. Finally, lubricate your blades and let your machine dry. 
Now that's a routine that may not sound appealing to most people!
Charging Time and Panel Display Features
Nowadays, all razors are fast charging so fast that you can charge the razor while taking your morning shower. This percentage of battery life can give you one complete, decent shave.
Some razors don't come with a panel, which doesn't allow you to know the battery percentage, and that is a considerable drawback.
But, some companies are working hard to show the charging process by using a color-coded system. 
For instance, red indicates that the razor is connected to electricity yet not fully charged. Green means that the battery is fully charged and you could use it for 50 to 60 minutes of shaving time.
Battery Life
As a child, I had an inner belief that the longer I kept my phone or a battery charging, the more powerful it would become. Yet, leaving a battery charging overnight or more than required reduces its lifespan, leading to a voltage depression.
It's also better if you only charge the electric shaver when the battery is completely drained. Otherwise, you'll consume the battery causing a known case as the "Memory effect". 
To make it simple, it's like charging an 80% battery every day, at some point the battery forgets that its starting point was 0% and starts to adapt to the new origin point, the 80%. So you may think that you have a 100% battery, but actually, you only have 20% one.
Motor Power
We use CPM (Cut per minute) to measure the motor power of an electric razor.
As a newbie, you could go as low as 13000 CPM motor but never settle for less than that because you won't be satisfied with the final results.
Foil razors can get work done faster than rotary ones, which means that the CPM is much higher for foil shavers. It may reach up to 70000 CPM for high-budget, well-manufactured foil razors.
Sensitive Skin Friendliness
Beginners may have allergic reactions, because of their misuse of electric shavers or little experience.
Here are some useful tips for first-time shavers:
ALWAYS MOISTURIZE! After each shaving, make sure that you use an after-shaving cream to decrease the metal foil's effect on your skin.
Our skin works with an adaptation mechanism. It's okay if you suffer through some acne and pimples in the first few weeks of electric shaving. Especially for teenagers, your skin acts like an acne-magnet at that age.
Knowing how to handle your razor is a huge factor that could make or break your shaving experience. Make sure you check the Foil Vs. Rotary section.
Regular cleaning is a must! You sure don't want to have the leftover dead skin and hair from your last shave on your face and body again.
Blades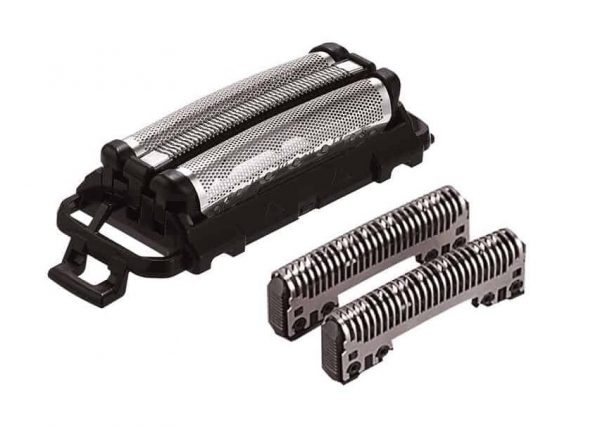 Even if you are super keen on cleaning your shaver, you must change your blades once or twice a year. After your intense daily use of electric razors, the blades become dull and may irritate your skin and give you some cuts and burns. 
Budget
Buying an overpriced electric razor for beginners isn't a smart move as you're still experiencing new products. It would help if you had time to decide which brand, type and features are the best matches for your shaving experience.
You should start with a low budget (from $50 to $100) and go higher when you know what you need.
Ergonomics
Learning to use a razor isn't a challenging mission, but having a firm grip over the tool contributes positively to your shaving experience. It's better to have full control over your shaver to rotate it around hard-to-reach areas and your face contour.
Flexible Heads
A pivoting head makes your shaving experience hell a lot easier—no need to worry about harmful cuts and razor burn. As the heads take the shape of your face, it steeps down the learning curve of electric shaving, which would be on the plus side of all beginners.
How to use an Electric Razor for the First Time to get the best shave?
Wash your face with a suitable cleanser and rinse it with warm water to open your skin pores for optimal results.
Apply pre-shaving alcohol to remove any dirt or residues, and then add on your shaving cream if you take up a wet shaving technique.
Now, plug in your electric razor and ALWAYS Remember that an electric shaver is a lot sharper than it looks, so don't put on too much pressure.
Start by shaving the sensitive areas like your chin and cheeks while the device is still cool to avoid burns. Most noteworthy, you need to go along with the grain. (the same direction of hair growth)
Shaving the same area over and over again will get you some serious skin problems.
Apply soothing aftershave cream to prevent possible irritation.
Congrats! You have got yourself a homemade, close shave.
How You Can Avoid Cuts While Shaving hair?
Change your shaving blades every year to replace blunt ones.
Don't apply too much pressure.
Apply pre-shaving elements as a safety precaution.
Clean your razor every day if your time allows it.
FAQs
Do All Shavers Operate For Left-Handed People?
Definitely Yes!
All electric shavers are symmetrical, so both; left- and right-handed people have an equal learning curve.
At What Age Do Boys Start Shaving?
14 is the perfect age for all teenage boys to begin their shaving experience.
Can A 14 Year Old Buy A Razor?
Yes, if they have coarse, rough hair, it's a good idea to start learning how to use the electric at a young age. 
Yet the answer is variable depending on the hair type. 
At What Age Should A Girl Start Shaving Her Underarms?
Shaving is a personal preference. As girls tend to hit puberty at a very young age, handing them a sharp tool like a razor would be risky.
So the perfect age would be when a girl feels most ready!
Final Verdict
A lot of options and features to consider, right!
Shaving is an exhausting process. You have to do it every morning over and over again. So the least that you could do is try to have fun while doing it.
The Panasonic Arc 3 ES8103S is the best electric razor for a young shaver. It gives you so many features for a small amount of money. 
The fact that it works as a shaver and a trimmer simultaneously and gives you the luxury of wet and dry use is fascinating. 
What are you waiting for? Get yours right now.
Panasonic Electric Shaver and Trimmer for Men ES8103S Arc3, Wet/Dry with 3 Nanotech Blades and Flexible Pivoting Head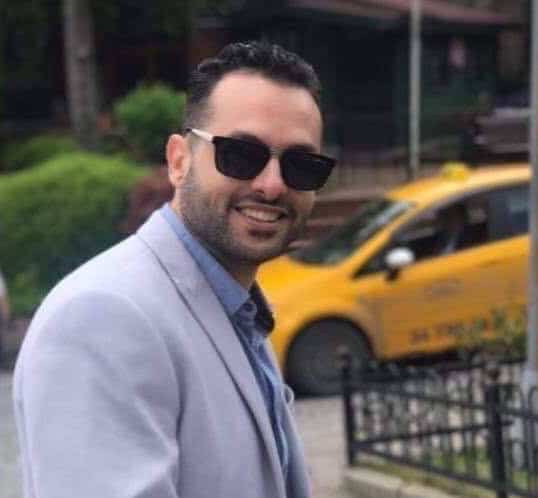 I'm really passionate about shaving and grooming. I shave my friends' hair as a hobby and totally enjoying my time writing about shavers and razors. My main job? Ok, I'm a pharmacist!