In a hurry? Our best electric shaver for black men is Braun Series 7 790cc.
Black men tend to have curlier and coarser hair and also sensitive skin that needs taking care of. Around 60% of African American men experience ingrown hairs, according to the American Osteopathic College of Dermatology.
The average black man will need an electric shaver that is easy to use and doesn't shave too close to the skin. A close shave allows for ingrown hairs to form and can cause a razor burn, which is annoying. 
However, finding the perfect electric shaver for black men can be tricky with the numerous options on the market.
After checking over 3000 customer reviews and 31 expert reviews on 26 products, we present to you a list of our top picks.
We review products independently, but we may earn affiliate commissions from buying through links on this page as an Amazon Associate.
Top Electric razors for black men
Braun Series 7 790CC
Braun Series 9 9290cc
Braun Series 3 3040S
Best Electric Shavers for Black Men in 2023
We divided the reviews into sections according to the different uses. Here are the electric shaver reviews.
Best options for Facial Hair
Here's the product of our research. A list of our favorite electric razors for black people to take care of their facial hair and forget about ingrown hairs.
The Braun Series 7 790cc is a smart electric shaver that adapts to the thickness of your facial hair. It automatically increases its power when it comes in contact with a difficult area. It can vibrate up to 10,000 micro-vibrations per minute.
This shaver features the same ActiveLift technology Braun has been known for. It works by removing flat-lying hair for a cleaner shave. So, it's great for wiry hair on the neck and chin area by picking up any hair that wouldn't usually be picked up by other razors.
The Braun Series 7 790 cc is the best bump-free electric shaver out there, offering maximum comfort and reliability for sensitive black skin and coarse hair. It was proven to work perfectly on a 3-day beard by the IPI research institute. 
The five turbo/sensitive modes allow for as close a shave as you'd want, and it ensures no irritated skin as a result.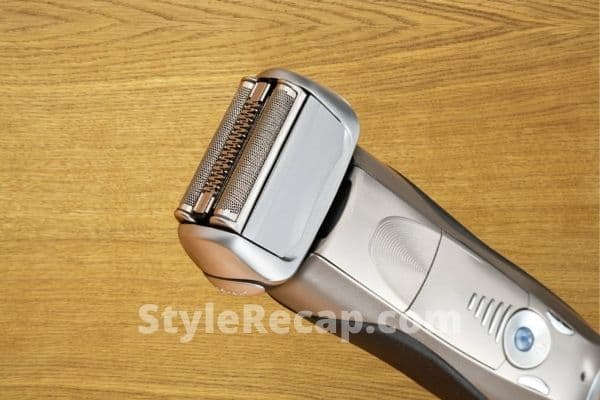 This foil electric shaver also comes with a handy travel case to take with you on the move. It also comes with a fantastic cleaning and charging station. The cleaning station cleans your electric shaver with an alcohol-based solution that kills germs to keep it clean and healthy with every use. 
If you want to clean it manually, you can run water on the head to rinse it. Using soap from time to time is also preferable. 
You can also remove the foil and blades to clean the cassette underneath with the brush it comes with. However, this can be time-consuming and a bit fiddly since the design is a bit complex and the foils can't be separated from the blades. 
Also, the station will charge your electric shaver to give you 50 minutes of run time, which is more than enough for a clean, bump-free shave
Another added benefit to the Braun Series 7 790 cc is that the foils are replaceable, although they can be rare and expensive.
Pros
Tested on a 3-day beard
The smart feature increases power if needed automatically
Five turbo/sensitive modes
Travel case
The cleaning base keeps the blades free of germs
Cons
Replacement foils are rare and expensive
If you have extremely sensitive black skin, then this is the optimal electric razor for you. The Braun Series 9 is a smart electric shaver that adjusts its power according to how coarse your hair is. This leaves no room for ingrown hairs to form on your face. 
It is fitted with five shaving elements. One of them is the lift & Cut Trimmer that cuts flat-lying hair. This feature is a Braun standard, and it contributes to their fame. It also has a Direct & Cut Trimmer that cuts hair that grows in different directions.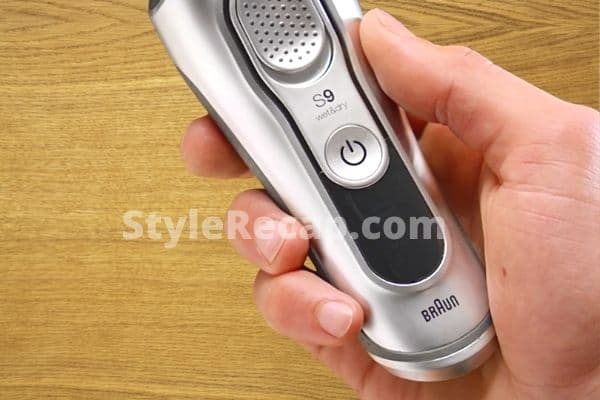 These elements are engineered to give you a very close shave that lasts for a longer time. So, you won't have to use it daily to keep a smooth, clean shave.
The Braun Series 9 runs with 40,000 cuts per minute to give you a seamless shave no matter how curly or coarse your hair is. Also, this shaver is capable of 10-D movement to cover all the different contours of your skin. 
This premium electric shaver also comes with a cleaning and charging base that eliminates all germs to keep your skin healthy and smooth.
You can clean it yourself, as well. However, that proved quite tricky because of the small intricacies behind the head. This is the case with other CC models as well. It's better to use the cleaning station.
The travel case it comes with makes traveling easy. You just put it in the case, and it will handle bumpy roads and turbulent air in your luggage without a problem. 
The downside we found is that it doesn't shave the neck as well as the face. So, you will need to put in a bit of extra effort when shaving your neck. But be gentle so you wouldn't cut yourself. 
Pros
40,000 cuts per minute to prevent nicks
10-D movement to cover the facial contours
Travel case
Cons
Doesn't shave the neck as well as the face
Getting the optimal electric shaver can be expensive because of all the technology packed into the device. But, with the Braun Series 3 Proskin 3040S, black men will shave effortlessly without breaking the bank.
This cordless electric razor is fantastic if you like shaving with water or cream since it is 100% waterproof for as deep as 5 meters. This allows it to be used for wet and dry shaving and gives it an advantage since shaving cream is suitable for sensitive skin. 
We found the razor to work pretty well, but it's not the best with longer hair lying flat on the skin. That is with the dedicated cutter for longer hair. We needed to run it multiple times on areas with longer hair, so it could cut it.
That's why we recommend using it daily to get the best results. If you have a lighter beard, though, you can definitely use it less often.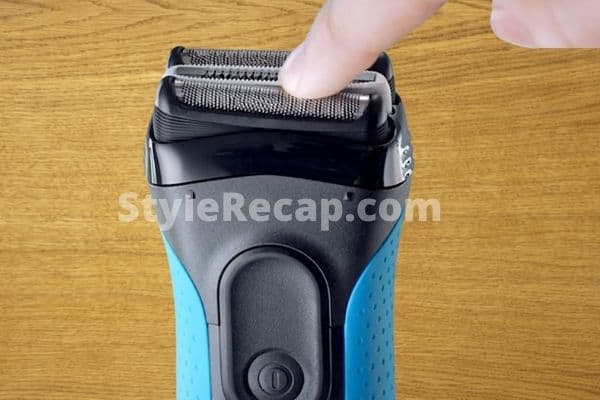 This is the perfect electric razor for busy men since you only need to charge it for 5 minutes to get a good shave. If you have more time on your hand, however, you can charge it for an hour to get 45 minutes of shaving, so you can take your time removing all the hair you don't want on your face.
Moreover, men with sensitive skin will have a good time with this shaver since it has pressure shaving elements that retract when they're too close to your skin to prevent cuts.
What we would have loved to see with this electric shaver is a cleaning and charging station, but since it is waterproof, you can easily wash it without a problem. If you like cleaning your razor manually, then we say go for it. 
Pros
Waterproof
Fast charge (5 minutes) 
Pressure blades to prevent cuts
Cons
No cleaning station
Build quality isn't the best
Black men do not only care about their skin; they also care about style. So, the Panasonic ES-LV95-S Arc5 with its pop-up trimmer will give you all the style options you need. You can use it to detail your mustache or sideburns, so you can have the best-looking face out there.
The ARC5 works with an Active Shave Sensor Technology that increases the power automatically when it encounters denser hair. This makes it, so you don't have to push the razor hard on your skin.
The Panasonic Arc5 is unique with its 5 30° nanotech blades that run at 14,000 cuts per minute. It also has a flexible pivot head that follows the facial contours. The blades on the flexible head give it precision, resulting in very clean and close shaves with every session. 
The problem with the Panasonic Arc5, though, is that it tends to be a little harsh. It's better used if your skin isn't overly sensitive. And try to use it carefully. Using shaving cream here would be the best idea.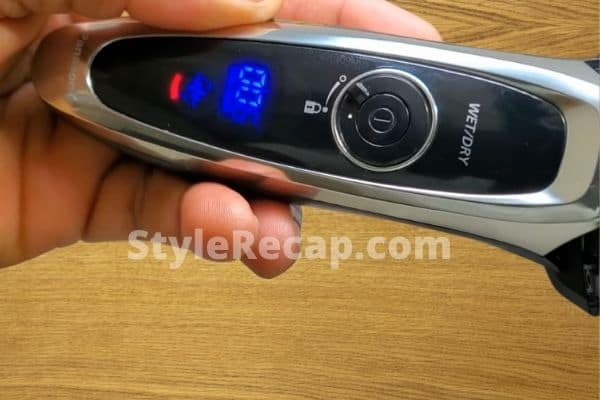 Moreover, the shaver has an LCD screen that shows the battery percentage in 10 stages. This way, you will always notice when the battery is dying out. 
All you need is to charge it for 1 hour, and you're ready to go.
This electric razor is made for traveling as well. The travel case it comes with keeps it safe while in your luggage. 
This electric shaver is also waterproof, so it's perfect for both wet and dry shaving. You can clean it underwater if you want to clean it your own way. 
But if you want effortless cleaning, then you can rely on the cleaning base it comes with. The cleaning station's build quality isn't one of the best, though, so handle it carefully.
Pros
Waterproof
LCD screen shows battery percentage
Nanotech blades for precision
Pop up trimmer for detailing
Cons
Build quality on the cleaning station isn't the best
The Panasonic ES-LA93-K Arc4 is made with dual motors, one to move the shaving elements at 14,000 cuts per minute and one to move the blades up and down to pull the hair. 
The pop-up trimmer on this foil shaver is also a reliable addition that lets you rock the style you want on your mustache or sideburns.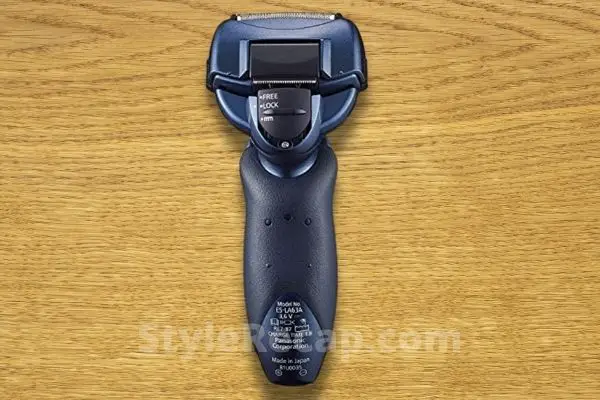 It works well with wet and dry shaving but can be harsh on sensitive skin when going dry. So, it would be best if you used it with shaving cream to get the best and safest results. 
This razor also comes with a Clean & Charge station to make sure you always have a clean razor. But, if you want to clean the shaver yourself, then don't be scared of putting it underwater since it's waterproof. This also allows for wet shaving if you like getting rid of facial hair in the shower. 
The Panasonic Arc 4 also features a screen that shows battery percentage. We can't stress how useful this feature is because of how many times we've seen electric shavers die out mid-shave. 
The shaver can take a while to get used to it and its power since it tends to be harsh on the face at first. But, once you get the hang of it, you'll find nothing better to use. 
Pros
Dual motors for a cleaner shave
Pop up trimmer for styling
Wet shaving
Screen showing battery percentage
Cons
It's harsh if you're not used to it
If you're a fan of the Remington brand, this is the perfect model for you.
When your beard is uneven and has both long and short hair, it can be challenging to shave every part of your face as efficiently as you want. However, the Remington F5-5800 solves this problem with its cutting-edge intercept shaving technology and pivot and flex technology. 
The intercept shaving technology makes it one of the top electric shavers that cut longer hair when it encounters it using its three-blade system. And the pivot and flex technology allow each of its three shaving parts to move independently to follow the curves and contours of your face. 
But, we found that it doesn't perform as promised with flat-lying hair. I had to use some force to get those pesky hairs out of the way, but it resulted in some nasty cuts. 
This razor also has a great pop trimmer to detail your mustache and sideburns, so you'll use it for either a full shave or a stylish trim.
Once you're done, you'll be able to clean the shaver under the water since it's waterproof. This also means that you can go for wet shaving, which we encourage, since you can use warm water to soften the hair first.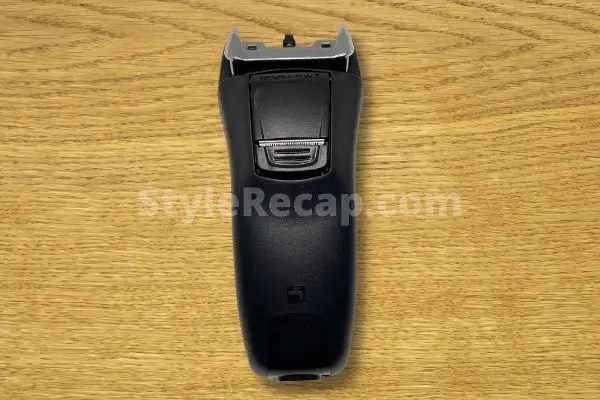 One other fantastic feature of this electric shaver is that you can use it corded or cordless. We liked this feature a lot because you can't always wait for the shaver to charge for using it. You can also charge it for 5 minutes to get one complete shave. This is the peak practicality in the world of shaving.
Pros
Intercept shaving and pivot and flex technology
Waterproof
Perfect for longer hair
Cons
Poor with short whiskers
No travel case
Best Electric Shaver For Black Men's Bald Head
Black men also need something to shave their heads with if they like the bald look. So, here are our picks for the top electric shavers for dark-skinned bald heads.
The Andis shaver excels at shaving the head. Its ergonomic, old-school shape makes it easy to handle up there, especially because it's lightweight.
The rotary motor works at 9000 strokes per minute, allowing the blades to cut the hair at a very close angle.
Speaking of this shaver's blades, the foil is a staggered-head shape with octagonal that allows for a close shave in the rough spots behind the ears to get you that shiny bald look.
The battery on this razor is a beast! It gives you 80 minutes of use in one charge, which is simply impressive.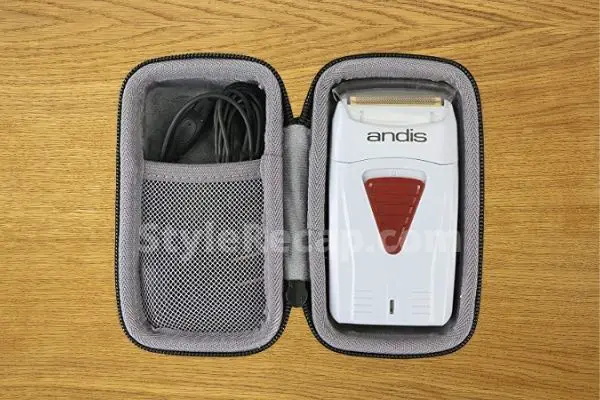 We also really like that you can rock it corded or cordless as if the long battery life wasn't enough. This shaver speaks to practicality and comfort.
The downside we noticed is that the foil doesn't last long. After one or two months of use, the foil tends to break, and it can even break mid-shaving, which can result in nasty cuts. 
We recommend changing the foil as often as possible, especially that foil replacement for it is affordable.
Pros
Staggered-head shape give a close shave
Strong motor
Long battery life
Can run corded and cordless
Long name, right? And long battery life, too! Can you imagine getting three hours of run time on an electric shaver? The BaBylissPRO is the one if you want to forget when the last time you charged your shaver.
Not only that, it has an auto-shutoff mechanism that lets it switch off automatically if you keep it running without use for a few minutes. 
It has a staggered head that lets you reach difficult spots like behind the ears without any problem. 
The design is sleek and stylish, with ample size for a good grip. But, it is a bit slippery, so make sure your hands aren't sweaty while handling it. 
The shaver is cordless for ease of use, but it is not waterproof. This shaver is meant only for dry shaving, and it works best on the head.
The foils are hypoallergenic, meaning they will not cause skin irritation when used.
With that being said, the foils are not as durable as they should be; there have been instances where they fall off or break, which will hurt if it happens while you're shaving. 
Pros
Long battery life
Auto shutoff technology
Sleek design
Cons
Not waterproof
Foils aren't durable
Slippery to the touch 
Wahl is renowned for its electric shavers, and this one extends Wahl's fame to an electric shaver for black men. 
Its foils are hypoallergenic, making them easy on the skin. 
Wahl advertises it as a shaver for both the beard and the head, but we recommend sticking to the head with this one since that's what it's meant to do. 
It doesn't work well on the beard and produces terrible results. 
The battery life on it is good, with 60 minutes of run time on a single charge. This is more than enough time to get a clean-shaven head.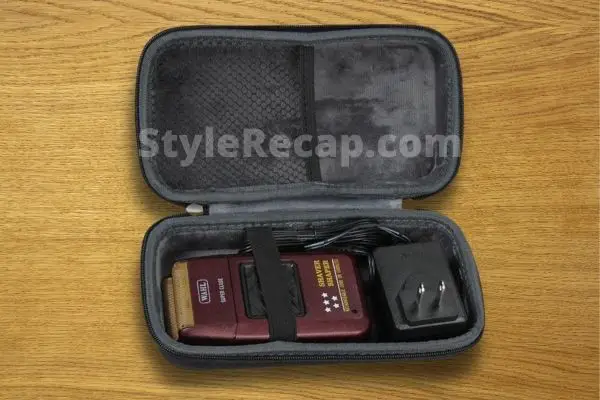 The foil works great, but the material isn't strong enough. So, it's prone to break easily. It can be replaced, though, for a very affordable price. 
It also struggles a bit with longer hair, so it would be perfect if you shave daily. 
Pros
Hypoallergenic foil makes it easy on skin
Clean shave with no irritation 
Good battery life
Cons
Weak foil
Not good with long hair 
Travel Electric Shavers for Black skin
If you want to get your regular shaving abroad, you'll need one that's built specifically for traveling. 
This shaver is small and light enough to fit in your luggage without a problem. 
The Philips Norelco gives you 60 minutes of shaving using a double AA battery. This is perfect for the on-the-go lifestyle since you don't have to charge it occasionally. And although the batteries aren't chargeable, you can get replacements from any store.
You can also get rechargeable batteries and a charger instead of the batteries the shaver comes with. 
The Philips Norelco is the only rotary shaver on the list. It's quieter than foil shavers, which is useful if you need a quick shave without causing too much noise. 
Norelco works best with thick and curly hair, which is good news for black men. It is also excellent for long facial hair, and we recommend using it every time your beard gets longer instead of every day. 
Both heads move independently to adapt to your facial contours. Also, the blades sharpen themselves to give you consistent results with every shave. 
Since it's a rotary shaver, though, it comes with the typical problems that come with rotary shavers. First of all, cleaning it is challenging since you have to completely remove the head to clean the small parts. 
Shaving with it also takes longer than with foil electric shavers. 
Pros
Small and compact
Quiet
Independently moving heads allow for a smooth shave
Self-sharpening blades
Cons
Included batteries are not rechargeable 
Difficult to clean
It takes longer to shave with it
Most Common Shaving Problems for African Americans
Having naturally curly hair makes it very common to have problems like ingrown hair, and razor bumps. 
Why Do Black Males Get Razor Bumps?
Because the hair naturally curls and the razor cuts straight, it is very likely for African Americans to find their hair penetrating the skin. This causes itching and irritation as well as an ugly look. This can also result in a darker skin tone in the affected area, which would make the face look uneven. 
How to Choose the Best Electric razor for Black people in 2023?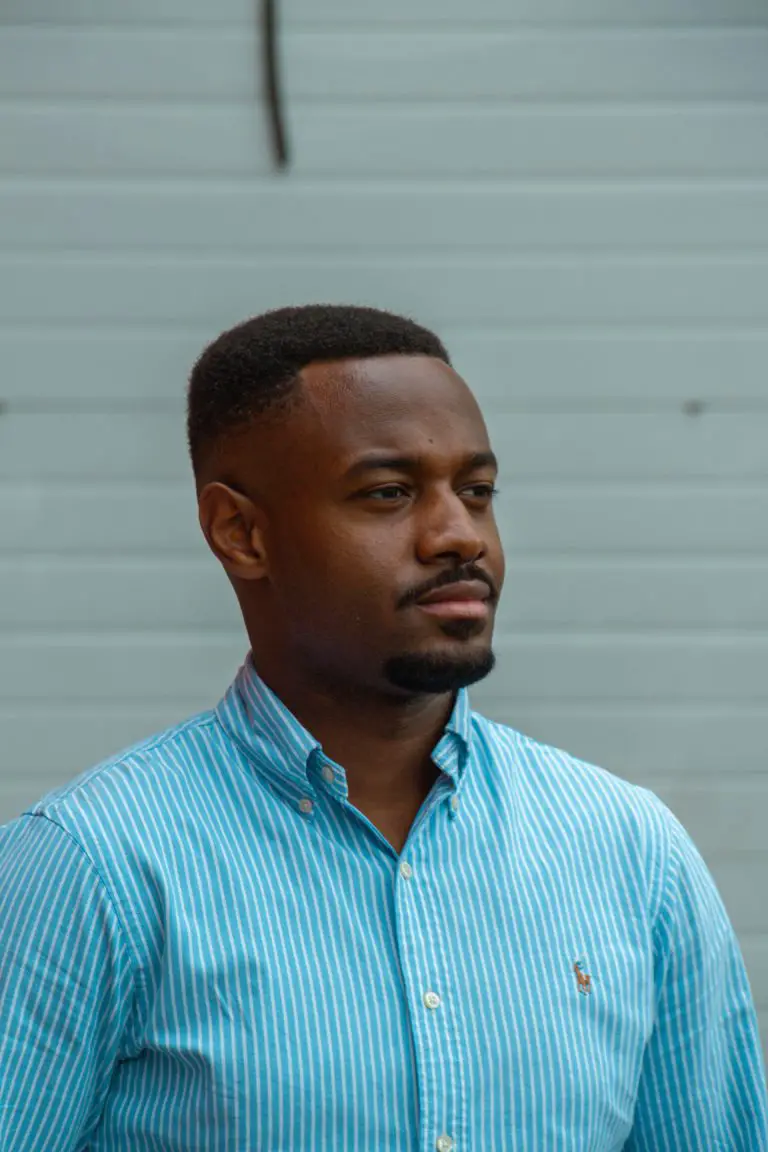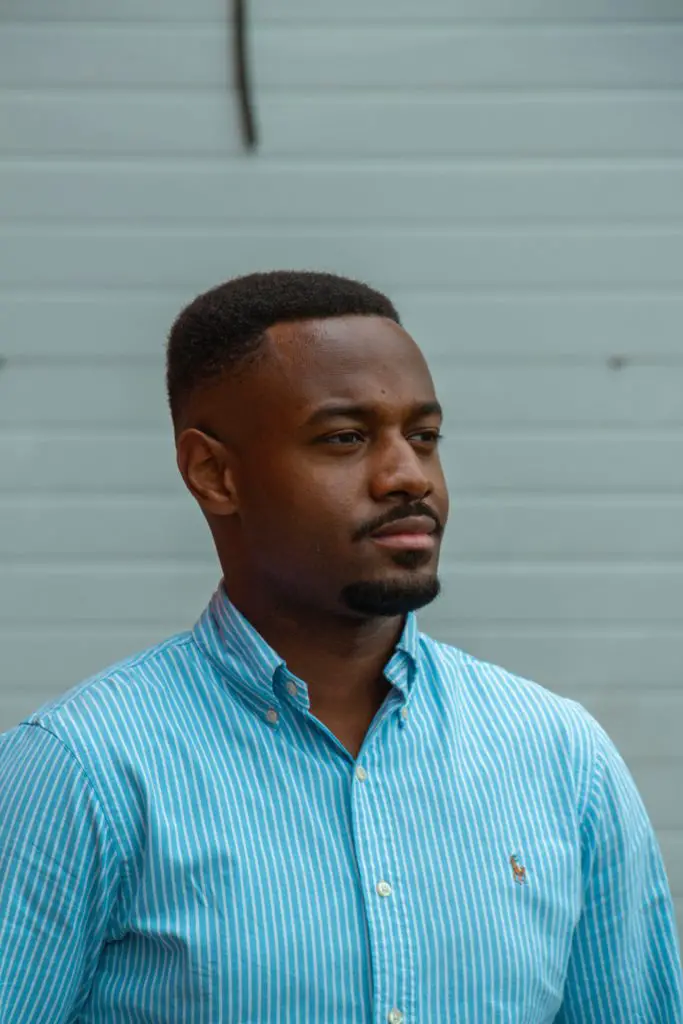 To get the best value for money and take care of your skin, there are several things you need to keep in mind. 
Motor Speed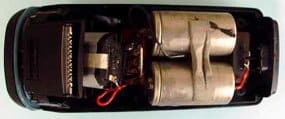 To cut a long story short, a faster motor equals a better shave. Powerful electric shavers cut the hair better and don't cause cuts or a razor burn. But, what you'll see with weaker models, is that they will cut your hair but with a painful shaving experience. So, always pick the highest number. 
Sharp Blades
A sharp blade will cut every hair the same way cleanly and will run smoothly on your skin. If the blades dull out, this can cause some painful cuts. That's why most blades must be replaced regularly to allow for consistently clean shaves. 
Suitable for Sensitive Skin
Getting an electric shaver for black men with adjustable settings to go either softer or harder is always a plus. Some shavers actually automatically adjust their power depending on how thick your hair is. Also, getting an electric shaver with a cleaning station is better to keep germs away. 
Efficiency on Flat-lying and curly hairs
Not all hair is upright. Some of it lies flat and is not easily picked by electric shavers. And curly hair makes it difficult to get a clean shave without cuts or burns. So, getting an electric shaver that can cut flat-lying and curly hair smoothly is exactly what you need. 
Close Shaving May be Not Beneficial
Close shaving has always been encouraged. But, for black men, that is not the right thing to do. A close shave here will make it more probable that the hair penetrates the skin. So, you should choose a shaver that doesn't cut to skin level. 
Wet and Dry Settings
People differ in their shaving habits, so having the wet and dry shaving options on a shaver satisfies everyone. Some people like to get their hair softened with water or cream before shaving, so having a waterproof shaver will help in that regard. 
Rotary or Foil Shavers
Both rotary and foil shavers have their use, and people have differed between them for ages. 
Simply put, rotary shavers are good at following the contours of your, but it turns to work best with coarser hair and is for people who don't shave every day. It also doesn't give a very close shave. 
A foil shaver is for daily shavers who like a soft razor on their face. It might struggle a bit against curly and coarse hair, but it will be very smooth and cut close to the skin with no irritation. 
Both have features that appeal to black men, so choosing one is a matter of personal preference. 
Best Way for an African American Man to Shave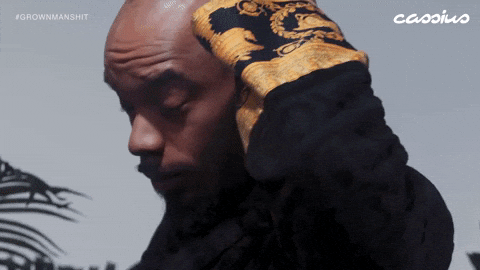 It is usually encouraged to shave first in the hair growth direction and then against the grain. However, black men can't do that because it would cause ingrown hairs to form due to the coarse and curly nature of their hair. That's why black men with sensitive skin need to stick to shaving in one direction, that is, the direction of hair growth. 
Pre-Shave
The first thing you do is splash some warm water on your hair to soften it. After that, we recommend exfoliating to remove the oil on your face with the trapped dirt underneath it. Finally, use pre-shaving oil to lubricate and replace the dirty oil you removed earlier.
During Shave
Lather up using shaving cream with a brush to lift the hairs so that the blade can run smoothly. Now it's time to get your favorite razor and use it in one direction. 
After Shave
Put some beard oil or aftershave when you're done, and you're good to go. And try to give your beard some time to let the hair grow just a little bit to reduce the risk of getting ingrown hair 
Final Thoughts 
The Braun Series 7 790cc is our favorite pick for black men because it fulfills that purpose. 
The smart shaver gives you an effortless shave. And you don't need to worry about flat-lying hairs with its renowned ActiveLift technology. 
The alcohol-based solution disinfects it after each use to keep your skin healthy without any irritation. 
The five turbo/sensitive modes on the Series 7, upon testing, showed excellent results on coarser hair. You'll have a true bump-free shaving experience. 
Braun Series 7 790CC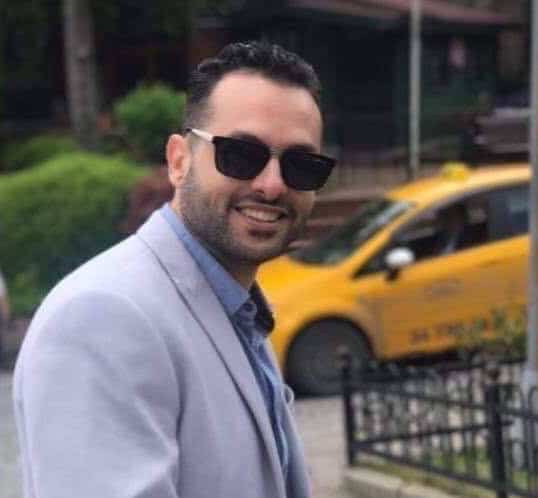 I'm really passionate about shaving and grooming. I shave my friends' hair as a hobby and totally enjoying my time writing about shavers and razors. My main job? Ok, I'm a pharmacist!