In a hurry? Our best electric razor for an elderly man is Braun Series 7 790cc
An old man usually resorts to disposable razors to achieve a neat, close shave. As you get older, your skin becomes less elastic, thinner, drier, and can be bruised easily.
Even if you don't suffer from underlying health issues (like diabetes) that aggravate skin infection, you'll eventually crave a safer approach to shaving. 
Unlike manual razors, electric razors don't require you to shave against the grain, which often results in scarring in the neck area, the worst injury for our seasoned old men.
Not all electric shavers are destined to cope with the grey hair, wrinkles, and delicate skin that our senior citizens have. Consequently, we embarked on a journey to compile a list where you'll find your best option for you or for your loved ones.
Let's jump in to see what's sharp and what's blunt!
Side Note: Check my article on how to look younger.
We review products independently, but we may earn affiliate commissions from buying through links on this page as an Amazon Associate.
Our Recommendations
The Best Electric Razors For Elderly Man in 2023 (At A Glance)
Braun Series 7 790cc – Best Electric Shaver for Loose Skin
Braun Series 9 9370cc – Premium Choice
Braun Series 3 ProSkin 3040s_ Budget Pick
Panasonic ES LV95-S Arc 5 – Best Ergonomics
Panasonic ES8243A ARC4 _ An electric razor that shaves as close as a blade
Philips Norelco 9700 – Best Rotary trimmer for seniors
Braun Series 5 5020s – Best Value for Money
SweetLF Electric Shaver_ Best for Alzheimer
Why Do We Recommend These Shavers?
Don't just take for granted what one reviewer says. Along with our unbiased reviews, we analyze the top experts' reviews of the leading products.
Expert Reviews Included
4
User Opinions Analyzed
19579
Best Electric Razor For Older Men (In Details)
According to geriatrics, the aging process consists of 5 stages. These phases range from self-sufficiency to complete dependency on your loved ones.
Our choices cover the first 3 stages; self-sufficiency, interdependence, and dependency. 
Here are the priorities that we cared about most when choosing these products:
Specs
Weight: 1.97 Pounds
Closeness: short as 0.05 mm for optimal closeness
Waterproof
Cleaning & charging station
Key Features
This Braun Series 7 790cc electric razor for men comprises two foils acting as a guard for post-shave skin softening and one central cutter for flat-lying hair. Regarding the shaving experience, this electric shaver features 5 shaving modes, which you can control through the +/- buttons encompassing the power button.
This shaver utilizes Braun's intelligent Sonic technology that generates 10.000 micro-vibrations to get a grip on demanding hair removal. Pair this with the Autosense Sensor that adjusts the shaving intensity level based on your beard's hair density, and you have a hands-free shaving approach. 
Older men will be happy with this Braun electric shaver's head flexibility. It adapts to the contours of the loose skin since the razor head pivots back and forth with a 2X OptiFoil.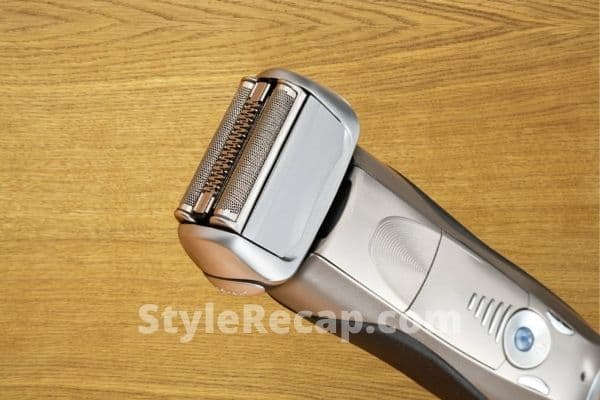 On top of that, you get floating shaving elements so that you don't have to dig your way through facial hair. The three shaving elements with the ActiveLife trimmer will allow you to shave hair of any length. So this is a great choice if you shave frequently.
The shaver achieves a 50-minute cordless shaving operation on a single charge. The bottom-most part of this electric razor houses 2 intuitive gauges that serve as battery and hygiene indicators.
To complement this charging/cleaning station, the electric razor also comes with a cartridge full of blue cleaning solutions and lubricants for one-click, out-of-the-box cleaning sessions. The cleaning solution will also protect the blades against damage.
If you're in a rush, you can use the Fast Clean feature to clean your shaver at no time before use.
Along with this Braun electric razor, you get a travel case, a power cord, and the mighty Clean & Renew system from Braun.
One downside to the Braun Series 7 is that the pop-up trimmer is placed on the front, impeding your way to hard-to-reach areas like the upper lip and sideburns. Moreover, this Braun doesn't feature a dry & wet operation since it's just waterproof for manual cleaning.
Pros
skin comfort w/ 1 central cutter
The shaving sensor automatically manages power
Ergonomic-design
50-minute rechargeable battery
Indicators for battery and cleaning
Travel case and cleaning & charging station included
Self-cleaning and Fast Clean options.
Comes with a cartridge that lasts for 30 cleaning sessions
Cons
Imprecise pop-up trimmer 
Not capable with upper lip hair
No wet and dry capability
Specs
Weight: 2.08 Pounds
Closeness: cut close to 0.05 mm length.
Waterproof
Additional shaving element for long and stubborn hair
Cleaning & charging station
Travel case
Key Features
At first glance, you'll notice the most prominent gold-plated cutter foil for catching flat-lying hair. The silver cutter vanquishes hair that grows in different directions. Lastly, the two foils behave like guards sandwiching the operational silver and gold cutters.
Thanks to these shaving elements, I'd say that the Braun Series 9 can shave more hair per stroke than other shavers I've used before. These shaving elements will allow you to cover large areas flawlessly. So that will save you plenty of time if you're in a hurry.
Combine that with the AutoSense Technology and Braun's snappy Syncrosonic Technology, and rest assured that tenacious hair will fade into oblivion. This technology allows the razor to adapt to your hair density and produce the appropriate amount of power.
One thing that I appreciate is that the (dimensional) flexible head contours move back and forth, adhering to skin bumps and wrinkles. It moves in micro and macro motion to give you a smooth clean shave.
Moreover, there's a lock switch in case you're satisfied with a certain position. My old man loves accuracy. So, he likes this head primarily because he can adjust its pivoting angle from 0° to 20° in 5-degree increments.
Like our best overall, the Braun Series 9 easily secures a robust lithium-ion battery life. This battery will give you 50 shaving minutes before being dead.
Luckily, we get the rear pop-up trimmer on this electric razor.
I'm grateful for having a wet and dry shaving operation with this electric shaver since not every elderly person hates shaving with a cream. That also means that you can wash it manually with ease.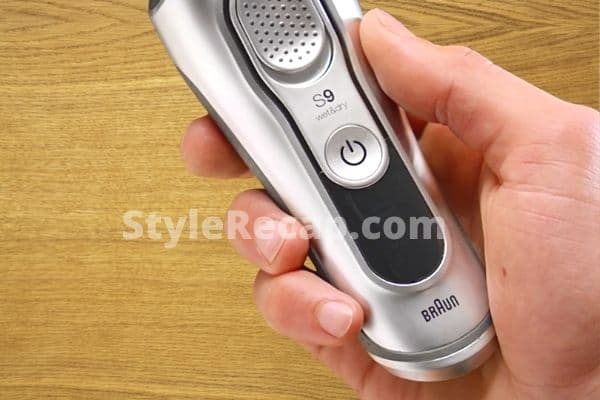 Yet, I recommend using the automatic cleaning station that comes with this model. This 5-action alcohol-based system will lubricate your shaver. It will also protect it against bacteria and dirt accumulation.
Expectedly, you get the same accessories as the Series 7 alongside your purchase. 
Unfortunately the Braun Series 9 will set you back a pretty penny. Yet, it pays for itself.
Pros
2 cutter foils for enhanced facial hair removal
Shaving sensor
Ergonomic 10D pivoting head
Dependable lithium-ion rechargeable battery 
Comes with accessories and a charging & cleaning station
Dry and wet shaving
Flexible contour positions
Specs
Weight: 0.44 Pounds
Automatic Clean and Charge Station
Closeness: As close as a blade
waterproof
Pop-up trimmer
Key Features
Elderly men hate the itchy shaving processes they have to go through with almost all electric razors. However, mine instantly fell in love with the flexible head of the Panasonic ES LV95-S Arc 5. The Multi-Flex razor head here boasts great ergonomics, thanks to its ability to pivot back and forth and side-to-side, topping all the options on our list in this department.
With this flexible pivoting head, this workhorse will adjust according to your facial contours to get the best shave. So, You'll be able to maintain a good command on necklines and jawlines as you shave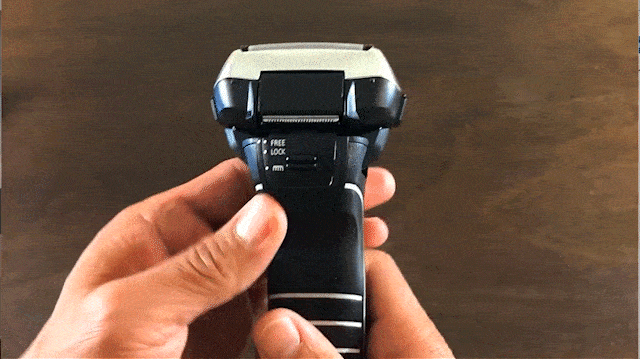 This electric shaver is equipped with a high-end powerful motor from Panasonic with 14,000 cycles per minute. This high CPM translates to great shaving accuracy in a shorter time.
Unlike our premium choice, this one features only one cutter to deal with flat-lying hair for reduced skin irritation. The other 4 foils are a blend of guards and stubble removers. Those 5 nanotech blades are ground to 30° to cut the hairs from the roots.
Moreover, the micro-foil pattern will enable you to handle long, medium, and short hair. The Lift-Tech technology also enhances flat-lying hair capturing. These are great features if you shave frequently.
This electric razor has 3 onboard shaving modes. When you press the power button once, you'll be taken to the default mode where the Active Shave Sensor technology shines. It determines the thickness of your beard and adjusts the power accordingly. You can activate the two other modes by pressing two or three times respectively on the power button.
The 5-blade cutting system is far from allergic, thanks to the hypoallergenic stainless steel incorporated in every blade.
The Arc5 comes with a high-end battery that is fully charged in one hour. Don't worry you don't have to wait one hour to start shaving. Charge the shaver for only 5 minutes, and you could get a full shave immediately.
This electric shaver comes with a charging and cleaning station with an included Panasonic detergent to fill the station's compartment for instant cleaning of hair, dirt, and shaving cream.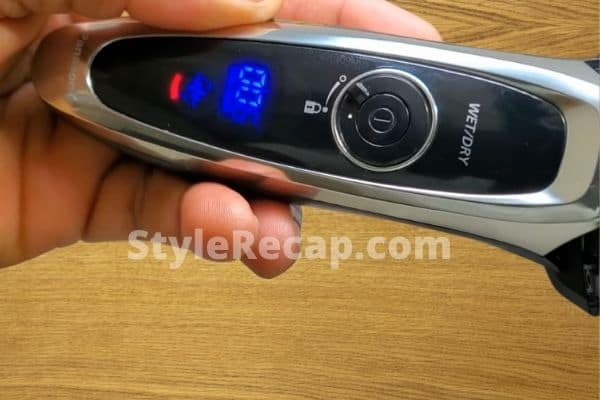 The LED indicator is a plus. It shows the various battery levels and tells you to charge the battery whenever it's low.
On the downside, this shaver gives you 45 minutes' worth of shaving compared to our high-end 50-minute shaving sessions. Though it's a small gap between both, I've experienced battery degradation in the long run during my tests. Although the Panasonic Arc 5 will give you the closest shave ever, this comes as a trade-off for shaving comfort. That means it wouldn't be the best choice for sensitive older skin. That's the biggest difference between Braun and Panasonic shavers.
Pros
Ergonomic, flexible shaving head
High-performing linear motor
1 cutter foil is gentle on the skin
Hypoallergenic nanotech blades
Active Shave Sensor
Comes with detergent and a charging station
Cons
Average battery compared to our premium pick
Detergent is for one-time use
Not the optimal option for sensitive skin.
Specs
Weight: 0.8 pounds
Waterproof
3 cutting elements
NiMH batteries
Precision trimmer
Key Features
At that age, you have probably spent hundreds of dollars on manual and electric razors. So, if you want a budget-friendly electric shaver, the Braun Series 3 Proskin 3040s is the one for you.
There are a lot of reasons why you should buy it. The shaver comes with triple action cutting elements that move in different directions to catch as much hair as possible, besides the Micro comb feature that gathers hair closer to the cutting blades to make your shaving faster and smoother.
The Micro comb technology, alongside the Patent SensoFoil feature, contributes to an irritation-free shave. Also, you won't need to go over the same area more than once.
The pop-up trimmer in the Braun 3040s isn't very promising for shaping sideburns and mustaches, especially with long, coarse hair. In that case, you need to pass over the same area more than once to catch all the hairs.
The Braun ProSkin 3040s works well with 2-days shavers. You will notice that the shaving experience gets less comfortable if you wait for more than that.
It also doesn't come with a cleaning station. You won't have any trouble cleaning the 100% washable Braun shaver. The brush that comes in the box will clean the shaver if you are a dry shaving fan.
However, if you prefer wet shaving, then you should use warm water and soap after each shave to remove all the residuals. Of course, that is to ensure that you don't need to change your cassettes quite often.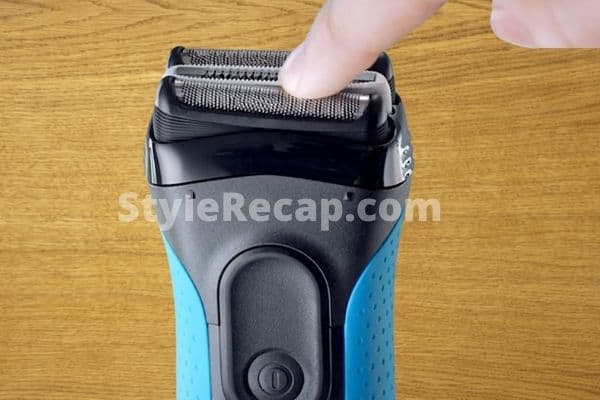 The electric razor has an ergonomic grip because of the 2 blue, rubber sidebands. These rubber bands eliminate slippery action while wet shaving or manual cleaning.
Moreover, the NI-MH battery could work for continuous 45 minutes, suitable for 2 to 3 close shaves.
Pros
Budget-Friendly
MicroComb Technology
Triple action cutting elements with precision head
5-Minutes quick charge
Patent SensoFoil feature
Non-slippery grip
Cons
It doesn't come with a lubricant like its Braun counterparts
Cordless shaving only
Noisy like usual foil shavers
Flimsy pop-up trimmer
The motor doesn't work up to its maximum potential
Specs
Weight: 0.04 pounds
Waterproof
4 precision nanotech blades
Blue illuminated LCD
Key Features
The Panasonic ES8243A Arc4 is one of the best affordable options in the market nowadays. Keep reading to know if the ES8243 is the electric shaver for you.
It's also a great option if you have sensitive skin, as you can use the hypoallergenic precision blades for a close shave without getting skin burns or nicks.
First off, it comes with a comb that can get out flat-lying hair. And with the help of 3 micro-thin mesh foils, you can enjoy a quick, close shave. However, you might need to go over the same area several times to get rid of all the flat-lying hairs.
Secondly, you can use the pop-up trimmer to shape your mustache and sideburns as you wish. Or you can use it as a starter to trim down your hair before going for a clean shave.
Although the ES8243A is a foil shaver, it has a pivoting head that goes in all directions. You should also use it in a circular motion as if you were using a rotary shaver.
Thirdly, A 13000 CPM motor is strong enough to cut down hair close to the skin in no time. This feature can compensate for the 45-minutes battery life of the Panasonic Arc 4 gadget. So if you shave every once in a while, it's perfect for you.
You can also go for a quick 5-minute charge if you are having a bad morning.
Fourthly, as we previously mentioned, old shavers like to get the job done in the least amount of time. The Sonic cleaning mode allows the user to clean the shaver in less than a minute.
Finally, you can always go back to the LCD on the shaver to check whether the shaver requires cleaning. Most importantly, you can also check the 10-leveled battery indicator to check if the battery needs charging.
Pros
Great value for money
Hypoallergenic blades for sensitive skin
5-Minutes Quick Charge
Sonic Cleaning mode
Sturdy 13000 CPM motor
A useful pop-up trimmer
10-leveled LED battery display
Cons
A bit noisy
45-Minutes battery life
Expensive replacement cassettes
No travel lock
Specs
Weight: 3.21 pounds
Waterproof
SmartClean station
Automatic voltage: 100 – 240 Volts
We're taking a break from our traditional foil shaver notion with our only rotary electric razor, the Philips Norelco shaver 9700. This electric razor accommodates the Philips' V-Track Precision Blades. I've found this rotary shaver merciful on the skin since it manages to capture meticulous stubble, including these 1-day elusive grains. As a result, you will get clean comfortable shaves with this razor.
This electric razor has a lot of technology crammed into it. It boasts the Contour Detect Technology, capable of instantaneously identifying jawlines to position the head accordingly. Additionally, the blades never run blunt since they self-sharpen each day to prolong their lifespan.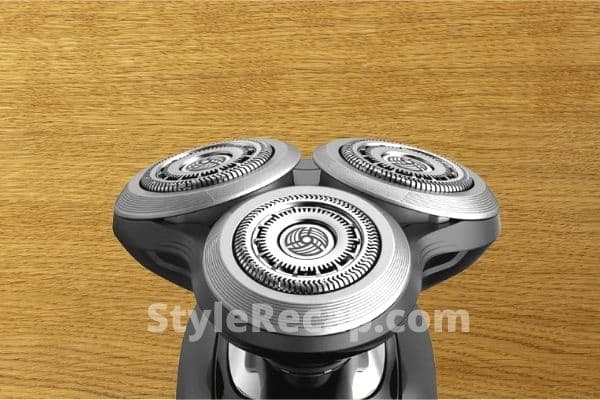 The Norelco 9700 has three modes for shaving with +/- buttons to adjust the shaver intensity. The cherry on top, literally, is the facial cleansing brush that you can attach to the electric razor for a satisfactory after-shave experience. You also get a detailer that compensates for the absence of a built-in trimmer.
The AquaTec technology is another standout feature. This technology will guarantee an irritation-free shave.
This razor gives you long-lasting 1-hour battery life on a single charge. Usually, one shave costs you 10%. So, this rotary shaver promises 10 clean shaves per charge, what a bargain for an elderly man like mine who hates power cords!
I forgot to tell you that this Philips Norelco model is waterproof, so you can use it under the shower or with shaving cream.
The SmartClean PLUS System for hygienic cleaning will clean the razor from hair, dirt, and shaving cream.
This shaver comes with a leather travel pouch, a cleansing brush, and a detailer.
Meanwhile, the Philips Norelco 9700 features a LED digital display. This LED display will notify you when the battery is low. Besides, it will give you a notification when your shaver needs cleaning or head replacement and when the travel lock is activated.
What we find blunt about this rotary shaver is that it has no shaving sensor to optimize power. Moreover, the head's upper part pops off if you apply pressure.
Pros
Heavy-duty v track precision blades
Flexible head
3 modes for shaving
Comes with a cleaning brush and detailer
Impressive battery
Cleaning and charging station
Cons
No shaving sensor
No built-in trimmer
Loose headcover
Specs
Weight: 0.67 pounds
3 Flexible Blades
Waterproof
EasyClean system
Key Features
The Braun Series 5 is our bang for the buck, lying at the competitive sub-$100 price point. This one reminds me of the old Braun Series 3 that I used to shave with back in the day, but with a re-engineered protruding razor head.
Although we don't have a side-to-side pivoting razor head, we get the floating shaving elements that mold into the contours of wrinkled skin. All you have is a central cutter that removes flat-lying hair and two seamless foils for skin treatment and stubble for a clean shave.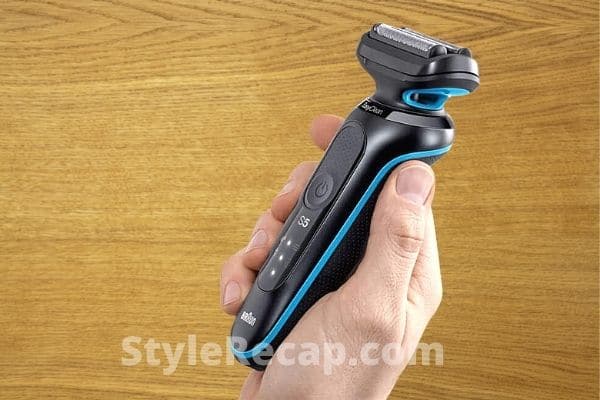 The attachments that come with this electric razor are an abundance of riches. Besides the shaver, Braun includes a detailer for trimming sideburns and 5 different attachments with different gauges for pre-shave beard trimming. These attachments snap in place, thanks to Braun's EasyClick technology that allows you to remove the shaver head.
If your elderly man has too sensitive skin, we thankfully have a wet and dry shaving operation in this razor.
You may ask: "how am I supposed to clean this without a station?" This is where Braun's ingenious EasyClean system kicks in. Just pass the running water through the openings beneath the razor head, and the shaver will drain the water back to the sink with all the stubble it draws, simple as that!
Surprisingly, this electric razor gives you almost a month's battery life on a single charge, the most impressive on our list. In case you're in a hassle, a 5-minute quick charge will secure you a clean shave!
Pros
Floating foils
Detailer attachment
5 attachments for trimming
Wet and dry 
Easy Clean system
Reliable battery
Cons
No built-in trimmer 
Inflexible head
No foil for removing long hair
Specs
Weight: 0.683 pound
Waterproof
Pop-up trimmer
USB QUICK-CHARGING
Key Features
We have all come across dementia patients who struggled to do their daily chores. They need help in all aspects of life, even assisted shaving. That's why we are about to review the SweetLF electric shaver for all caregivers out there.
The SweetLF is also a significant choice for shavers with bone diseases like Arthritis Patients. You may ask why?
Well, the SweetLF is remarkably lightweight, meaning that you won't get a sore arm or hand while holding it during a long shave. The previous feature ensures its ease of use, making the shaving experience worthwhile.
Also, the fast and powerful motor is perfect for coarse hair. You may notice that SweetLF isn't very soft on the skin, but it doesn't allow any hair tugging and pulling. 
The 3D floating blades can guarantee a close, smooth shave as they follow your face's contour, not leaving any burns or cuts behind which is an essential feature to eliminate any bleeding risks. 
The SweetLF is a cost-effective, electric shaver. It has self-sharpening blades so that you don't need to change the heads now and then. These long-lasting blades are relatively cheap compared to their high-end counterparts.
You should keep the electric razor away from dementia patients. They tend to lose stuff, even if they lost their shaver, you wouldn't pay a lot of money to replace it. 
It would be best if you kept the razor hidden because dementia patients lose their temper from time to time. That's why caregivers should keep sharp objects out of their sight.
Moreover, it has a pop-up trimmer that is a click of a button away. It works well with trimming and shaping beards. Unfortunately, we can't say the same with mustache and stubble nose hairs. 
Another advantage is that 120-minute battery life that could last for more than 20 shaves. You can fully charge the shaver in 60-minutes time. The last feature is essential for dementia patients that forget to charge their razors.
Not only that but also it saves a lot of counter space in the bathroom because it uses a USB charging technique. So you can use your phone's cable to charge the razor through an outlet, a laptop, or a phone.
Another significant feature is a tiny storeroom for cut hair. So caregivers won't spend a lot of time cleaning it. As just emptying the storeroom is enough. However, on several occasions, you may need to use water to rinse off the dirt.
Finally, you won't ever forget to charge your razor because it has a 5-leveled LED battery indicator that could keep you updated with the battery life.
Pros
Ease of cleaning
Suitable for dementia and Arthritis patients
Self-sharpening blades
Long-lasting blades
120-minutes shaving time in 1-hour charge
USB charging technique
5-Levelled LED display
Perfect for tight budgets
Smooth shaves
Cons
Not as good as a manual shaver
Doesn't work well with nose hair
No adaptor included
Not the best for sensitive skin
Are Electric Shavers As Good As Manual Razors?
Read on to find a tailored answer just for you!
Which One Gives An Irritation-Free Shave?
Electric razors are more skin-friendly because they don't get as close to the skin as manual razors do. Yet, if your skin is sensitive, you need to use pre-shaving creams to decrease the irritation risk. 
The rule applies whether you are opting for an electric shaver or a manual razor.
No Cuts, Nicks, Or Abrasions … Flawless Shaving!
The learning curve for electric shavers is much lower than safety razors. That's why people might get fewer nicks and cuts while electric shaving. Also, applying some shaving lotion slims down the cutting chances to none.
Which Is More Cost-Effective: Electric Or Manual Razors?
There is a misconception which is that most people think that manual razors are cheaper than electric shavers. However, if you look deep into the matter, you will understand that electric shavers are less expensive in the long run.
That, of course, if you take proper care of your electric razor. When you buy a manual razor, you need to change the blades every other week. On the other hand, you need to change the electric blades every 1 or 2 years. You do the math!
How To Pick an Electric Razor For a senior citizen?
Don't get tricked into thinking that manufacturers will craft specially a good electric razor for aged men. Instead, we'll be looking at some criteria that universal electric razors bring to the table for fulfilling the shaving endeavors of our old men.
Blades And Types: How Do They Correspond To Performance?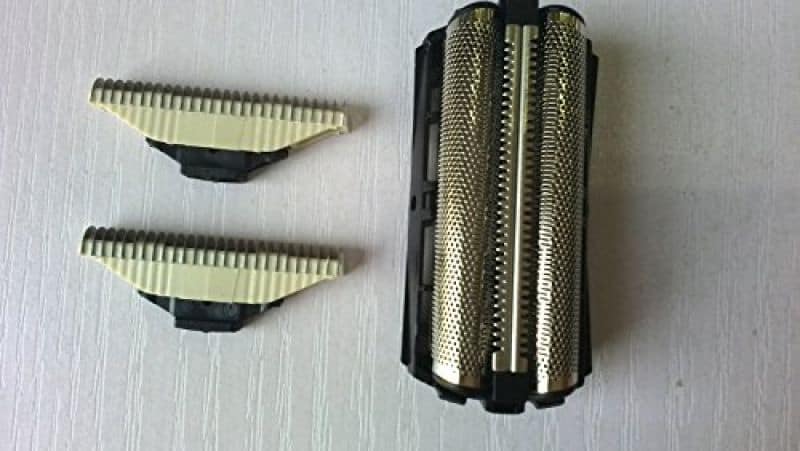 Let's not talk technical. By foils, we mean the upper part of the razor head that makes contact with your skin, whereas the blades account for the undercutter that sits below every foil.
Generally, foils form a blend of guards for refining the skin after the stubble is removed and cutters for removing both omnidirectional and flat-lying hair. You can easily identify cutter foils since they're always positioned in the middle. On the back, you'll typically find a pop-up trimmer for unreachable areas like the upper lip and sideburns.
The more the cutters, the better the hair removal. Yet, for older men, having a plethora of cutter foils would render the shaving experience painless since a lot of hair will be ruthlessly shaved. I'd say that the sweet spot here is to go for a razor with one cutter foil and at least 2 guards.
We're talking here about foil razors. When it comes to rotary shavers, the visible foils are replaced with spinning disks. Although rotary shavers are more efficient regarding their close shave approach and 360-degree pivoting heads.
However, they're not great for old men owing to their inability to deal with long hair. Since they have no guards, they tend to mercilessly snatch the hair, causing acne, ingrown hair, and skin irritation. If you're going to use rotary shavers like the Philips Norelco series, we recommend using them at a low to medium speed setting since they're better reserved for stubble.
Flexibility: Your Razor Head Is Your Friend
Elderly men appreciate the ease of holding devices, and shavers are no exception. Predominantly, older men have loose, pale, soft, and sensitive skin that's susceptible to effortless injuries from a disposable razor (the same scenario applies to the skin of the private areas).
If you're making the transition to electric shavers, it's better to give the razor head a look to see what it offers. Flexible heads can pivot forward, backward, and side-to-side. 
Although this degree of flexibility doesn't apply to every electric razor for men, it's optimal for a razor head to follow the contours and wrinkles of elderly men's skin. My favorite example of these heads is Panasonic's Multi-Flex 5D Head.
While you may compromise on side-to-side pivoting, never give up on the floating elements. The exposed foils should be recessed as you apply pressure to your skin with the shaver. Otherwise, it'd be a painless smooth shave.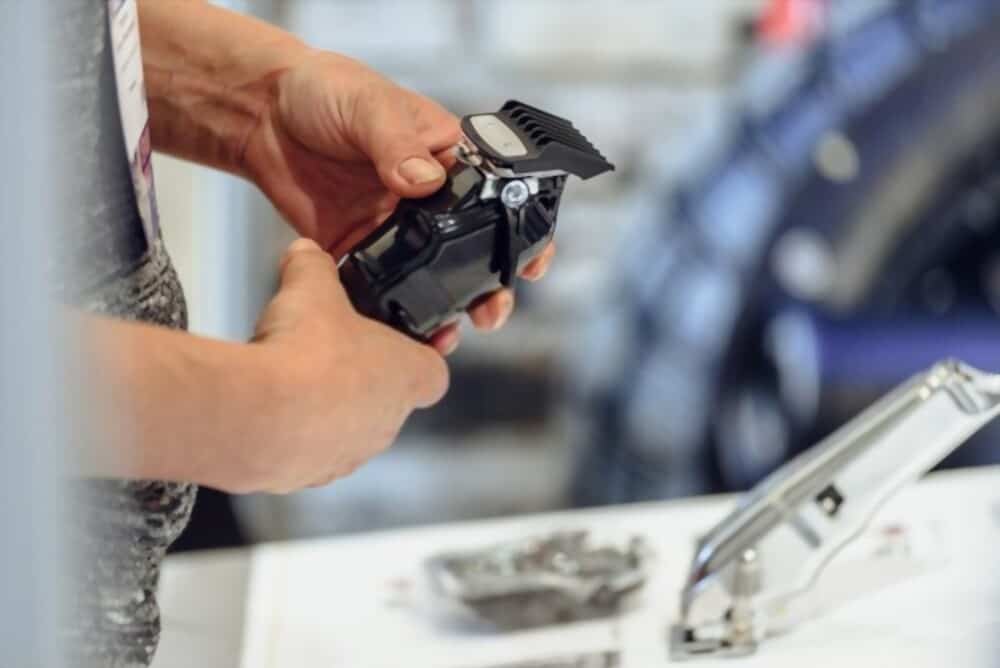 Power & Battery Life: Secure Your Juice
Manufacturers take pride in the cordless operation of their premium electric razors. Older men don't want to stick to wall plugs for the sake of a clean shave. Hence, always check the battery rating of the shaver as specified by the manufacturer.
Make sure to fully charge the electric shaver when you unbox it to ensure a calibrated battery life in later shaving sessions. For the battery to always be in its prime, don't forget that you'd want to discharge the battery to 0% before you can replenish the juice again.
Aside from batteries, high-end shavers feature an onboard shaving sensor that detects your beard's thickness and determines the optimum shaving mode to save power. Though advanced, Braun and Panasonic implements this technology in today's electric shavers using their AutoSense and SmartLock technologies.
Cleaning And Washing Easiness
Some people enjoy the shaving process, but no one likes the cleaning part. That being said, as a grown-up, you might want to buy an automatic cleaning station to keep your shaving process fun.
If you think that cleaning stations aren't worth the money, you should settle for a waterproof electric shaver because waterproof ones are easier for manual cleaning. The waterproof shavers can be rinsed directly with water and soap, saving you a lot of time and effort.
A foil razor has the edge of being easy to disassemble, which is a great advantage if you have shaky hands and hand-eye coordination.
When cleaning a rotary shaver monthly, it is necessary to remove the three heads. Even using YouTube to guide you, it's super hard to do for an 80 years old guy with arthritis.
Ergonomics And Designs
Paying extra cash to get a shaver with a comfortable grip and handle is a smart move. You need to have full control over your shaver to avoid cuts, nicks, and abrasions. You might find electric shavers with slippery grips. They could break and make your experience full of suffering.
If you suffer from arthritis, this is an essential feature to look after.
Some people prefer rotary shavers for easy contouring. Others prefer foil shavers because of their ease of use.
Waterproof Support
Having a waterproof shaver will help a lot if you are a fan of getting a wet shave. A waterproof shaver allows the user to shave after applying shaving creams. It's also a massive benefit for people with sensitive skin to eliminate any possible irritation.
Moreover, wet shaving is perfect for shaving stubbles, and it helps in achieving close, neat shaves. Most waterproof shavers allow for dry use as well. So if you are in a rush, it wouldn't be a problem to go for a quick dry shave.
Motor
The motor power of electric shavers is measured in CPMs (Cuts Per Minutes). The more motor power you have, the faster the shaver will be. To achieve close shaving, you should opt for a high CPM motor.
Furthermore, a strong motor works well with thick hair and gives a proper shave. A sturdy motor won't tug hair or irritate your sensitive skin.
Equipped With A Pop-Up Trimmers
Pop-up trimmers are essential features for weekly shavers. The pop-up trimmer cuts down long hairs before the shaving process itself. 
Also, this feature comes in handy if you are a bearded person. Moreover, you could use the trimmer for shaping your sideburns and mustache, giving them a sharp, fancy look.
Cost
Don't worry! You don't need to pay hundreds of dollars to get a high-end razor. There is a versatile range of electric razors, starting from $20 to hundreds if you are up for some luxury.
If you seek comfort and a hassle-free experience, you may need to add extra cash to buy a cleaning station for your electric razors. Yet, manual cleaning under the tap water is more than enough.
Most electric shavers work well when you take good care of them.
Warranty
High-quality brands like Braun, Philips Norelco, Panasonic, and Remington go for a 2 years warranty. The warranty works in case of motor or battery problems.
Tips For The Safest Shave For Older Man
You should be aware that senior men undergo some changes regarding their age group. The most prominent alteration here is that hair growth usually skyrockets around the forties and never plummets again. Generally, more shaves are synonymous with increased skin irritation for seniors.
Below, I listed some tips on how to achieve a clean, acne-free shave from the perspective of a well-versed old father:
1. Exfoliate Skin And Prepare
Try to exfoliate your skin regularly. That technique will remove the dead skin cells. So you keep your skin away from irritation.
Wash your face with warm water. It helps open the pores of your face and clear out allergens without affecting the hydrating oils present in your complexion.
Cut your beard first with a trimmer before removing excess hair.
2. Apply Good Quality Lubricant
Use shaving cream or shaving oil to lubricate your skin. Lubricating will protect the old skin from razor burns and irritation. It will also get you a closer shave for your elderly skin
3. Follow Pattern
Try to change the routine you used to have in your 20s and 30s. I know that you might have used to shave every day to get a clean-shaven face during your workday. Yet, that may be harder now as the aged skin becomes duller and drier. So please aim for a good shave, not a perfect one.
Avoid multi-directions shaving. Apply one stroke in the same direction of hair growth. Multiple strokes will increase the risk of irritation and nicks.
4. Clean Properly
Wash your face with cold water to remove any excess hair during shaving.
After you're done, use a facial cleansing brush to sterilize your face. If not present, use an antiseptic after-shave cream.
Clean your electric razor over the sink or automatically through the cleaning station. Most irritation incidents result from dirty foils or untended blades.
FAQs
Is Rotary Or Foil Shaver Better?
The answer varies according to your skin's sensitivity. It's better to go for a foil shaver when you have sensitive skin and thin facial hair. However, you can go for a rotary shaver if you have coarse facial hair that needs 360 degrees pivoting head.
What Type Of Electric Razor Gives The Closest Shave?
Foil shavers tend to get closer to the skin, offering a cleaner, closer shave than rotary shavers would. Based on thousands of customers' reviews, The Panasonic Arc 5 is a fantastic foil shaver that gives smooth, neat shaves.
How Do You Disinfect An Electric Razor?
To have a long-lasting electric shaver, follow these tips:
Unplug and turn off the electric razor.
Use a brush to clean off hair.
Rinse the shaver with water and soap.
Turn it on and let itself clean the blades.
Add the disinfectant and let it dry.
What Is The Best Electric Shaver For A Man Shaving For An Elderly Patient?
The answer must be The SweetLF Electric Shaver which has several attractive features for senior patients to provide them with an optimized shaving experience. 
Another good option is Philips One Blade. It also works well with male patients.
Final Thoughts
If you're reading until this point, you must've acquired a solid understanding of what the best electric razor for an elderly man should promise. If you were still baffled looking at a spec sheet of our best electric razor for an older man, I'd be keen on giving my final verdict.
Although the Series 9 accounts for the sole manifestation of a competent in Braun's high-end lineup of electric shavers due to its 5-blade system, I'd deem the only difference here between the Series 7 and the Series 9 lies in the more accurate 2-way central cutters, which are a pain for old men. That's why I have a soft spot for the Braun Series 7. It's our best pick for one simple reason: it strikes a balance between affordability, feature-richness, and performance. Despite being a scaled-down version of the high-end premium choice, it still stands as a hair-inducing razor for golden-agers.
Braun Electric Shaver Series 7 790ccSignificantly Gentler, Comes With A Clean & Charge Station, The World's Only 5- Action Alcohol-Based System That Hygienically Cleans, Charges, And Lubricates The Blades And Shaver.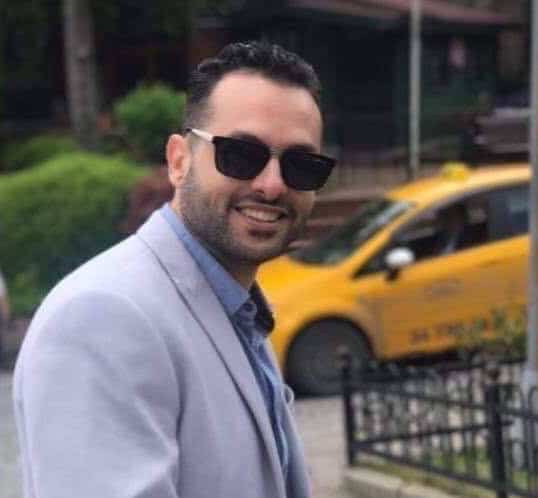 I'm really passionate about shaving and grooming. I shave my friends' hair as a hobby and totally enjoying my time writing about shavers and razors. My main job? Ok, I'm a pharmacist!