This is our Meridian trimmer review.
Men deem shaving their balls in particular and their pubic hair, in general, a hideous experience. 
Getting super nervous about nicking the skin around your manhood, the discomfort, and itching after finishing your mission are some reasons.
The problem is that ball skin is as fragile as a leaf skeleton. This is extremely challenging for any trimmer.
Now, I'm going to review the Meridian Ball Trimmer. My goal is to discover if is it the perfect ball hair trimmer for you. Or isn't it worth the hype?
I tested the trimmer personally for about 7 months. I watched every video, read every review on Reddit, and poured over dozens of Amazon customer reviews to give you the most detailed review out there.
Let's get started!
We review products independently, but we may earn affiliate commissions from buying through links on this page as an Amazon Associate.
Meridian trimmer review (At A Glance)
If you're not up for a long read, here's our summary.
Does it cut evenly?
Yes, the electric trimmer chops down the bulk smoothly with consistent cuts. Yet, it leaves a light stubble.
Can I get a close cut with this?
Meridian Shaver cuts pretty close. Yet, it won't give you a clean-shaven look. It comes with 2 attachments that provide  4 trimming lengths. Choose the perfect length for your hairstyle.
Is it easy to clean?
Yes, it's easy to clean as it's 100% waterproof. Use the cleaning brush to clean up the short stubble from the blade. Then, snap off the blade and rinse the trimmer under the tap water.
How easy is it to switch attachments?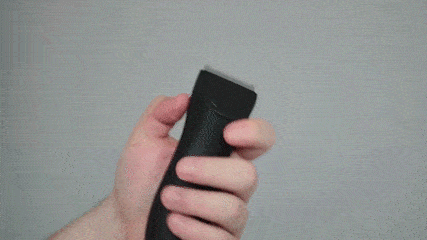 Switching attachments is easy as 1,2,3. Just snap on and off effortlessly. The combs also fit well for a more secure operation.
Will it pull or snag my hair?
No, Meridian trimmer cuts your pubic hair smoothly without any pulls, pinches, snags, or nicks. The sharp ceramic blades are what make the difference here. Make sure the battery is fully charged for the best results.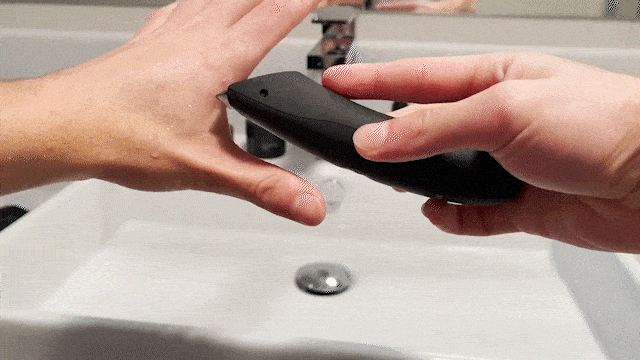 Meridian Trimmer is a top performer that gives you a safe experience without pulls or tugs. It's sleek, silent, and smooth. The price is appropriate. Overall it was a great purchase that I truly enjoyed.
What's in the box?
The Meridian Trimmer 
Easy to Snap-on Blade 
USB Charging Cable
2 Adjustable Length Guards 
Cleaning Brush
How-to-use Manual
Specs
Package Dimensions : 7.09 x 3.58 x 2.83 inches
Weight: 4.23 Ounces
Batteries: 1 Lithium-ion battery (included)
pros
Super-sharp, hygienic, anti-rust blades.
Rounded blade tip to protect your skin from pinches.
Suitable for sensitive skin without snags or cuts.
No overheating 
Quiet for more privacy.
Powerful motor for the thickest bushes.
3-LED power/charge indicators 
Authentic sleek design
Shock-resistant body.
Quick charge and long battery life for multiple trims (90 minutes)
Consistent battery performance without decaying.
Showerproof for wet/ dry operations.
4 trimming lengths to customize your haircut.
The combs stay in their place during operation for safer manscaping.
Lightweight with a non-slippery grip.
Perfect for grooming your underarms, back hair, and chest hair.
Good for maintaining short facial hair.
cons
No charging USB dock.
The charging cord is short ( 6 inches)
You can't get a clean-shaven look.
No travel case to store. You can use the box as it's neat and durable.
It would be better to add more lengths.
Now, we are going to review every nitty-gritty detail about the Meridian Grooming trimmer. 
Meridian Grooming Review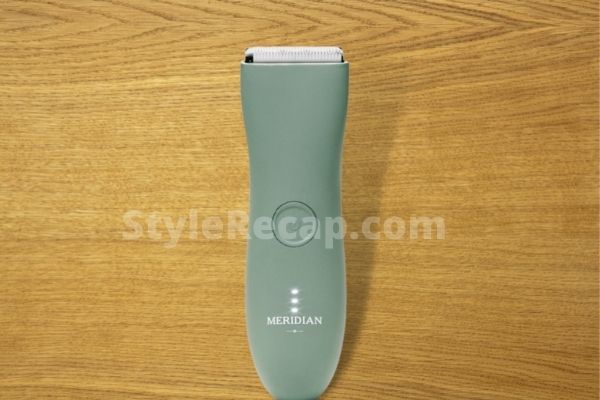 Meridian Grooming Company is relatively new in the market of body grooming and manscaping. It has been established in 2019. 
The Meridian Movement's goal is to help men trim their privates without stress to get the best comfortable experience.
Yet, Meridian Grooming is a true baller. It has cemented its name among the top players in the razor market like Philips, Panasonic, Gillette, and Manscaped.
Is Meridian grooming legit?
On Amazon, 66% of men who used the Meridian Grooming trimmer have given it a 5-star rating. 94% of users on Walmart recommended the Below-The-Belt Trimmer. Numbers say it's legit. And as you know numbers don't lie.
Moreover, the company has a real address in Los Angeles. It has 57.1k loyal followers on Instagram. Meridian Grooming's products have been featured on Forbes, GQ, and Menswear Style.
Meridian Grooming products
The ball hair trimmer (which is our main topic today).
Ball spray for helping men with a swamp crotch.
The Up-Here trimmer for nose and ear.
Lumin Men's skincare products.
Bundles and grooming kits ( You can check them from here.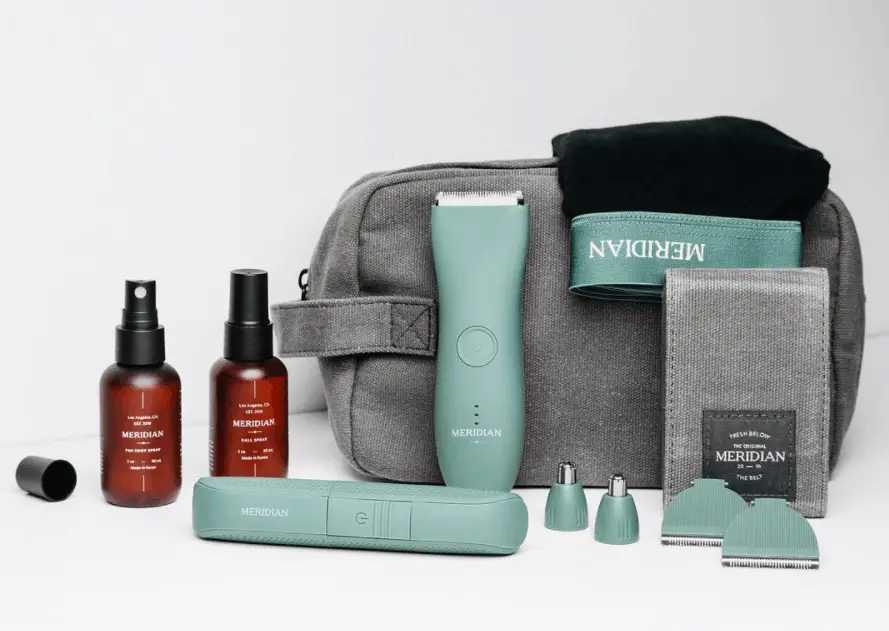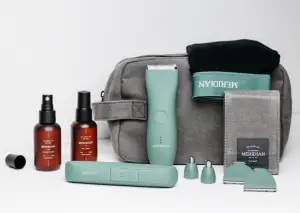 Performance
Here, We're going to review the Meridian ball trimmer's performance based on the blades, the motor, and the battery.
Blades
The below-the-belt trimmer comes with a replaceable ceramic blade. Ceramic blades are what differentiate a specialized pubic trimmer from a general body groomer or a beard trimmer.
So why are ceramic blades different?
The ceramic blade is harder than traditional stainless steel. That means it comes sharper. So, it's more efficient in cutting coarse and curly hair. Simply, it gives you cleaner shaves in less time.
Ceramic blades retain their edge for a longer time. Therefore, you save some money because you need fewer replacement blades.
They are more heat-resistant than the usual stainless steel blades. So, you can enjoy comfortable long trims without worrying about burning. This is so beneficial for men with sensitive skin as heat triggers the burning and irritation sensations.
They are less porous than steel. Then, ceramic blades are more hygienic. This keeps bacteria and other pathogens from sticking to the surface of the blade.
They are more rust-resistant. This is super handy especially if you prefer wet shaving.
The trimmer boasts rounded blades to protect your testicles from cuts and nicks. Yet, this comes at the expense of closeness. 
You can use a safety razor, a depilatory cream, or any other hair removal method to complement the trimmer in getting clean-shaven balls.
The Meridian trimmer's blades are wider compared to the blades of Manscaped The Lawn Mower 3.0. So this allows the shaver to cut more hairs in one stroke. You can check my article about the differences between Manscaped and Meridian for more details.
Combine this with the sensitive shaver technology, and you get an effortless safer experience.
Meridian trimmer ad
In short, Meridian trimmer blades are sharper, hygienic, more heat-resistant, and don't dull rapidly. They won't eat through your scrotum or bite your tender bits.
Motor
The Trimmer by Meridian features a powerful motor. This motor runs at 6000 CPM (cuts per minute) speed. This means that the groin trimmer can cut your body hair CLOSE ENOUGH to the skin. So, it is suitable for thick and stubborn hair as well as other hair types.
Note that you won't get a baby smooth shave using this trimmer or any other trimmer. It leaves a very short stubble. Use a manual razor to finish up if you want a clean-shaven look for your balls and pubes.
Also, the high speed allows the electric trimmer to tackle longer hairs without pulls, tugs, and nicks. 
I'm impressed with the quietness of this trimmer. It's almost silent. 
Quietness is a crucial feature that MUST be found in any good pubic hair trimmer. You don't want all people outside the bathroom to know that you are shaving your private parts. Do you?
In short, the Meridian trimmer gives you an adequately close shave down there with high precision. It handles unruly hair without any pulling or yanking. The motor is super quiet.
Battery
You must have experienced when your beard trimmer with an almost dead battery painfully catches your facial hair. You probably don't want to try this during shaving your balls or your sensitive areas. 
The moral of the story? Battery life is super-critical in your pubic grooming tasks.
The crotch trimmer comes with a rechargeable lithium-ion battery and a USB charger. The battery takes one hour to be fully charged. And it gives you 90 minutes of cordless trimming experience.
Take note: The battery needs two hours for a complete charge if you're using it for the first time.
Besides, there are 3-LED power/charge indicators so you can know if the battery is about to die. This is great to avoid painful bites and injuries during trims.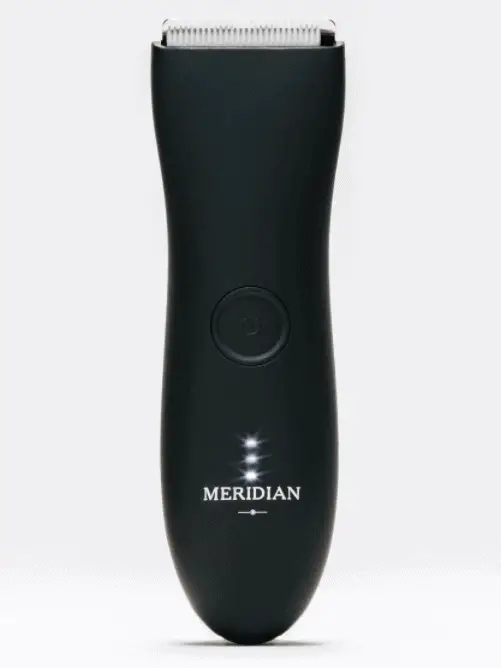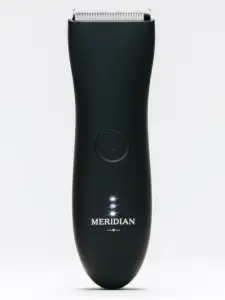 Universal USB charging is straightforward compared with the clunky charging stations that come with an electric shaver. But, you need to have a USB docking station to plug the cable into otherwise you have to use your PC for charging. Also, the cable is a tad short ( 6 inches).
In short, recharging the trimmer is lightning fast even from zero. It also holds its charge for multiple trimming rounds. Yet, the absence of a USB port and the length of the charging cable is quite inconvenient.
Safety & convenience
Needless to emphasize the importance of the safety aspect. The perfect nut shaver must be nimble to protect you from bloody nicks. 
Previously, I mentioned a few safety benefits like the rounded blade, charging indicators, and sensitive skin technology. Now, I'm going to show you the rest of the options.
And because men are different, it must provide a set of options to satisfy the various tastes, grooming habits, and hair types.
Attachments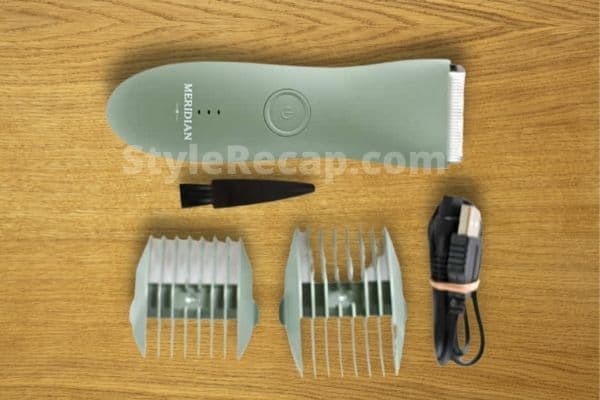 The below-the-waist trimmer comes with two adjustable guide combs (3-6mm, 9-12mm). So you can choose your preferred hair length and hairstyle. No matter you like getting trimmed or going completely bare, you will get your desired goal.
These combs are extremely handy if you want to use the trimmer for non-manscaping needs.
You can use the trimmer to maintain your short beard. Yet, your options are limited with ONLY 4 trimming lengths. And it's also not the best choice if you prefer a clean-shaven look. It would leave your beard with a "5 o'clock" beard.
Pro tip: Different types of bacteria live in your body. So, it's not recommended to use the same trimmer around your junk and for the rest of your body. Use a separate tool for each task to avoid infections like jock itch.
The trimmer is also effective in shaving your back hair, chest hair, and armpits.
Although the trimmer is advertised for male grooming, I noticed that some women praised its performance in shaving their pubic hair and legs.
Tip: The guards are also significant to get the safest shave. You can avoid the drama by starting with using the longest length of the comb and then slowly moving to the shorter lengths.
Moreover, the combs fit well and don't move during manscaping shaving.
In short, the meridian trimmer 6000 doubles as a body trimmer and a beard trimmer. Yet, it would be better if extra comps trim-combs were added for more mileage.
Wet and dry options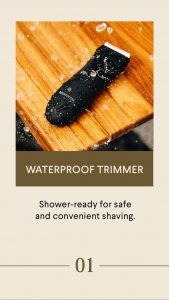 This bad boy is a fully waterproof trimmer. So according to your grooming routine, you can use it in the shower with shaving cream or on the go for dry shaves.
This feature also makes it easier to clean the trimmer. Use the cleaning brush to remove the bristles from the trimmer head.  Remove the blade and put the body under the tap water.
Design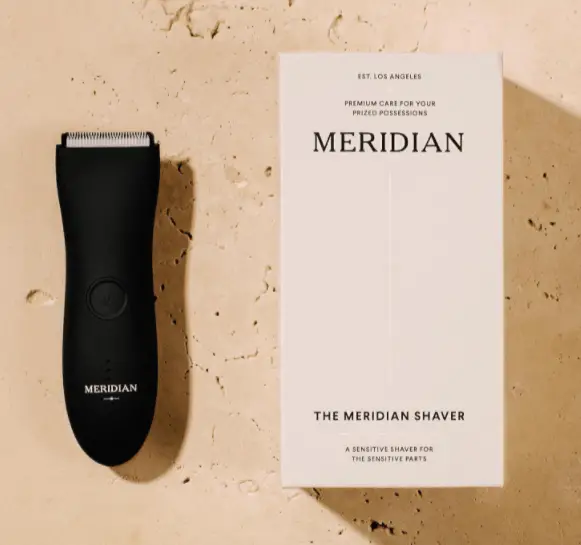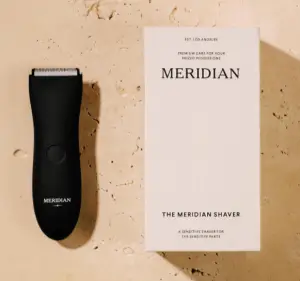 The trimmer feels and looks very rugged. It's well-crafted with an authentic, compact sleek design.
The grip is relaxed and easy on your hands, making it nimble and easily maneuverable.
The ball hair trimmer is housed in a polycarbonate shell. So the grip doesn't slip during your wet shaving sessions. The shell also provides shock resistance to protect the shaver from unexpected accidents.
The meridian trimmer comes in two colors, the sage color and the onyx color (black). Opt for the color that suits you and your bathroom.
The trimmer is very lightweight (4.23 Ounces). This boosts its maneuverability and makes it easy to hold.
Ease of Use
The meridian timmer is a breeze to use. Here's how to use it:
`Hold the trimmer so the blade side is facing you.
Connect the blade with the trimmer by pressing the cutter back until you hear the clicking sound.
Remember to use the longest comb then gradually move to the shorter ones.
Go slowly and use light, gentle strokes in removing unwanted hair.
Shave after the shower and with the grain to avoid ingrown hair and itching risk.
To remove the blades whether for cleaning or replacement, follow these steps: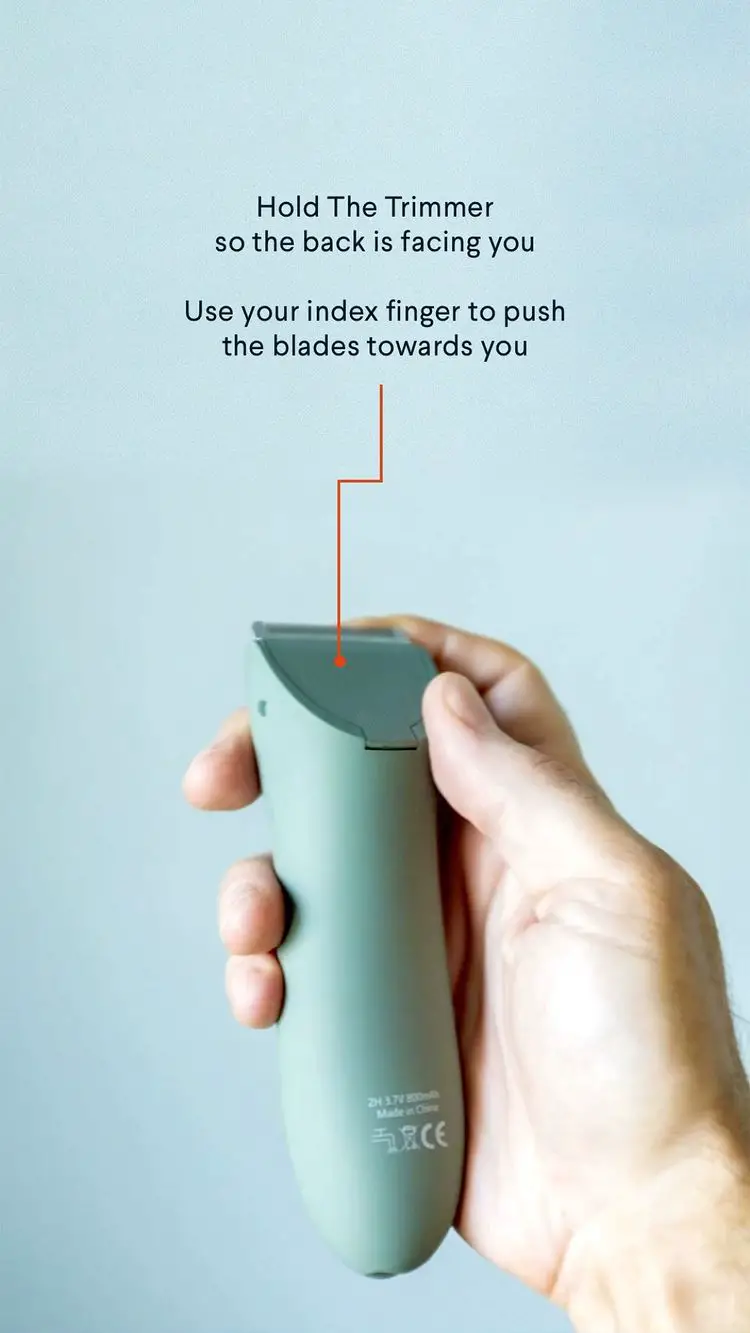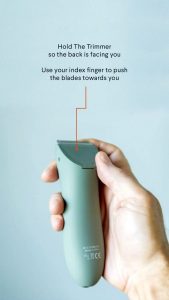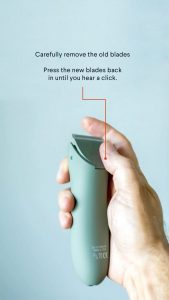 Hold the trimmer so the blade side is facing you.
Push the blade with your index finger toward you.
Remove the blade with caution.
Cost
The trimmer is reasonably priced for a high-end product. It's well worth the money.
The replacement blade sets you back 20 $ to buy. The manufacturer recommends changing the blade every 3-4 months. Yet, ceramic blades last up sharp for a way longer time.
Don't change your old blade unless it's dull. That's my two cents.
Side note: Replacement blades are only available on the company website. Yet, you can buy Meridian shaver from Amazon or the official websites.
It's worth mentioning that Meridian Grooming offers free global shipping on all orders over $30.
Refund & Warranty
Meridian Grooming provides a complete refund within 30 days from the delivery date. After 5-9 business days, refunds should appear in your bank statement. 
Meridian trimmer comes with a one-year warranty for any manufacturer defects.
Bovem vs Meridian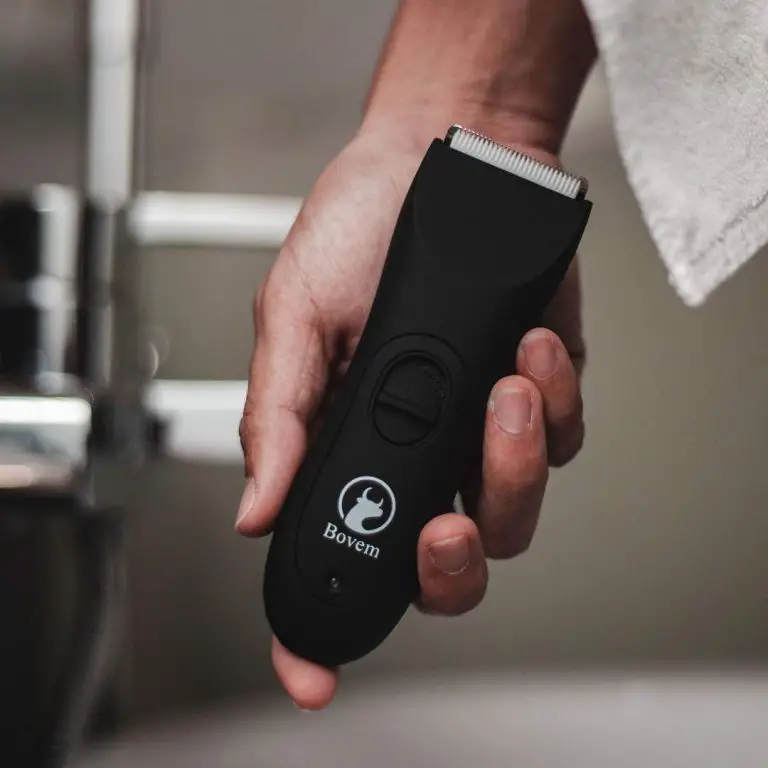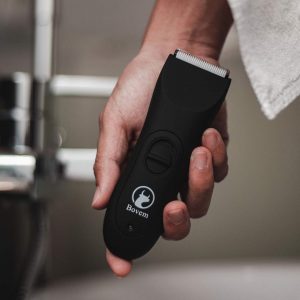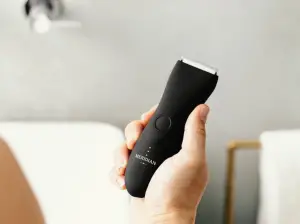 Bovem is a Singapore-based manscaping brand. It has a 4.2-star rating on Trustpilot.
I didn't try their Bovem Globe™ Trimmer personally. So this comparison is based on the specs of the two trimmers.
| | | |
| --- | --- | --- |
| Feature | Meridian trimmer | Bovem Globe trimmer |
| Location | US | Singapore |
| CPM | 6000 Strokes per min. | 6000 Strokes per MIn. |
| Battery type | Li-ion (better) | Ni-MH  |
| Battery life | 90 Min. | 60 Min |
| Waterproof | Yes | Yes |
| Attachments | 2 Adjustable blade guards (3-6mm, 9-12mm) | 2 Adjustable blade guards (3-6mm, 9-12mm) |
| Price | More expensive | Cheaper |
| Blade replacement cost | $20 | $13 |
| Warranty | 1 year | 1 year |
Customer reviews
The Meridian trimmer has 1684 ratings on Amazon with overall 4.3 stars out of 5. Here are some examples of customer reviews.
"While this product is only advertised towards men it works wonders on people with vaginas, too. It's the perfect close shave without leaving you completely bare or at risk for ingrown hairs. It's extremely easy to use and clean"
And here's another one.
"I have other high-end trimmers and this one is very comparable. I like the width of these a bit more than others as well. I bought the green trimmers and like the color. I also like the fact they are waterproof to make beard trimming go well in the shower. The one flaw is it always looks like there is hair still in the trimmer's blades even after I clean them. They still trim very well though so that isn't an issue."
Alternatives
If Meridian Trimmer isn't the right fit, here are some manscapers and body hair trimmers that might satisfy your manscaping needs.
This is the direct competitor of Meridian Trimmer. It's also a specialized pubic hair trimmer.
Remember the difference between body groomer and pubic hair trimmer is the ceramic blades and the level of noise.
Compared to the Meridian hair trimmer, Manscaped has a narrower trimmer head to reach the tight spots. Some men prefer this feature and others find it useless. I vote for the second team.
Unlike the Meridian shaver, the Lawn Mower 3.0 comes with a charging USB dock.
Meridian Trimmer outperforms Manscaped 3.0 on the safety and battery aspects. It provides more protection from snags and nicks. Its battery also has consistent performance and doesn't decay with continuous usage.
I forgot to say that the Meridian electric trimmer is quieter.
Overall, It's a good manscaper if you are searching for a substitute for the trimmer by Meridian.
This my favorite general body groomer. It features a dual-sided handle to let you shave or trim any part of your body.
The shaver is fully waterproof. So you can use it no matter if you're comfortable with wet or dry shaving.
You can get your desired hair length, thanks to the 5 adjustable lengths included. The grip is slim and ergonomic. The battery lasts up to 80 minutes. So it is perfect for sensitive areas and hard-to-reach places. 
It's a cinch to maintain and clean. The blades are self-sharpening so they last for ages.
Unfortunately, the attachments don't stay in their place which is a bit risky. This is because you might cut your family jewels or go bald by mistake.
I recommend this electric razor for anyone looking for an all-purpose shaver for all his body regions.
This is another excellent men's body trimmer. The Contoured V shape head, blades with rounded edges, and wet/dry features are what make it great for the groin area and glutes.
The trimmer is showerproof. It comes with 3 precision trim attachments and a charging station.
The only downside is that teeth could be easily broken.
Final Verdict
Per our Meridian trimmer review, we evaluated the shaver against the factors that make a good manscaper.
It turns out that Meridian is a perfect solution to satisfy your grooming needs. It's beyond safe if you use it properly. It gives you neat, gentle trimming without worrying about nicks and snags.
Downsides are not deal breakers and it's priced fairly for a premium product.
Now, you can feel more confident, smell fresh and look clean during your intimate moments without worrying about bleeding.
If you're interested in pubic hair removal creams. read my article about male depilatories. Check also the definitive answer to the "How often should you manscape?" question.
More Grooming coverage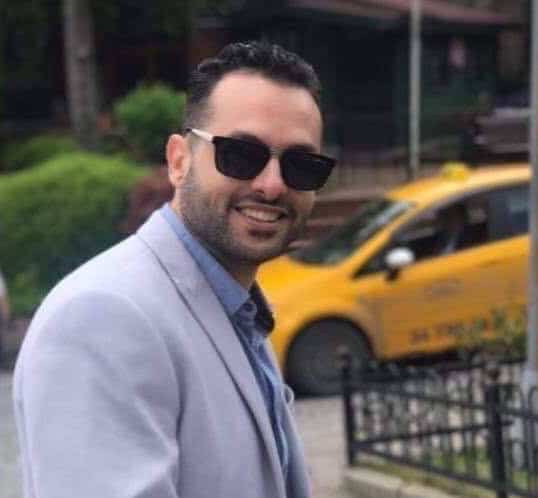 I'm really passionate about shaving and grooming. I shave my friends' hair as a hobby and totally enjoying my time writing about shavers and razors. My main job? Ok, I'm a pharmacist!